Baylor shocked and silent in locker room after Cotton Bowl meltdown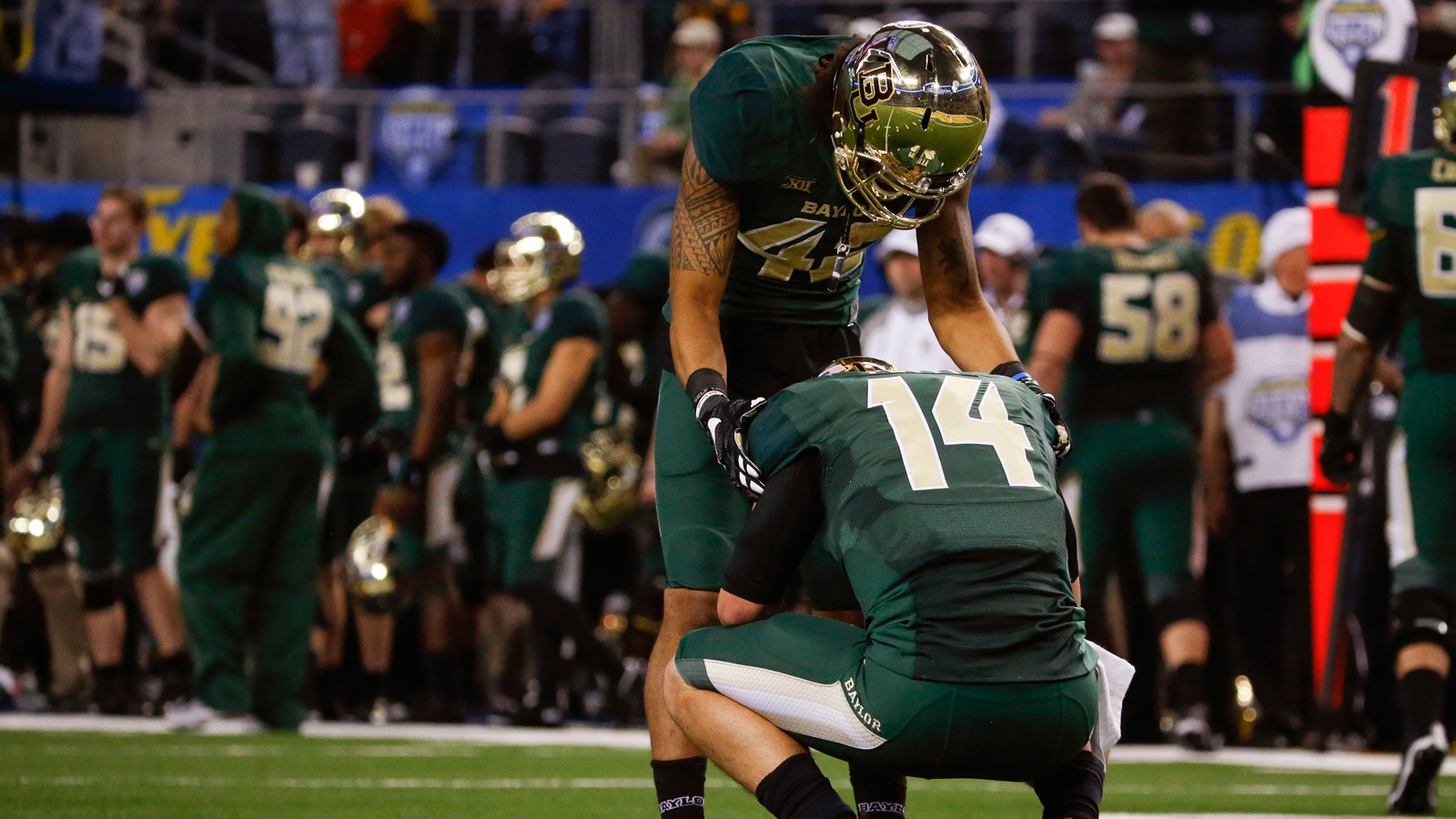 ARLINGTON, Texas –-There were two white boards that took up an entire wall in Baylor's locker room at AT&T Stadium.
Both read, in big, black capital letters: "BE A FINISHER!"
The last word was underlined.
It greeted Baylor's players when they filed through the locker room doors with a 10-point halftime lead. It greeted them again when they retreated from the field — many for the final time — after Michigan State outscored them 21-0 in the fourth quarter for a 42-41 win.
"A loss is a loss. They all suck," quarterback Bryce Petty said. "This one is worse because we had it.
Added receiver Clay Fuller: "This one got stolen from us."
The irony was obvious and unspoken in an eerie, hushed Baylor locker room. Chris Callahan's 43-yard, game-sealing field goal with just over a minute to play was tipped. Michigan State's R.J. Williamson caught it in the defensive backfield and returned it 36 yards to Baylor's 45-yard line. Eight plays later, Baylor had just 17 seconds left to save the greatest season in school history.
"With our offense and three timeouts, anything was possible," Fuller said.
Instead, Petty took two sacks and threw an interception on the final pass of his Baylor career. As the Michigan State sideline celebration leaked onto the field, Petty crouched at the four-yard line with his head hung, staring at the turf. Receiver Levi Norwood trotted over and offered a pat on the back and some encouraging words as the two made the slow walk to the sideline, leaving the playing field for the last time. A minute later, with their eligibility expired and futures uncertain, they'd meet again at midfield along with receiver Jay Lee to kneel for a prayer long after most of their teammates and coaches had left the field.
An hour earlier, 6-foot-7, 390-pound offensive guard LaQuan McGowan provided what seemed like the most memorable moment of a loud message to the College Football Playoff committee, catching a pass on a slant and coasting into the end zone before tossing the ball to the official and getting lifted (only a few inches) into the air by 220-pound receiver Antwan Goodley. The Bears were up 41-21 and looked ready to flash an even more impressive final score to America and the committee.
It never happened. On his way off the field, McGowan waved to a few fans in the crowd on the way to the locker room, but his shining moment had been marred as a mere footnote. Most of the teammates who followed him off the field did so with stone-faced glares, some eyes glassier than others as Baylor fans fought through the aisles to reach the exit and rinse the memories of another big-time bowl stage that had collapsed beneath them.
A year ago, Central Florida dominated the Bears on the line of scrimmage in the Fiesta Bowl, springing an upset as 17-point underdogs, giving credence to the theory Baylor was fat and happy, off in the desert to celebrate the school's first Big 12 title, not win a game.
Through three quarters, Baylor looked intent on sending a message identical to the one TCU sent with its 39-point victory a day earlier: It belonged in the playoff.
The Bears proved they were the better team until, when the final gun sounded, they weren't.
"This definitely hurts worse than last year," receiver Corey Coleman said.
MORE COTTON BOWL COVERAGE
Baylor's team captains and seniors were too shocked to share any parting messages with their teammates. Only coach Art Briles addressed the team in the locker room.
He didn't talk about the Bears' inability to run the ball against a Michigan State defense hellbent on stopping it. Petty had the option of handing off or throwing on "100 percent" of Baylor's play action fakes anyway, according to Fuller. He just had to recognize the defense was giving them the pass, even if it meant topping 50 pass attempts for just the second time this season.
The other time Petty topped 50 attempts? Baylor's 61-58 comeback win over TCU, which also happened to be the only other FBS game this season in which a team successfully rallied from a 20-point fourth-quarter deficit.
In the locker room, Briles didn't talk about the blocked field goal or the 46-yard kick that clanged off the upright early in the fourth quarter. He didn't talk about defensive tackle Andrew Billings' block in the back that erased a pick six that would have put the Bears up 48-28 early in the fourth quarter. He didn't talk about offensive face mask at the end of a Coleman reception that moved Baylor back from the Michigan State 7-yard line to the 22 and set up Callahan's blocked field goal. He didn't talk about the defense's fatigue-fueled failures late or lack of pass rush that let Michigan State rally with two touchdown drives in the final five minutes for the win. He didn't talk about the disastrous final offensive drive.
He saved those comments for the podium and the assembled media.
"Let some things get away from us. It's, quite honestly, an embarrassment to me as a coach," said Briles, who fell to 2-6 all-time as a head coach in bowl games. "I feel bad for our players. I feel bad for our football team. And I feel bad for our university."
But back in the locker room, he kept his comments pointed toward the future. How will Baylor respond?
Thursday's loss, crushing as it may have been, doesn't change the fact that Baylor will likely join TCU as a Big 12 co-favorite in 2015 with a legitimate shot to chase a third consecutive Big 12 title, a feat only Oklahoma (2006-08) has accomplished.
Petty, a senior who finished the day with 550 yards passing and accounted for four scores, will have to watch Baylor try to do it while chasing his NFL future. Between platitudes and "right answers" in the Bears' locker room, the anger from the loss and a missed opportunity to make a national statement seeped out for the Bears' quarterback, who struck a defiant tone late in his session with reporters.
"Y'all can't stand us anyways, so I'm sure there will be plenty of things said about us," Petty said. "It sucks not to finish and again, that's on the players not the coaches. As far as the national scale, believe it or not, whether y'all like it or not, Baylor's going to be in the top."
BE A FINISHER?
The insult to Baylor's injury is it will finish the season well below a TCU team it beat in October and argued all season long to be above in the polls. The playoff committee granted the Bears that luxury in its final regular season poll, but the Frogs' emphatic statement gave their program and conference a gigantic win and a stated case that their playoff exclusion was unjust.
Baylor's season is finished, but it ended with silent, stoic players filing down the cement bowels of AT&T Stadium wondering just how a once-promising statement of their own will never be made.
MORE FROM FOX SPORTS SOUTHWEST:
– Highest paid coaches in college football
– Ranking NFL quarterback salaries
– Oldest player on every NBA team