Baylor 400-pound lineman outruns 'small and fast' to the end zone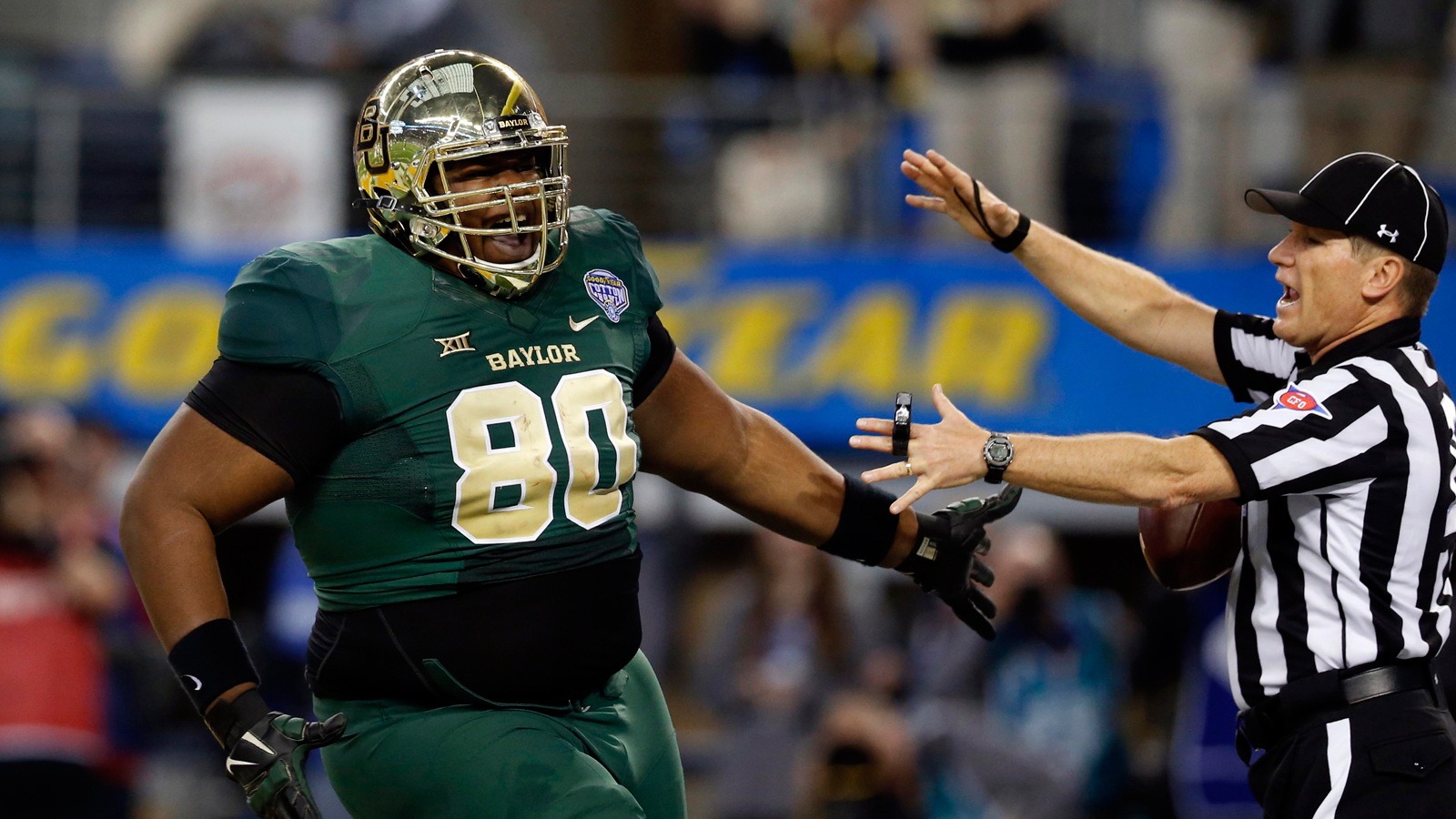 ARLINGTON, Texas — Talk about your "big" plays: Baylor behemoth LaQuan McGowan provided inspiration for every out-of-shape guy watching games from his couch with his touchdown catch in the Goodyear Cotton Bowl.
McGowan, listed as a 6-7, 390-pound backup offensive guard, was wide open when he caught the 18-yard pass in the third quarter. He appeared to be running a seam route, or perhaps a slant. Definitely not a skinny post.
McGowan is likely the largest man in football history to catch a touchdown pass.
"I looked slow on the big screen," McGowan said. " But I felt like I was moving pretty fast."
McGowan lined up as a tackle-eligible, with a wide split from the guard. When the ball was snapped, he had clear sailing to the end zone.
McGowan said he was surprised the defense cleared out for him. Then again, why would anyone cover a 390-pound guy?
More importantly, who would want to tackle him?
"I'm thinking, 'Get to the end zone,'" McGowan recalled. "Because what was going on in my head when I caught the ball was, 'OK, somebody small and fast is coming up behind me. I need to make sure I get to the end zone.'"
The only people who caught up to McGowan were his teammates to congratulate him in the end zone.
McGowan, who said Baylor had originally planned to run the play in the regular season finale against Kansas State, said receiver Antwan Goodley rushed up to him and prevented his planned touchdown dance.
McGowan's touchdown gave Baylor a 41-21 lead, but the Bears wound up losing in the final minute, 42-41. His touchdown helps take some of the sting from the loss.
"It's fun to see your name up there," McGowan said. "It's kind of a small, little adrenaline rush…All my teammates are happy for me."
McGowan said it's nice to be in the record books, an honor not usually given to an offensive lineman.
But for the record, he's actually 400 pounds, not 390.
"I am 400 pounds," McGowan said. "That's a lot of meat. A lot of meat. That is my New Year's resolution."
Follow Keith Whitmire on Twitter: @Keith_Whitmire
MORE FROM FOX SPORTS SOUTHWEST:
– Highest paid coaches in college football
– Ranking NFL quarterback salaries
– Oldest player on every NBA team