Baylor AD open to scheduling tougher nonconference opponents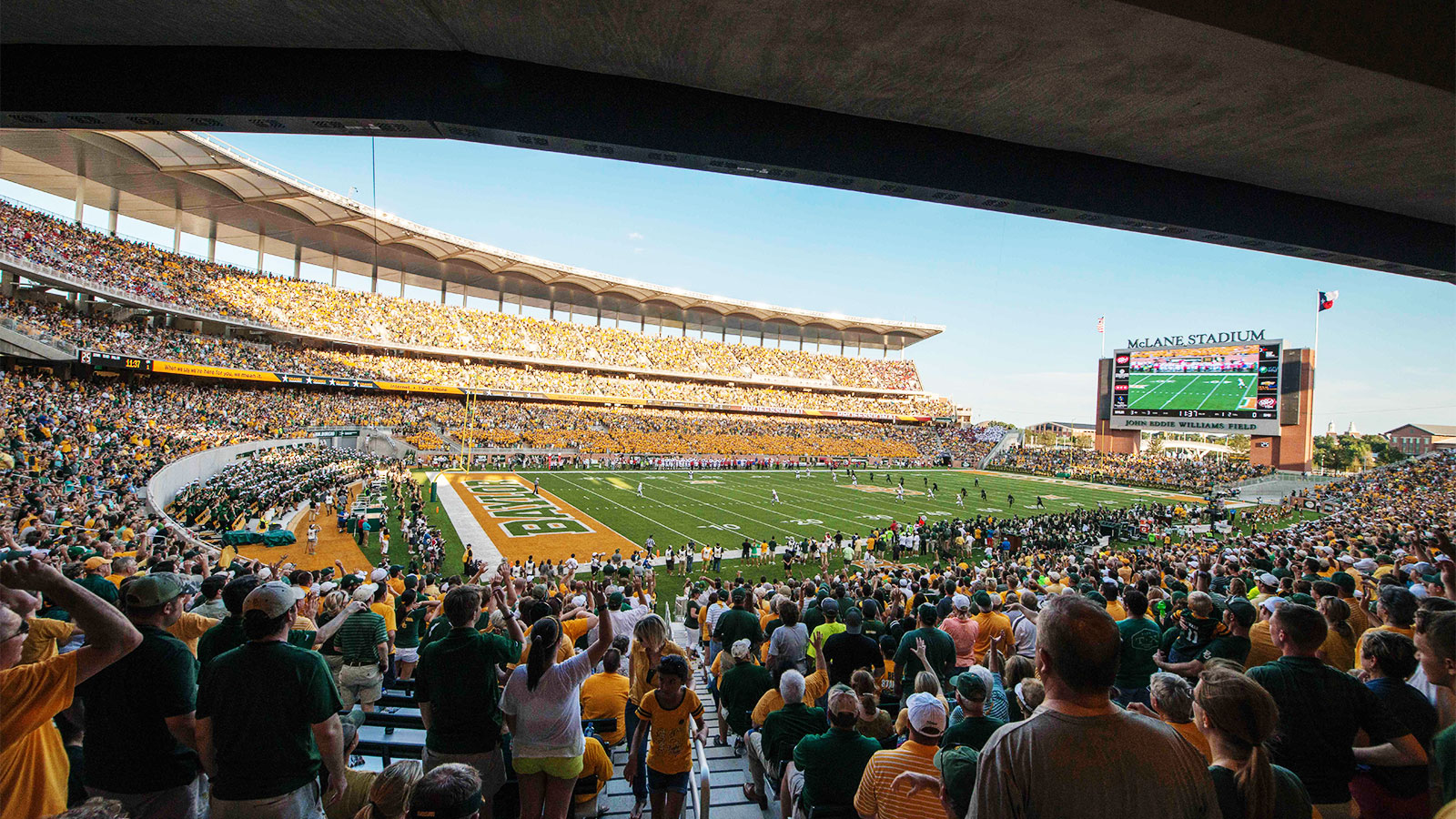 IRVING, Texas — Baylor's had a change of heart.
The Bears are open to upgrading their future nonconference schedule from 2016-20 and may play an opening-weekend, neutral-site game soon, Baylor athletic director Ian McCaw said Thursday.
"That is possible," McCaw said, adding that he's having "two or three discussions" with various Power 5 schools about future games.
McCaw's quotes signal an abrupt change to the Bears' previous scheduling strategy, which rarely included Power 5 opponents and in recent seasons, put an emphasis on going undefeated in Big 12 play. The Bears have won two consecutive Big 12 titles and gone 8-1 in league play in consecutive seasons.
McCaw stressed that he and coach Art Briles were in accord on the move toward toughening up future nonconference schedules.
The Bears play SMU, Lamar and Rice this season, but changes could come as early as Baylor's 2016 slate.
"When we're in the midst of a 14-year bowl drought, our scheduling philosphy is: 'Let's try to find six wins,' because we needed to end that drought. We were scheduling with an eye on let's try to find a way to get to six,' McCaw said. "Obviously, as we've won back to back Big 12 championships and our program's in the national stage and we're recruiting at an extremely high level and have McLane Stadium in place, we're able to take on a higher level of competition and that's what we're looking to do."
Some programs in the Big 12 adhere to playing one Power 5 opponent, one FBS opponent and one lower level or FCS opponent. McCaw said Baylor has no explicit structure moving forward, but is actively seeking to upgrade its current slate.
"It'll vary a little bit from year to year because we have a number of years still fully committed and a number of years still looking to schedule games, but we're certainly open to playing a Power 5 game in addition to the nine we're playing," he said. "Probably not every year, but a good number of years."
The Bears announced plans last month to play Utah in 2023 and 2024, giving them two home-and-homes with Power 5 opponents on their future schedule. Baylor also plays Duke in 2017 and 2018.
The Bears haven't played a Power 5 opponent in nonconference play since beating Wake Forest in the 2009 season opener, but did face ranked TCU teams often in Briles' first few seasons as Bears coach. The Horned Frogs were Mountain West members at the time but often ranked in the top 25.
"Generally speaking, I think it would be very well received," Oklahoma athletic director Joe Castiglione said of the league's reaction to Baylor upgrading its schedule.
Big 12 commissioner Bob Bowlsby said he didn't pressure Baylor into upgrading its schedule and didn't know of any league-wide peer pressure.
"I didn't put any pressure on them, although we've had conversations frequently in our ADs meetings," he said.
Baylor is not interested in playing a game at Cowboys Stadium because it has a previous agreement to face Texas Tech at the venue, McCaw said, but would be open to opening weekend games at neutral sites out of state or in Houston at NRG Stadium.
MORE FROM FOX SPORTS SOUTHWEST:
– PHOTOS: Cowboys Cheerleaders Auditions
– Ranking NFL quarterback salaries
– Oldest player on every NBA team