Bag of Pucks – April 15 – Playoffs! Playoffs! Playoffs!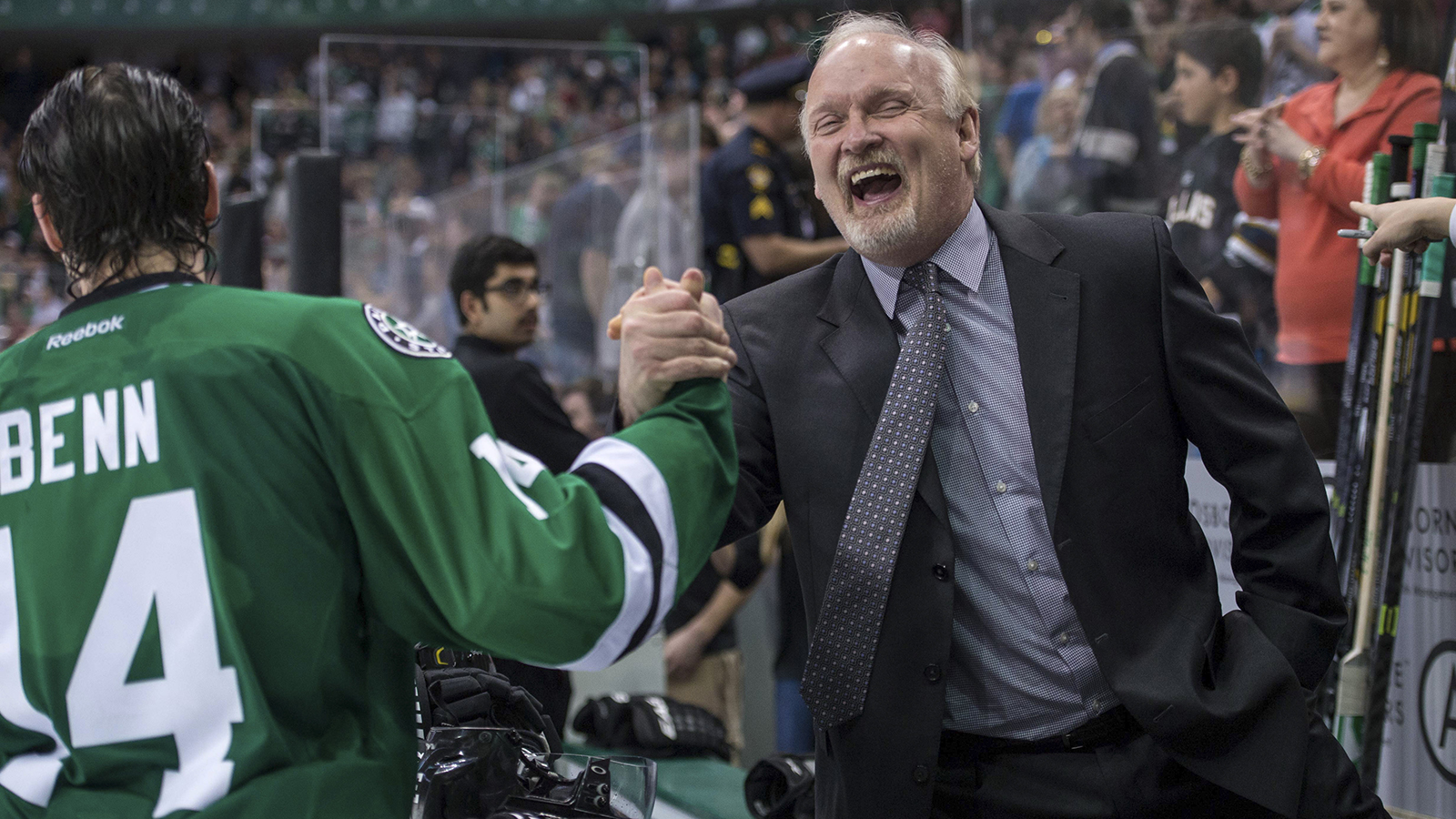 They made it, guys.
I know that the next mission is even more important and certainly is formatted in such a way that shorter attention spans can join in, but the most vital of accomplishments for the 2013-14 Dallas Stars was put in the bank last Friday. It was a very enjoyable evening that will be remembered as the night this franchise punched its ticket back into the post-season by hammering a slumping St Louis Blues team on Fan Appreciation Night.
The accomplishment – said by some to be 5 years behind schedule and by others to be a year ahead of schedule – was required to catch the attention of a sporting city that often turns its back on teams that cannot at least qualify for their post-seasons. That may seem finicky, but given that over half the league qualifies for its playoffs in the National Hockey League, it never seemed like a difficult prerequisite until this latest stretch in the wilderness.
It started with retirement of legends Mike Modano, Sergei Zubov and Jere Lehtinen all at roughly the same time. We all wondered what would happen when those fantastic talents were no longer around to carry this franchise and now we have had it made abundantly clear. There is no easy replacing of legends. That is why we call them legends.
After the retirements – or in some respects, during it – we also were hit hard by bankruptcy and the franchise in such disrepair that the league had to basically take over the team to make sure that the bills and the paychecks were taken care of in a timely fashion. The Tom Hicks run had hit an iceberg when he decided to buy another sporting franchise across the pond right before the economic crash of 2008 and suddenly, his baseball, soccer, and hockey teams all had to pay the price of a man who had over-extended his finances. None of them had the money to compete anymore, and eventually, all 3 had to be sold to more capable owners.
It likely should be noted that today, the Rangers financial health has never been better, Liverpool's financial health has fully recovered (as has its club's fortunes), and the Stars have been taken over by an owner who was wildly cheered on Friday night when his face appeared on the big screen over the ice. Tom Gaglardi took over the franchise in the 2011-12 season, but then moved slowly and deliberately on how to remake the team – especially with the lockout looming.
But, after the 2013 campaign came up short, he moved swiftly with the hiring of General Manager Jim Nill on April 29, 2013. As many of you know, that was a move that was saluted around the league as a stroke of brilliance, due to the respect he had built in over 2 decades in the Detroit front office. He took his time in finding his first coach, but then settled on another man with a sparkling resume, Lindy Ruff, to take over behind the bench in late June.
A week later, the trigger was pulled on a trade that required a large payment, but the bounty was Tyler Seguin and Rich Peverley. Seguin was the rarest of rare birds, a legitimate #1 goal-scoring center. A quick look at the list of players who ended this season with more points than Seguin in the entire sport are Sidney Crosby (26 years old), Ryan Getzlaf (28), and Claude Giroux (26). Seguin, who just turned 22 in January can absolutely be considered amongst the best young players in all of the sport – but, now you might just call him one of the best players in all of the sport, period.
With Seguin fitting so well with Stars' Captain Jamie Benn – who finished 10th in NHL scoring – the Stars have a future that is present. They are both now playing where they are naturally supposed to play, with Benn back on the wing and Seguin back in the middle. And they fit together because quality fits with quality. Year one was supposed to be a "get acquainted" season as Nill and Ruff decide who fits for the future and who doesn't. 2014-15 is supposed to be the massive step forward year, and with the resources available in the summer to make another bold move to get that one more giant piece, many of us are excited about where that road may lead.
But, they made it in this year.
Now, that wasn't easy. They barely are a playoff team this year. In fact, by last year's format, with the Stars in the Pacific and Detroit and Columbus still in the West, the Stars don't make the playoffs. Also, if the league went back to the old format where the Top 4 in each of the 4 divisions made it in to truly divisional playoffs, the Stars would have missed (finishing 5th in the Central). But, with this brand new modified divisional playoff that includes two conference wildcards, one of which would be sent out to play in a divisional playoff that they weren't even a part of, the Stars are in, and for the next month or so, they are a Pacific division team again.
And here come the Ducks. The Stars are matched up against the #1 seed from Anaheim so as much as we were happy to say goodbye to the constant match ups with teams in California, we have to deal with Corey Perry and Getzlaf all over again in a clash of foes that feature 1-2 punches. In fact, if any team can look at Benn and Seguin and offer a knowing nod, it would be Perry and Getzlaf. They have been running this game for several years.
But, this series is perhaps a chance for Kari Lehtonen to rise up and earn a bit of credibility on a national scene. Anaheim has goaltender chaos and Kari, who has played briefly in the playoffs a long, long time ago could be the advantage the Stars need to take a big step forward.
I doubt the Stars are being given a huge chance nationally, but I will tell you that when you look at it from a number of perspectives, the Stars look like they can compete with the Ducks. We shall see how they respond to the bright lights of the big stage, but at first glance, there is confidence to compete. You just wonder how they will deal with Benn and Seguin being hounded by the shackles of the playoff game-plans will be handled. I assume they will shrug it off and keep going, but that is the matchup. And it should be awesome.
Meanwhile, it is a chance for old friend Stephane Robidas to return to Dallas. This trade has never made sense to me (given the absurd lack of depth on the blue-line), and with Brenden Dillon's health in question, it would sure be nice to have Robidas on our side until this summer (when he is a UFA), but the trade was made and it is done. I assume he will be involved in a scrum in Game 1 and we will quickly be reminded that friendships are fun, but once the game starts everyone fights for the sweater they wear. That is how hockey players are programmed and fans follow quickly when he is on the side of Francois Beauchemin (for once).
I think the Stars can win this series, but given how many variables there are, I do not pick with much confidence. The Stars still have weaknesses and are not ready to contend for a cup, but I do think that they are on the right path.
I think that special teams and goaltending decides these, and I really expect the massive bodies of Perry and Getzlaf will surely remind us that Trevor Daley and Alex Goligoski need assistance from a 6'4, 230 pound #1 defensemen who can play 28 minutes in the summer. I think Kari can cancel some of that out, but will it be enough?
My head says Ducks in 7. But, I am so giddy to be in the playoffs that I am telling my head to shove it and I am forecasting a very close and drama filled battle that will be decided on some overtime goals.
I think Cody Eakin shows his value and the Stars somehow pull this thing out.
Stars in 7 (with a double overtime winner in the Pond in the final game). There, my cheerleading has already started.
Don't forget, the mission was to make the playoffs. This year, it is all with casino money and the jubilation of playing high stakes hockey again. Next year, we can get entitled and angry about a post-season crash and burn, but this one spring, let's just enjoy the ride. The team can take a deep breath and know that this is all frosting. The cake has been made.
Here we go.