Astros removing Tal's Hill at Minute Maid Park
It appears the days of centerfielders running up the 30-degree incline hill –€" complete with in-play flagpoles –€" in center field at Minute Maid Park to make highlight-reel plays will soon be over.
The hill, dubbed Tal's Hill in honor of former Houston Astros general manager Tal Smith, is scheduled to be removed at the conclusion of the 2015 season as a part of $15 million renovations for the center field area of the ballpark. Renovations, that will included improved seating, food and beverage options, are planned to be completed before the start of the 2016 season, according to a statement released by the team.
Here is an artist's rendition on how the changes will look, compared with the current layout of center field: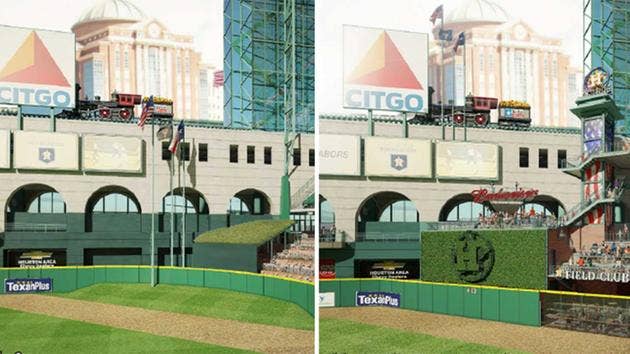 Tal's Hill has provided some great highlights over the years, but it's existence has sparked some controversy since the park opened in 2000. Critics of the hill argue that the sudden incline could lead to player injuries and that it is an unnecessary risk to have as a ballpark feature. To date, no injuries have occurred from a player running up the center field hill.
"A lot of though went into the planning and design of the new center field," Astros Hall of Famer Craig Biggio said. "I am confident that the Astros had the best interest of the fans and the players in mind at each step of the way."
With the removal of the hill, the center field distance of 436 feet would move to 409 feet, giving some power-hitters an extra edge as Minute Maid Park will boast sixth-farthest center distance instead of the deepest in the league.
For now, with the news Tal's Hill will be no more, let's take a moment to remember some of the highlights it helped produce over the years.
Ex-Astros CF Carlos Beltran makes a nice grab running uphill.
In Minute Maid Park's first season in 2000 (then-known as Enron Field) then-Braves CF Andruw Jones misses the first catch due to the hill, but practice makes perfect as the next ball is hit to the same spot to get an out.
Carlos Gomez running (falling) up Tal's Hill to make a highlight-reel out.
More recently, Astros CF Jake Marisnick makes a play at the peak.
Best of all, former Astro Lance Berkman showing first basemen can play in the outfield too.
Did you like the hill or hate it at Minute Maid Park? Let me know on Twitter: @ShawnPRamsey
MORE FROM FOX SPORTS SOUTHWEST:
– Predicting awards and winners of the 2015 MLB season
– Ranking NFL quarterback salaries
– 21 Fun Facts about the NCAA tournament
– Highest paid player of each NBA team
– College football's highest paid coaches in 2014