Are Thunder in danger of missing playoffs?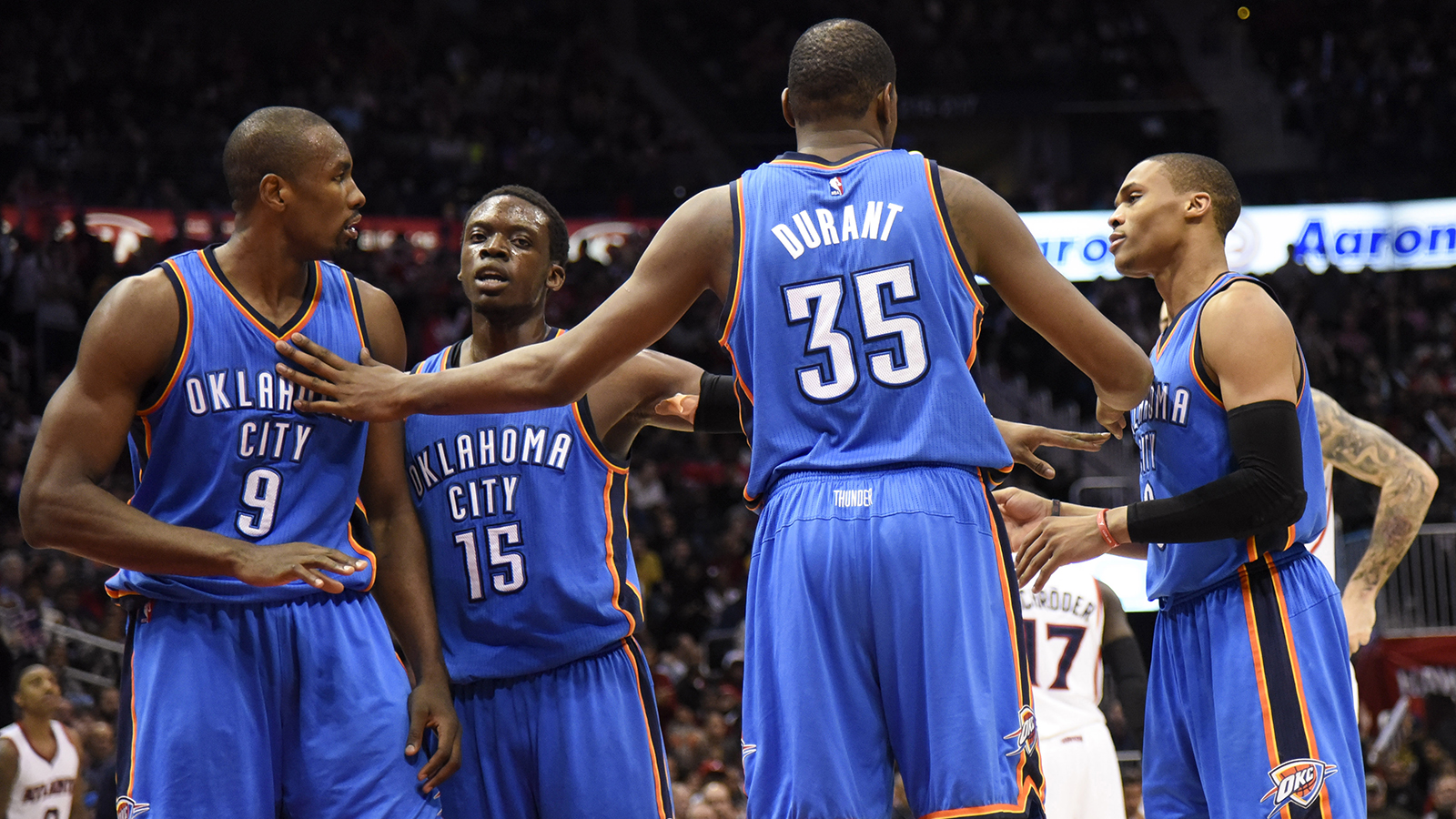 Kevin Durant returned from his second injury of the season on Dec. 31 against the team that has become Oklahoma City's chief target all season, the Phoenix Suns, and poured in 44 points in the overtime victory.
All seemed right with the Thunder's world again. The reigning MVP had reasserted his power and OKC had moved just 1.5 games behind playoff place-holder Phoenix. It was only a matter of time now before the Thunder would take over.
Only it still hasn't happened.
The Thunder (23-22) have gone just 7-5 since Durant returned, and not only have they lost ground in the standings to the Suns, they've yet to overtake the middle man in all this, the ninth-place New Orleans Pelicans (24-21), the team nobody talks about as being a real threat to catch Phoenix (26-20).
It's been assumed all along, and understandably so, that the Thunder, with three Western Conference finals appearances in the last four years, will claim the final playoff spot.
With 37 games remaining on the Thunder's schedule, and Durant's health in question again with a sprained big toe on his left foot (he is out for tonight's game at New York), that notion can no longer simply be assumed.
The talented Suns aren't likely to flame out without a fight. And the Anthony Davis-led Pelicans are only bound to get stronger. They're riding a season-best four-game winning streak even as point guard Jrue Holiday sits out with a leg injury.
It can even be argued that the Thunder, while boasting the most lethal one-two punch in the league with Durant and full-throttle point guard Russell Westbrook, is actually the least stable bunch of the three teams.
Really for the first time since the Thunder became title contenders in 2011, coach Scott Brooks is dealing with chemistry issues on his roster. The trade for erratic shooting guard Dion Waiters didn't sit well with a seemingly already disenfranchised Reggie Jackson, whose performances this season have been largely unenthusiastic.
Then there's the curious case of power forward Serge Ibaka, whose season-to-date has been less than inspiring. His rebounds and blocks are down, and his overall shooting percentage of 46.2 percent is well below his career 53.4 percent as he is dead-set on extending his terrific mid-range game beyond the 3-point arc as often as possible.
Still, there's too much talent and too much experience potential on this team to not expect it to string together wins and zip up the standings.
They'll be hard-pressed to make it happen before the All-Star break with a challenging seven-game stretch ahead that starts with a must-win tonight at Madison Square Garden against the eight-win Knicks. A road game at Memphis comes next followed by a road-home series against the Pelicans.
The Suns and Pelicans also begin wicked stretches tonight leading into the break. A stellar two weeks by one team could create separation. Chances are all three will go into the break bumper-to-bumper.
Here's a look at the Thunder, Suns and Pelicans' schedules through Feb. 12:
SUNS (26-20)
Games: 8 (vs. Washington, vs. Chicago, at Golden State, vs. Memphis, at Portland, vs. Utah, at Sacramento, vs. Houston)
Home: 5
Road: 3
Vs. West: 6
Vs. teams 10+ games over .500: 6
Vs. teams under .500: 1
Current streak: Lost 2
Last 10: 6-4
PELICANS (24-21)
Games: 7 (vs. L.A. Clippers, vs. Atlanta, vs. OKC, at OKC, vs. Chicago, vs. Utah, vs. Indiana)
Home: 6
Road: 1
Vs. West: 4
Vs. teams 10+ games over .500: 3
Vs. teams under .500: 2
Current streak: Won 4
Last 10: 7-3
THUNDER (23-22)
Games: 7 (at New York, at Memphis, at New Orleans, vs. New Orleans, vs. L.A. Clippers, at Denver, vs. Memphis)
Home: 3
Road: 4
Vs. West: 6
Vs. teams 10+ games over .500: 3
Vs. teams under .500: 2
Current streak: Won 1
Last 10: 6-4
MORE FROM FOX SPORTS SOUTHWEST:
– Highest paid coaches in college football
– Ranking NFL quarterback salaries
– Oldest player on every NBA team