Andrus scores Rangers only run in win over M's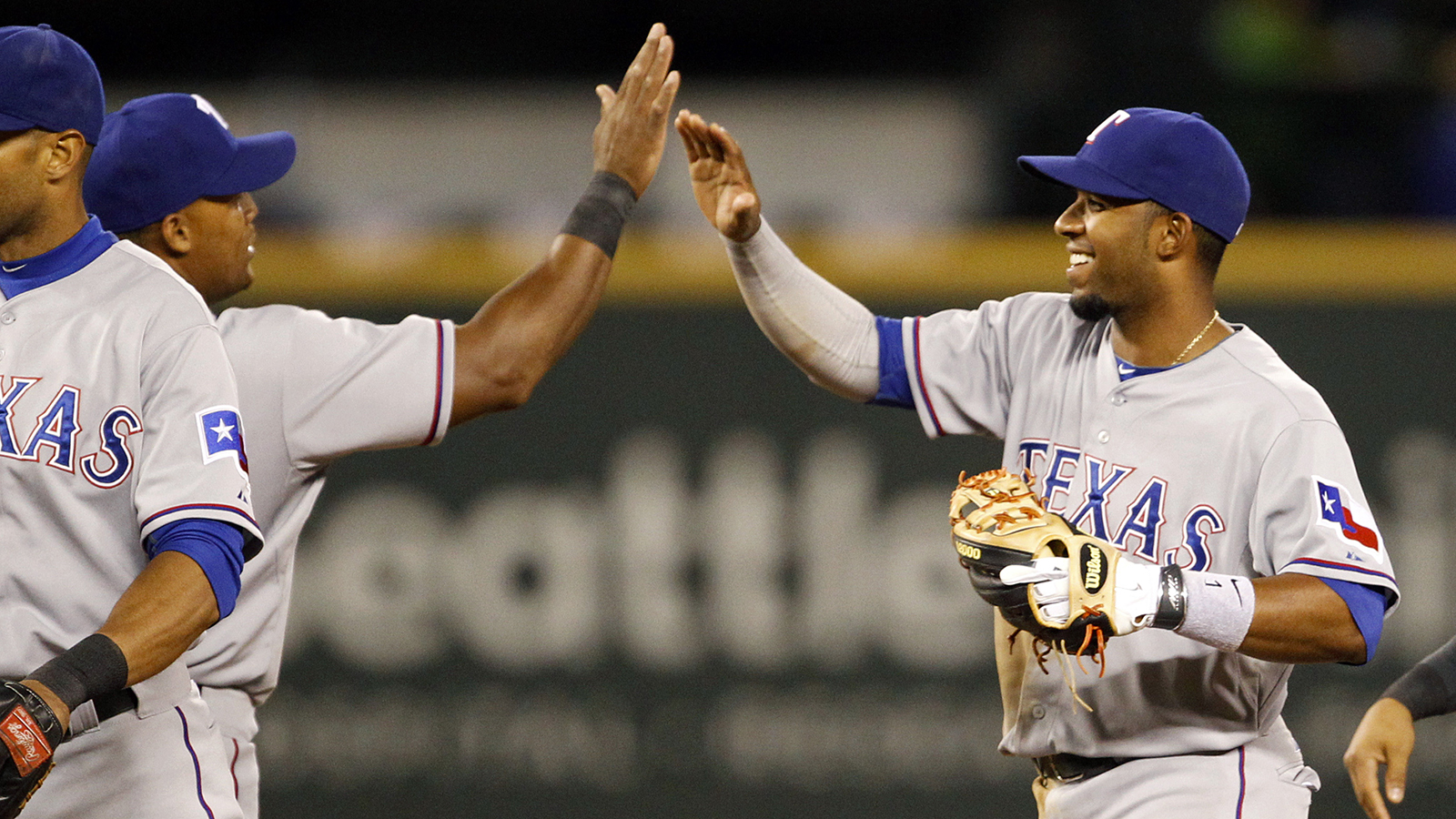 SEATTLE (AP) – Elvis Andrus singled, stole two bases and scored on Adrian Beltre's infield grounder in the ninth inning and the Texas Rangers did just enough against Seattle ace Felix Hernandez for a 1-0 victory over the Mariners on Friday night.
Andrus singled with one out in the ninth, then proceeded to steal second and third base. The second stolen base came as Shin-Soo Choo walked on a 3-2 pitch from Hernandez. That was the final batter for Seattle's ace. Closer Fernando Rodney entered and got Beltre to hit a grounder into the hole at shortstop. The Mariners got Choo, but couldn't turn the double play and Andrus scored.
The run snapped a streak of 19 consecutive scoreless innings for Hernandez (8-2).
Matching Hernandez was Texas starter Nick Tepesch and a trio of relievers. Tepesch threw 6 1-3 innings, Jason Frasor finished off the seventh, Shawn Tolleson (2-1) got through the eighth and Joakim Soria pitched the ninth for his 14th save.
Texas posted its 13th shutout and fourth 1-0 victory this season. Seattle lost its fourth straight.
Hernandez was coming off a career-best 15 strikeout performance in his last outing against Tampa Bay. Hernandez dominated the Rays, but didn't get the victory because Seattle's offense failed to score while he was on the mound.
An identical scenario played out against Texas. Hernandez was just as dominant — minus the strikeouts — and the Mariners again failed to provide their ace any runs.
Hernandez came out for the ninth having thrown 98 pitches. He started the inning striking out Michael Choice but Andrus followed with a single. Andrus stole second as Hernandez fell behind in the count against Choo. Hernandez eventually walked Choo on a 3-2 pitch and Andrus stole third putting runners and the corners with one out.
Rodney entered and got a groundball from Beltre. Shortstop Brad Miller had to go into the hole to make the play and Robinson Cano's relay attempt to first was late and wide.
Soria then shut down the top of Seattle's order in the bottom of the ninth. He struck out James Jones, got a groundout from Kyle Seager and Cano grounded back to the mound for the final out.
Tepesch matched Hernandez all night. He faced the minimum through five innings and used just 47 pitches to set down the first 15 batters. The only batter to reach for Seattle was Mike Zunino with a single leading off the third inning.
Zunino lined a ground-rule double into the Mariners bullpen leading off the sixth, the first baserunner by either team to reach second base but was left stranded at third.
Tepesch started struggling in the seventh. With two on and one out, Tepesch was lifted in favor of Frasor who struck out pinch-hitter Endy Chavez looking and Dustin Ackley swinging to end the inning.
Tolleson worked a perfect eighth to get the victory.
NOTES: Seattle OF/DH Corey Hart (hamstring) hit on the field before the game for the first time since being injured on May 18. … Rangers RHP Derek Holland (knee surgery) threw live batting practice on Friday. He's scheduled to throw another live BP session on Wednesday. … Texas LHP Joe Saunders will make his fifth start on Saturday. He pitched last season for Seattle, going 11-16 in 32 starts.