All-time postseason success up next for Spurs' trio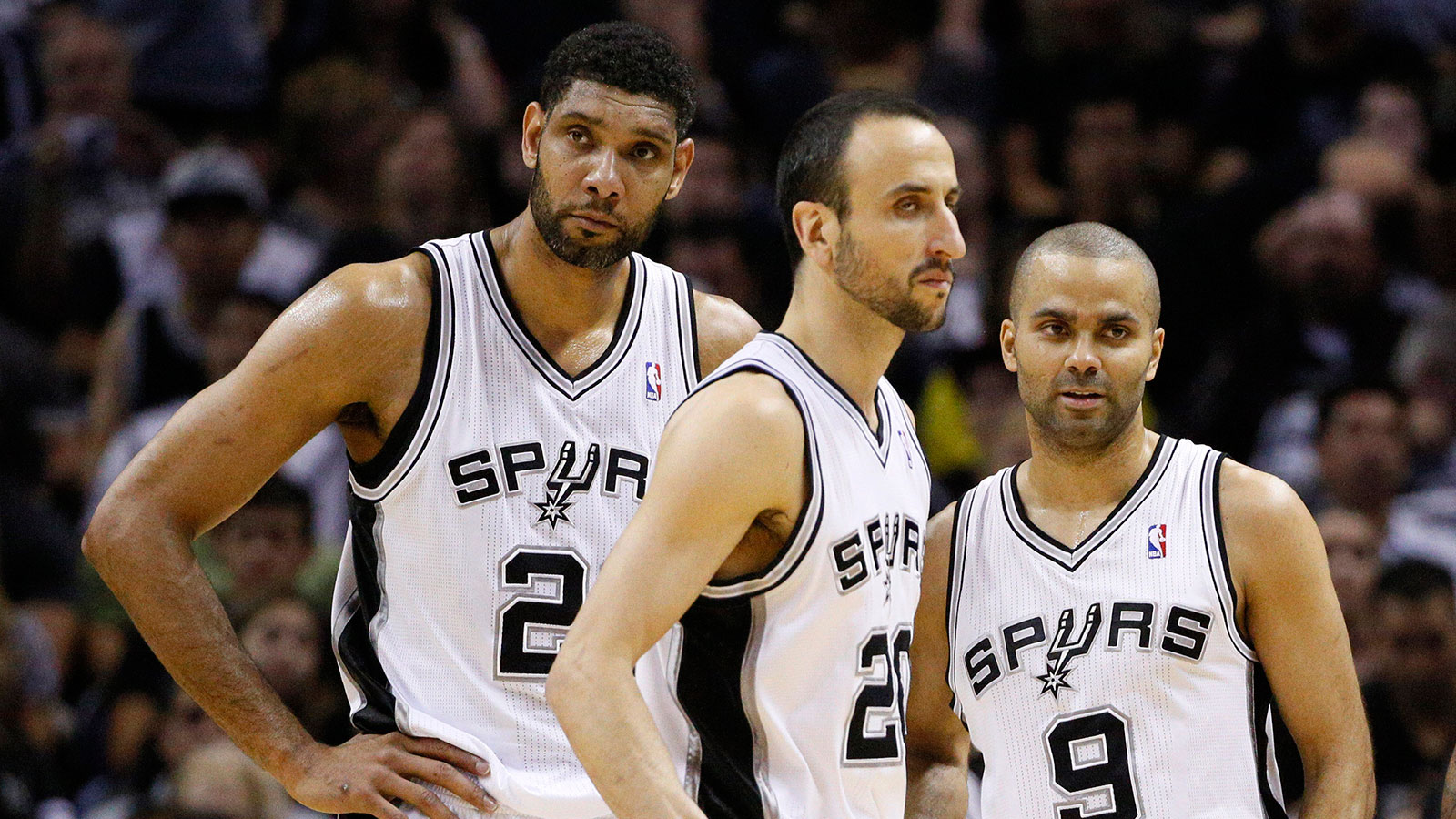 The San Antonio Spurs aren't the sort of team that cares about setting records. For a franchise that prides itself on the tedious process of pounding the rock, achievement isn't measured in milestones.
Relentlessly chipping away year after year does set the Spurs apart in more ways than they care to count. Go no further than Monday night's 122-105 demolition of the Thunder in Game 1 of the Western Conference finals as San Antonio's Three Amigos tied an NBA record for playoff success.
Tim Duncan, Tony Parker and Manu Ginobili won their 110th postseason game together, tying the Los Angeles Lakers' threesome of Michael Cooper, Kareem Abdul-Jabbar and Magic Johnson for most playoff wins by a trio.
Heady stuff, sure, but banners aren't hung in AT&T Center for footnotes, however impressive the feats might be. And what would it mean if San Antonio's celebrated triplets set the record Wednesday night in Game 2?
Simply that the Spurs are halfway to the four wins needed to advance to the NBA Finals. Nothing else matters right now for the Silver & Black.
San Antonio couldn't have looked any better in taking the early series lead. The Spurs scored a playoff-best 122 points, while shooting a postseason-high 57.5 percent from the floor and 52.9 percent from beyond the arc.
That marked the first time since 2007 — San Antonio's last championship season –€" the Spurs shot at least 55 percent from the floor and 50 percent from 3-point range in a playoff game. Throughout these playoffs, San Antonio ranks first in field-goal and 3-point percentage.
The Spurs completely dominated the paint, taking advantage of Serge Ibaka's absence to outscore Oklahoma City 66-32 inside. Those 66 points were a playoff-best for the Spurs this year.
"We were taking what we were given," said Duncan, who tied his 2014 playoff high with 27 points.
Not having Ibaka patrol the paint obviously works to San Antonio's advantage, but Duncan said the game plan wasn't fundamentally altered because Oklahoma City was without its starting power forward.
"Whether he's there or not, we need to move the ball," Duncan said. "It's been something that we've been talking about not only this series, but in series past. We need to move the ball, move defenses, and they still have size in there, so we get it around, we get our shooters open, we get into the middle, we get them to collapse. Whatever it may be, we need to move that ball and find people."
Parker did just that with playoff-high 12 assists. (The Spurs had a playoff-best 28.) Parker didn't seem at all impacted by the hamstring injury that slowed him down last week, adding 14 points for his first postseason double-double. San Antonio is 14-2 all-time when Parker hands out at least 10 assists in a playoff game.
And of course there was Ginobili. After a subpar showing against Portland, not that he was really needed in that series, Ginobili bounced back with 18 points on 7-of-12 shooting off the bench.
"He looked very confident and went to the basket, got easy layups in the third quarter," Parker said. "I think he got his confidence going for the fourth quarter, and he made some shots, made a couple 3s. It was big for us."
Timmy, Tony and Manu have come up big in the playoffs longer than their NBA foes care to remember. What's another record?
Follow Art Garcia on Twitter @ArtGarcia92