A look inside early enrollment in college football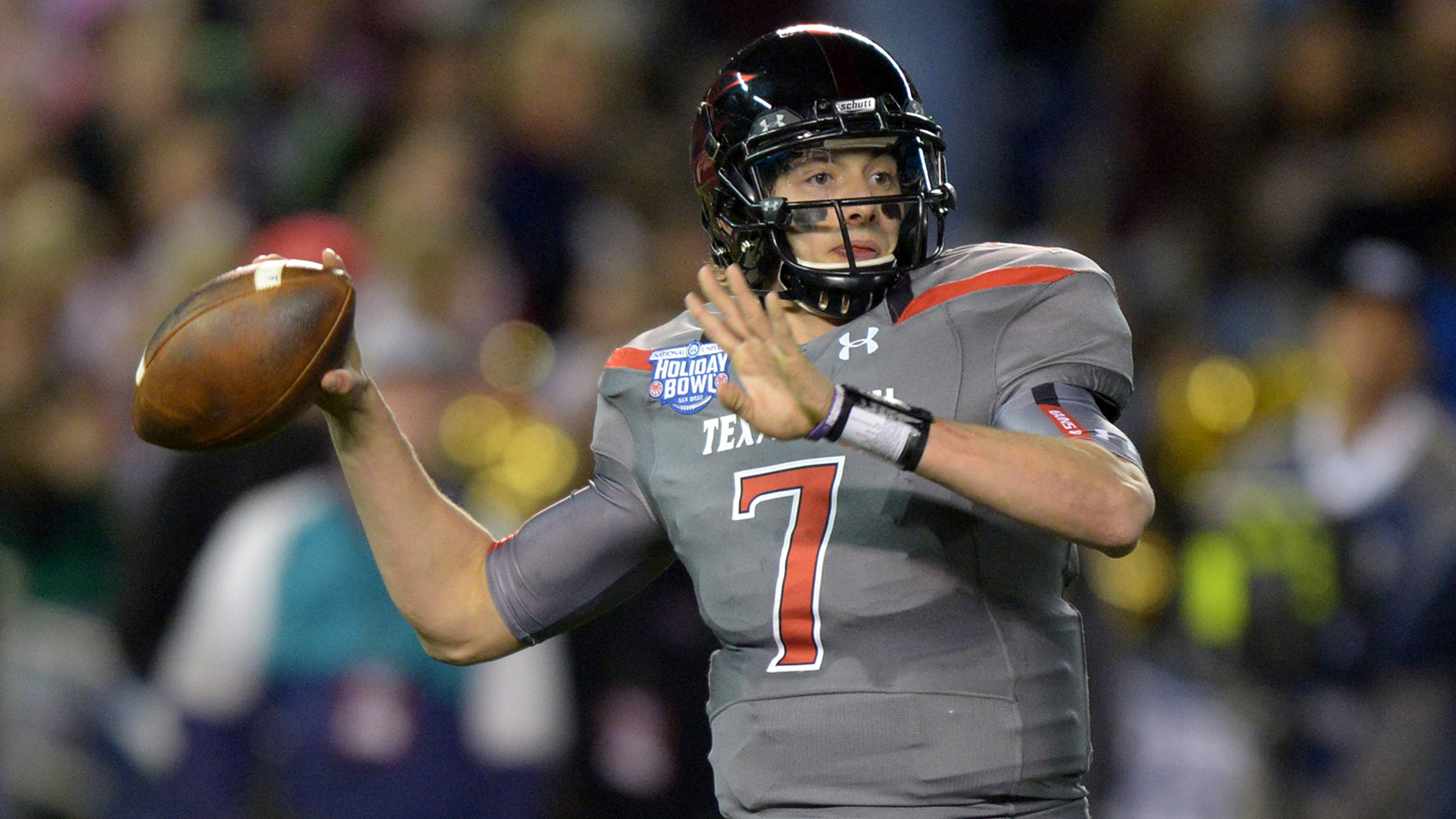 Davis Webb never went to a high school prom.
He didn't have a good reason his junior year, but got a great one last spring: He wasn't in high school anymore and Texas Tech's spring game was slated for the same day.
"I didn't think too much of it. I have bigger aspirations in life," Webb said. "I experienced playing football in front of 20,000 people in a spring game. I'll take that."
Six months later, Webb was the starting quarterback as a true freshman and enters this spring as Red Raiders' only scholarship passer after his competition for the job transferred following the regular season.
Webb is part of a growing trend in college football: 17-year-old senior who don't wait until the summer to show up at their respective college campuses. It's a decision loaded with advantages and sacrifices, and one that's helped usher in an era of more game-ready freshmen in college football than ever before.
"Especially at skill positions like quarterbacks, as more and more kids are college ready at that age thanks to 7-on-7 reps and private coaching, it's more popular," Red Raiders coach Kliff Kingsbury said. "Kids are trying to get that upper hand by gaining that extra semester."
Kingsbury estimates that 50 percent of the time, coaches have looked over a players' academics and suggest the possibility. The other 50 percent of the time, a recruit will open the conversation about early enrollment.
"We've never pressured a kid to do it," Kingsbury said, adding that his staff will easily concede if a player is a two-sport athlete who wants to continue his basketball or baseball career.
West Virginia coach Dana Holgorsen landed his first early enrollee from Evangel (La.) Christian in the early 2000s, in the early stages of the practice.
"We'd have one about every other year," said Holgorsen, who served on Mike Leach's staff in Lubbock from 2000-07. "It was unheard of back then."
It's not anymore. Webb had the biggest impact last season among 21 players who enrolled early across the Big 12.
He went from watching Oklahoma State Wes Lunt go through spring practice at OSU when the Cowboys were recruiting him to essentially becoming Lunt a little more than a year later. Both Webb and Lunt earned spots as Big 12 starting quarterbacks during their true freshman seasons, and both have early enrollment to thank. Lunt manage to win the starting job after the 15 spring practices, beating out a pair of older quarterbacks. He transferred to Illinois after his freshman season when he didn't reclaim the job after healing from a pair of injuries.
This year, another Oklahoma State quarterback–South Carolina native Mason Rudolph–is spending his spring trying to following in Lunt's footsteps and beat out upperclassmen to win the starting job.
Holgorsen welcomed five early enrollees last season, the most of any team in the Big 12. Two redshirted, quarterback Chavas Rawlins transferred after the spring and two made notable impacts in their first year on the field.
Receiver Daikiel Shorts led the team with 45 receptions for 495 yards and two touchdowns. Running back Wendell Smallwood found a niche as the resident speedster in a crowded Mountaineers backfield and rushed for 221 yards and a touchdown on 39 carries as WVU's No. 3 back.
"If physically, they're not going to be ready, I don't think (enrolling early) helps a ton. But if they are physically ready, I think it gets them ahead mentally," Holgorsen said. "They're going to be three-year starters for us. They had great true freshman seasons. If they wouldn't have came in that midterm and got that experience in spring, I don't know if they would have been able to grasp what to do and be able to perform at a high enough level to compete in the Big 12."
By fall, those extra 15 practices can pay off, but the adjustment on and off the field can prove difficult. For any player flirting with the idea of early enrollment, Kingsbury makes sure it's "worth their while" and assures they will be getting valuable practice reps and attention from strength and conditioning staff.
That can be especially valuable for players like Webb who have legitimate chances to compete for starting spots immediately.
"You really want to make sure it's a comfortable environment for them. That's a big change, even the school aspect of it. I just want to establish a comfort level when it comes to football," Kingsbury said. "You know there's going to be some rough moments."
Webb's first pass at Texas Tech during a 7-on-7 drill against the Red Raiders' first team defense was a 10-yard out route.
His timing was a little late, but in high school, he routinely got away with sloppy timing against younger, slower, less athletic cornerbacks.
His first pass was nearly intercepted and fell incomplete.
"I was kind of like, 'Ooh, I better throw that on time. I'm not in high school anymore,'" Webb said. "At 18 years old, you think that's the best defense in the country. It was a huge eye opener."
Added Kingsbury: "You could just see early on, a lot of thinking going on. He's just trying to get one signal here and one signal there and get the protection called. By the 13th, 14th, 15th practice and scrimmage, it's a smooth process. He's operating fast and the ball's coming out quick."
Off the field, there are just as many adjustments. Those can make life even more difficult when every other freshman on campus has been there for a semester.
"The transition was rough, because there's not a lot of freshmen coming in early so they don't really separate us," Smallwood said. "It was like being thrown to the wolves. I had to get used to the schedule of school and football, balancing them out."
There aren't any parents to assist in 5 a.m. wakeup calls for morning workouts or offer nightly reminders that homework should come before video games or free time. For players like Webb, Smallwood and Shorts, however, the act of graduating early proves a level of responsibility.
Webb's school counselor at Keller High School told him graduating early wasn't an option. Transferring to Prosper gave Webb a counselor with a new perspective.
"I knew it was going to be rough, but we developed a plan and got it done," he said.
Graduating early required taking summer courses and an additional online course during the fall semester–in the middle of his final year of high school football–but he met all the requirements to land in Lubbock a little early.
Smallwood began planning his early graduation the summer before his junior year of high school and at a camp later, convinced Shorts, his high school teammate at Eastern Christian Academy in Maryland, to do the same.
Shorts, though, wasn't sure he'd be able to do it until October of his senior year.
Like Webb, it came with a cost Shorts was willing to pay. For many, the final semester of high school can be a memorable few months before classmates leave to chase college degrees or careers.
"I missed out on a lot of things like friends, summer beach trips, prom and all that, but I felt like I was in a better place," Shorts said. "I was getting ready for what I needed to do."
Smallwood returned home for his prom and graduation, but quickly realized how much had changed on both sides since he left.
"It was kind of weird, because I had already gone and it was like I was coming back to high school," he said. "Everybody was like, 'What are you doing here?' I felt kind of like, not not wanted, but just out of place."
The trade-off for some can mean a boost to their recruiting profile. Kingsbury says for his staff, it's not a major consideration, but not everyone abides by that line of thought.
"That's the difference in taking juco guys and not taking juco guys," Holgorsen said. "With high school guys, it's just a bonus."
Stories from players like Webb, Smallwood and Shorts are becoming more and more common. The safe bet? This is just the beginning of college football players electing to skip the final halves of their senior years to get a jump on their careers at the next level.
"I'm a big proponent, we try to get all our guys to do it. We've had a lot of success," Holgorsen said. "The more of them, the better, if you ask me."