3 things Sooners must do to beat K-State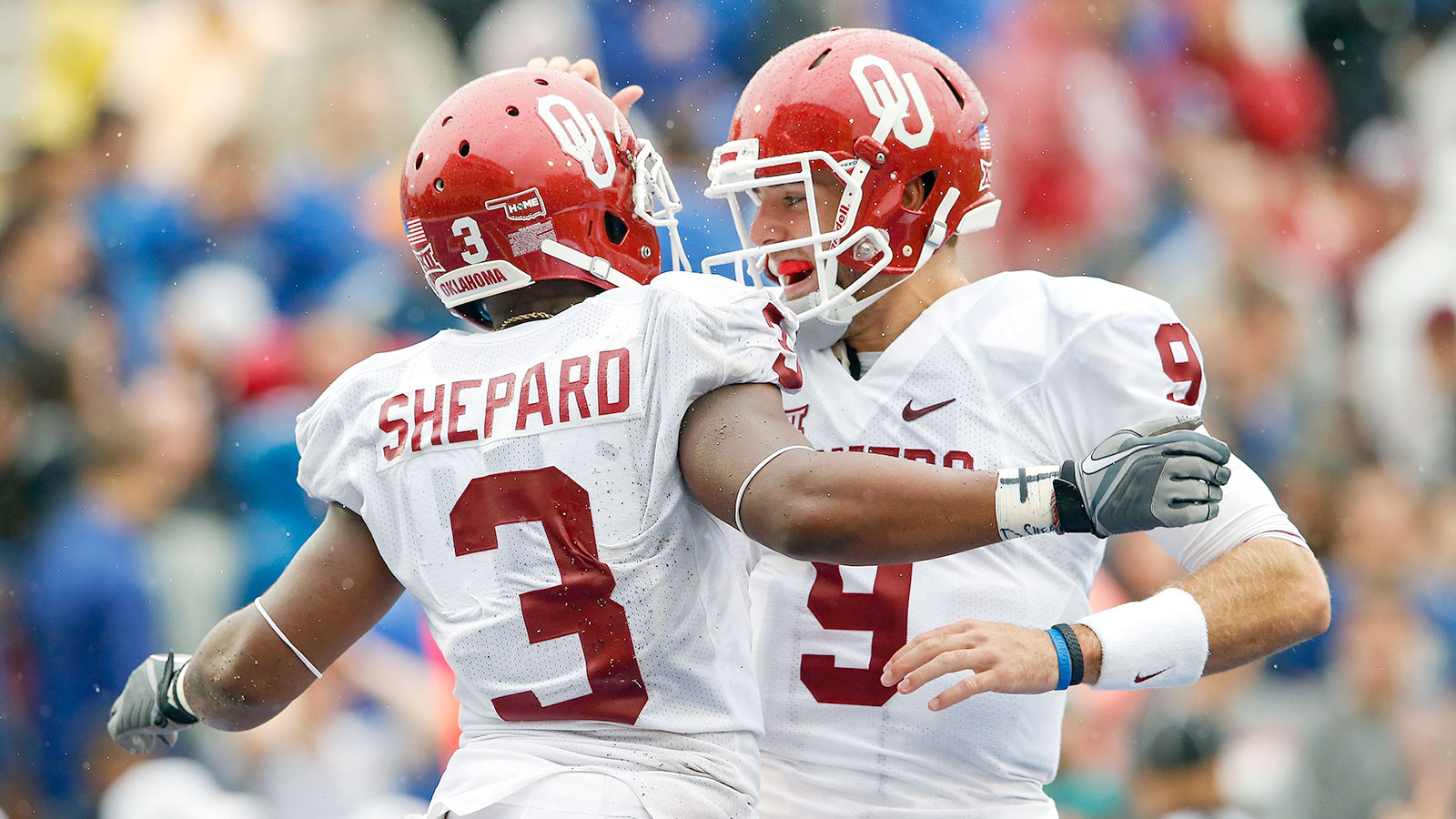 NORMAN, Okla. – A season ago the Sooners were struggling heading into their game against Kansas State.
The same could be said for this year, too. OU lost against TCU and then nearly did the same against Texas. OU is 5-1 and still alive in the playoff picture. K-State has just one loss, too.
OU shook out of its slump last year with a win against the Wildcats. If the Sooners are going to do it again this year, three things have to happen:
1. Trevor Knight needs to improve
What's the story?: We know Knight isn't the same quarterback he was last season when he led the Sooners to a win over Alabama in the Sugar Bowl. And that's OK. He doesn't have to be that good.
But he needs to be better.Kind of like he was last year against Kansas State, in what was his best game up until that point.
Knight was loose last year in Manhattan, Kan. He ran 14 times for 82 yards and threw for a first-half touchdown pass and ran for a first-half touchdown. There's no reason he couldn't do the same thing again this time. He's been fairly limited as a passer this season (55 percent completions), and it's obvious the Sooners aren't interested in making a quarterback change, so maybe the coaches and/or Knight need to diversify the offense. Maybe Knight will run more.
The offense was bad against Texas in the first half, but it wasn't terrible in the second half, a lot of that because Knight did different things. The Sooners picked up their tempo and there was a couple of completed passes by Knight on an impressive, third-quarter scoring drive.
What has to happen: Knight has to get more confident. Some of that is on him and some of that is on his teammates. Without any trustable targets outside of Sterling Shepard, others have to do a better job of becoming viable. Maybe it's Durron Neal, maybe it's a running back, but someone has to be a target Knight can go to. Not only will that make Shepard more valuable, but it will ease up things for Knight.
Knight also needs to run. Simple as that. He can throw, sure, but he's not the kind of quarterback who wins games with his arm. He can be a superb runner, yet he hasn't been really used in that capacity this season. He has 31 attempts this season, that's about five per game.
Perhaps the Sooners are worried Knight will get hurt, but they should be more concerned about the offense becoming too predictable. Knight rarely carries on the zone-read, making it easier for defenses to load up against Samaje Perine and Alex Ross. A few keepers here and there, a few designed runs and OU offense would certainly look more free and flowing.
What will happen Saturday against Kansas State: Knight will run more. The offense will look better. It has to. After gaining only one first down in the first half against Texas a week ago, expect Josh Heupel, the team's offensive coordinator to open things up. OU has to figure out a way to move the ball and the best way to do it with Knight is to let him do what he does best.
Run the ball.
2. Don't ignore Samaje Perine
What's the story?: Well, it's not like Perine has been forgotten, but he has been used less than he was after he went off against West Virginia, three games ago.
What has to happen: It's time for the Sooners to shift their offense. One easy way to do that is to go back to Perine. He had 32 carries against West Virginia, had 25 against TCU and then had 18 against Texas. In addition, Perine's yards-per-carry has also decreased each game, going to 3.1 vs. Texas. All of this without the injured Keith Ford.
What has to happen: Bob Stoops said his team doesn't have to worry about an identity, but he does need to worry about how they are going to move the ball. OU can count on Perine, past that, it's hard to say who the Sooners can rely on offensively.
Perine is the best bet to be a steadying factor for an offense that is desperate to have one. The offensive line is the strength of the team and Perine has shown the ability he cane counted on. Why not just rely on Perine and ease Knight into the game?
If Perine can carry it 30 times it means the Sooners are getting first downs and controlling the clock – two things it did't do last week in the first half against Texas. If Perine carries it 30 or more times, OU will win easily.
What will happen Saturday: Perine will get his touches, especially early as the Sooners will try to wear down the Kansas State defense. It's clearly OU's best chance for victory. He'll have to be good, too, because Kansas State has already defended — well — Auburn's rushing attack/
Count on K-State loading the box and daring Knight to throw, just like TCU and Texas did. Knight will have some success, but the best bet for success will be Perine. Expect him to catch a few passes, too, via a wheel route or by screen pass.
OU won't feature too much of Alex Ross in the backfield, and Ford is out for at least another week, so Perine is about the only option left. Saturday will be about the re-dedication to the rushing game for OU.
3. Limit Lockett and Waters
What's the story: A season ago, Lockett was amazing against OU. He had 12 catches, three for touchdowns, and 278 yards. This year, he's been great against everyone. Lockett leads the Big 12 in punt return average and fifth in all-purpose yards with 139 per game.
Meanwhile, quarterback Jake Waters is the best-running quarterback the Sooners have seen this year. More disciplined than Trevone Boykin, more skilled than Tyrone Swoopes.
What has to happen: Simply, Eric Striker and Jordan Phillips need to play well.
The quicker Striker can get to Kansas State quarterback Jake Waters and the better Phillips is at helping stop the run, the less likely Lockett goes off again.
What makes Kansas State difficult is its quarterback run game. Waters leads the team in attempts and in yards. He's averaging 4.6 per carry and has scored six times on the ground and has thrown for seven more touchdowns.
But if Waters can't get going, he'll need to locate Lockett. Unlike OU, which leans on Shepard, the Wildcats have a little help in the passing game. Lockett has 29 catches and Curry Sexton has 28. Still, figure Lockett is the primary target.
What will happen: Lockett was so good last season, the Sooners will be hyper-sensitive to him this time around. Lockett won't be as productive as last year, but Waters will be excellent.
Waters will run for 100 yards and keep Kansas State close.
Follow Andrew Gilman on Twitter: @andrwegilmanOK