Top prospect Dansby Swanson reboots Braves' search for local star
Tim Corbin needed caffeine and WiFi.
On an early 2011 recruiting trip to talent-rich Cobb County with his recruiting coordinator, Josh Holliday, Vanderbilt's decorated baseball coach settled on Dunkin' Donuts after a 235-mile trip down I-75 South. This was an important trip — Holliday, older brother of St. Louis Cardinals All-Star outfielder Matt Holliday, had called him after seeing the Marietta High School product for the first time, saying, "I think I found our shortstop of the future." — but Corbin had some time to kill on his laptop before the game.
The plan was for Corbin to spend a couple hours at Dunkin' Donuts then walk up the road to catch the game as Holliday drove 30 miles away to scout another Atlanta-area prospect before doubling back to meet at Marietta High. At least that was the plan. What unfolded varies depending on the source. Corbin recalled a four-mile hike to the stadium. Holliday remember it as a three-mile walk. The prospect in question thought the number was five.
Either way, as Holliday said, "It was a miscalculation on both of our parts."
"I got to the game and I was in a total body sweat. They didn't even believe that I was a Vanderbilt coach," said Corbin, college baseball's winningest coach with a career 567-271 record. "So I do remember that the first time I ever laid eyes on him that I had walked a long way to see that kid play."
That prospect was Dansby Swanson.
In retrospect, Corbin would have run an ultramarathon. He noticed the 6-foot-1 infielder's innate ability and quick-twitch athleticism immediately. Swanson noticed the Vanderbilt hoodie in the stands. When later made aware of the unique circumstances of the scouting trip, Swanson told Corbin, "You're crazy, dude. You're nuts for that."
"Even watching him that night, I think he got one hit and he made a couple plays at shortstop," Corbin said. "And I think the thing that I remember the most about him is he hit a fly ball straight in the air to the infield and he got all the way to second base as the ball was starting to come down and caught by the shortstop. And I remember saying, 'That's the fastest 180 feet I've seen in a long time.' I thought that was special in itself."
Swanson's "Shortstop of the Future" billing was spot-on — a two-time All-American, he spearheaded the Commodores' run to the 2014 national title — and it's followed him ever since, first to Arizona as the 2015 No. 1 overall draft pick and then, six months later, back home. He's now at the epicenter of the Atlanta Braves' full-scale rebuilding effort, the highest-rated prospect in perhaps the best farm system in baseball.
Next comes the challenge of fulfilling lofty expectations. In his backyard, no less, where he becomes the latest in a long line of local products to shoulder the burden of leading the hometown club back to baseball's promised land.
Perched in their Winter Meetings war room overlooking the indoor River Walk replica at Nashville's Grand Opryland Resort, John Hart and John Coppolella attempted to suppress the celebratory tone of the blockbuster that landed their organization what's been dubbed the haul of the offseason: Dansby Swanson, Aaron Blair and Ender Inciarte. Two top-100 prospects and five years of club control of Gold Glove-caliber outfielder, a king's ransom.
It's difficult to envision a more lucrative offer for All-Star pitcher Shelby Miller, but there Atlanta's president of baseball operations and general manager sat in that spacious Nashville hotel room, saying they seriously considered five or six other trade packages, including strong pushes from the Diamondbacks' NL West division rivals, the Dodgers and Giants. The bidding war for Miller's services, which heightened into an apparent feeding frenzy thanks to the Diamondbacks' signing of Dodgers Cy Young candidate Zack Greinke, tipped the scales in the Braves' favor.
The hotel room's whiteboard, once covered in prospective trades, was erased by midnight, but at least one team was forced to overpay, tacking on the most recent No. 1 overall pick and near-consensus top-25 prospect to an already overwhelming package.
It is, without equal, the signature move of the Hart-Coppolella partnership.
"We checked with (special assistant to the GM) Roy Clark and (scouting director) Brian Bridges and our guys, and they love this guy," Coppolella said, noting that the team's scouting department had known of Swanson since elementary school. " … They were really in on who this player was, and they knew him because he was from our area — where he's from and what he can do for us. That was a big part of this trade."
Eleven miles away, news had already reached Swanson as he ate dinner with Nike executives at B.B. King's in The District, a vibrant area in downtown Nashville off the Cumberland River, and he was shooting 3-pointers in Vanderbilt's Memorial Gym, coming to terms with deal's ramifications. The big-picture was not lost on him; he titled his subsequent Players Tribune article, "Homecoming," after all. Just as pressure followed his decision to skip MLB Draft suitors out of high school and take out student loans to supplement his partial scholarship, his meteoric rise to the pinnacle of collegiate baseball and the franchise-size weight that comes with being a top overall pick, so too has it followed him back to where it all began.
"It's honestly one of those things where you just have to go out there and be yourself. I feel like that's something that gets lost," Swanson said. "When you put pressure on yourself is when you start to do things that are out of character. Obviously from what you've done up to this point has gotten you to where you are, you've just got to stay true to who you are."
In the end, the Diamondbacks shipped not only an embarrassment of controllable riches, but also narrative.
The homegrown label is important to Hart & Co., but the "hometown savior" dynamic is woven into the fabric of this franchise dating back to the Baby Braves. It is the franchise's marketing holy grail; the Local Kid Makes Good angle taken to its sporting extreme.
Swanson is next in line to fill the void left by past hopefuls Jeff Francoeur and Jason Heyward. Since 2000, the Braves have spent 14 first- and second-round picks on in-state products — a draft tactic encouraged by one of the nation's richest pools of high-school talent and two solid Division I programs sitting in their backyard — looking for The One. And though there's not a single in-state product in the Braves Hall of Fame and the franchise's only title was built on a foundation of players from Florida, Massachusetts, Michigan and Nevada, the search continues.
The compass now points northwest to Marietta.
Jeff Francoeur's spring training locker is buried in the back half of the home clubhouse at Disney's Wide World of Sports, tucked in a three-player row around the corner from the bulletin board posting players' daily schedules. A late addition to Braves camp on a minor-league contract, the organization's one-time golden boy returns home fighting for MLB survival.
After playing 115 games at the Triple-A level two years ago, the 32-year-old outfielder found his niche in Philadelphia last season, posting his best offensive numbers since his Braves heyday, but, as his contract suggests, there are no guarantees with Opening Day less than a month away. How quickly things can change. Swanson was just 11 years old when Francoeur's image appeared on the cover of 'Sports Illustrated' in August of 2005, the infamous headline sitting above the question, "Can anyone be this good?"
The Braves are hoping the answer is still yes, if only delayed by more than a decade, and that the original can help the heir apparent get there.
When asked if he might have a few nuggets of advice for Swanson, in terms of dealing with being a hometown fan base's focal point, Francoeur simply laughed: "I think there's just a few things."
"More than anything it's just find a way to learn how to say 'No'. I know it's tough, but if you say it in a gracious way you're not going to hurt anybody's feelings. And if you do then they don't understand," Francoeur said. "You can't do this all day long, answer that question then do that or teach this. He's down here for one reason. That's to work hard and get better and get himself to come up later this year, next year, whatever it is."
Francoeur is not alone in Orlando.
The Braves opened spring camp with nine former first-round selections, excluding prospects — veteran players like Jason Grilli, Nick Swisher, Gordon Beckham and Kelly Johnson who have dealt with failure, success, winning, losing, outside negativity, injuries, trades, cuts, demotions.
"I've kinda done the same thing that he has. High draft pick, he's going to have a lot of expectations here. He's going to be in his hometown. He's going to have a lot on his plate," said Beckham, the 8th overall pick of the White Sox in 2008. The former University of Georgia star finished fifth in the 2009 Rookie of the Year voting before his numbers quickly declined. "I think I can help him with that because I've been through the ringer. I really have. Going from like the high of Chicago being really good up there and playing really well to not playing well and just being kinda on the low end of that. I've been on both sides.
"Don't listen to anybody else but yourself. … Don't read anything. No Google alerts. Tell your dad to take the Google alerts off his phone. I had to do that with mine, because basically when I was struggling it was all about, 'Oh, he's not this guy. He's not this guy. He's not that good.'"
Francoeur subscribes to Beckham's philosophy: "I don't read anything about me. My job is to come here, play and get out of here and show up tomorrow. I don't need to read good or bad. It can make you feel like you're better than you are and it can make you feel like you're worse than you are."
Pretending that on-field production is Swanson's only future MLB hurdle, as if those nine innings per night take place in a critique-free vacuum, is to ignore his upcoming reality. Atlanta's local star narrative has produced a couple successes and more failures, but even when it strikes gold, as it did with Jason Heyward, the tables can turn in a hurry.
The No. 14 overall pick in the 2007 draft, Heyward quickly exceeded expectations, rocketing up the prospect rankings and earning an All-Star appearance in his dominant rookie campaign. The McDonough, Ga., native captured two Gold Gloves and fit the mold of a five-tool player, ranking as the 15th-most valuable position player in baseball during his time in Atlanta, according to FanGraphs' wins above replacement. He looked like a franchise cornerstone. It wasn't enough.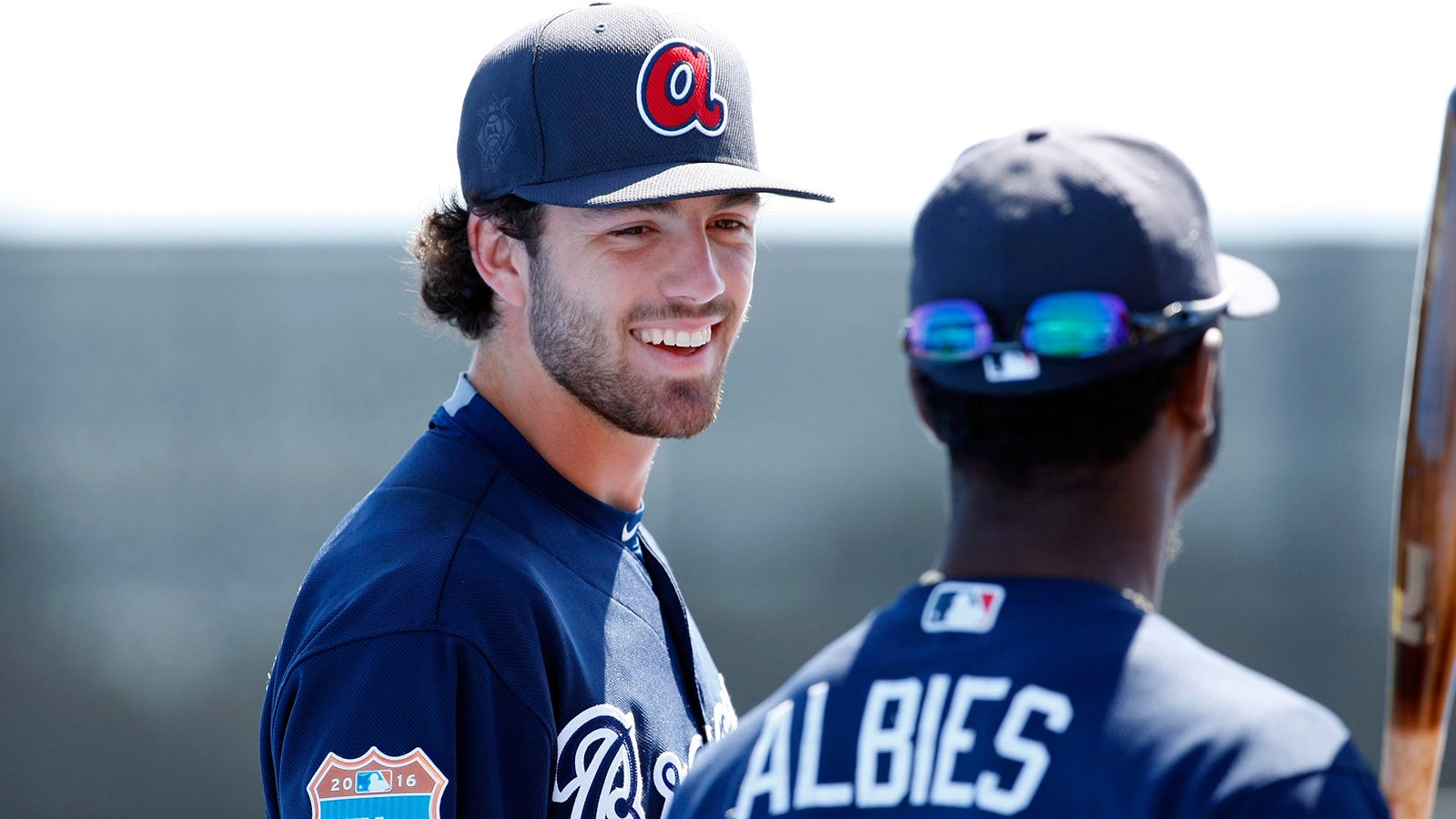 Criticism, some warranted, poured in. His bat was unreliable. His power numbers went the wrong way. He was neither Trout nor McCutcheon nor Harper. In November 2014, without purchasing a single year past his arbitration eligibility, the Braves traded a 25-year-old superstar rental for a two-player package that included a starting pitcher the Diamondbacks, one year later, were willing to offer the farm for.
The Braves unequivocally won that trade carousel, but the entire process serves as a reminder: Swanson will be under more scrutiny than any other Braves prospect since Heyward from the moment he arrives, which is at least partially why the franchise is not rushing his development timeline.
Whether it's 2016 or 2017, Turner Field or SunTrust Park, the No. 1 priority is making sure Swanson is ready.
Those close to Swanson point to an air of maturity and sense of purpose that, according to Corbin, stems from his parents. Both Malcolm and Nancy Swanson went through the rigors of athletics — Dansby is forever quick to mention that his mother, a tennis and basketball standout at Marietta High School, owns the familial crown in athletics — and never applied pressure to the development or decision-making processes. Baseball was never the only avenue, the pursuit that would solely define Swanson's life.
"The biggest key is they just raised me a certain way. Be genuine about everything, respect everything that's going on and be humble throughout the whole process," Swanson said. "That helped shape me."
Added Corbin: "The foundation is very, very solid. Through that foundation he's not going to lose his balance. He's not going to lose his balance of who he is, what he's doing, his faith or how he can apply himself. A lot of things that happen to us on the outside are just ancillary components, and they're a part of our life, but we don't have to immerse them in our own thinking. He's very good at that. He'll just stay very channeled in what he can do and what he can control."
John Coppolella did not need a shortstop.
When the Braves front office traded perennial Gold Glove threat Andrelton Simmons in November, the assumption was the move would eventually clear the way for then-18-year-old Ozhaino Albies, a consensus top-50 prospect who had the newly minted general manager hinting at a Rafael Furcal-like jump to the big leagues. The succession plan was seemingly set. The unknown? The Braves and Diamondbacks' preliminary trade talks began at the GM meetings in Boca Raton, Fla., days before the Simmons trade was finalized, and the eventual haul would present a "good problem" for the franchise: Two top-10 shortstops on similar tracks to the majors.
In a sport overflowing with fresh shortstop talent, Swanson and Albies are considered Atlanta's middle-infield solution for keeping pace.
Last season, 11 different clubs, including the Braves, featured shortstops posting two wins above replacement or better. That group featured three ultra-talented rookies — Carlos Correa (Astros), Francisco Lindor (Indians), Addison Russell (Cubs) — and three others who were 25 or younger. The No. 1 overall prospect in baseball, Corey Seager, almost joined the list through just 27 games with the Dodgers.
The Phillies (J.P. Crawford), Brewers (Orlando Arcia), Nationals (Trea Turner), Rockies (Brendan Rodgers) and Athletics (Franklin Barreto) also boast top-tier shortstop prospects. It's an avalanche of ability at a premium position. The Braves are simply playing the numbers game by acquiring two such prospects.
Swanson appears to be the preferred choice to stay put, though he played second base during his sophomore year at Vanderbilt, but positional needs were not at the top of the front office's list. As John Hart said, Swanson offers "not only a lot of tools and a guy we like, but this is also a special kind of makeup guy."
Such terms get tossed around liberally with Swanson, to the point where overused cliches become verifiable sections of his scouting report.
Teammates and coaches offer up anecdotal evidence of the "it" factor at will; Corbin has re-told the story of the nation's 138th-ranked high-school player walking into his office and saying he plans to become the best player in Vanderbilt history countless times. He's missed formative time with a fractured foot and a torn shoulder ligament during his freshman season and then again when he was hit in the face with a pitch during a simulated professional game last year, bouncing back, respectively, by becoming the Most Outstanding Player in the College World Series and slashing .289/.394/.482 in his first 22 professional games. The Derek Jeter comparison is commonplace.
If the Braves farm system, which flooded its ranks with pitching depth over the past two offseasons, was missing a bona fide star in the positional ranks, it looks to have found a five-tool solution.
One scouting knock, however, is that Swanson is "more floor than ceiling," meaning he doesn't do any one thing exceptionally well on a baseball field; instead, he's simply above average at everything. His college coach does not see that as a negative.
"You look at your elite players in the big-league game right now, and I think when you start cutting them up, you cut them up into sections of, 'Well, he does this well. He does this well. He does this well.' They're not one-sided. They're not two-sided. The toolset that Dansby has is evenly distributed to a point where all those skill sets can beat the opponent. He can beat you with his feet. He can beat you with his glove. He can beat you with his arm. He can beat you with the bat. He can beat you with his skill game with the bat. He can beat you with the power.
"These are all things that, visually, I've seen time after time after time. Something needing to be done over the course of the game to help your team win? That's what he provides."
Corbin's program has churned out 12 first-round picks since 2003, featuring the likes of MLB standouts David Price (another former No. 1 overall pick), Sonny Gray and Pedro Alvarez. He sees similarities between Swanson and the other elite players that have come through, traits that carry players through the highs and lows.
He saw it that night in Cobb County, caffeinated and sweating through his hoodie, and he saw it unfold daily in Nashville.
"These guys are directors of their own fate," Corbin said. "They come into the environment every day, and they are directing themselves. They're not waiting for a coach or a staff member to say, 'OK, you need to do this.' They understand their game. They understand who they are. They understand the things that they need to work on. They direct themselves to get there, not so much the coaching staff.
"They have that gene, that high-care level gene."