Three Hits: Gators stifle Pitt to reach Sweet 16
Falling out of bounds after a steal, Scottie Wilbekin managed to set up Casey Prather on a run-out. Prather, with a Pitt defender trailing him, fed Patric Young for an alley-oop.
It was among a few moments of spectacular offense for Florida, the NCAA tournament's No. 1 overall seed, as it dumped ninth-seeded Pitt 61-45 on Saturday. But like every win that has pushed the Gators into the Sweet 16, this victory was predicated on defense.
"I'm just proud of them because they're really coachable," Gators coach Billy Donovan said. "They let us coach them, they work hard, they're about the right things, and it was good to see us play more and closer to our identity today than we did Thursday (vs. Albany)."
Here are three observations from Florida's 28th consecutive victory, which has them awaiting the winner of No. 4 seed UCLA and 12th-seeded Stephen F. Austin in the next round.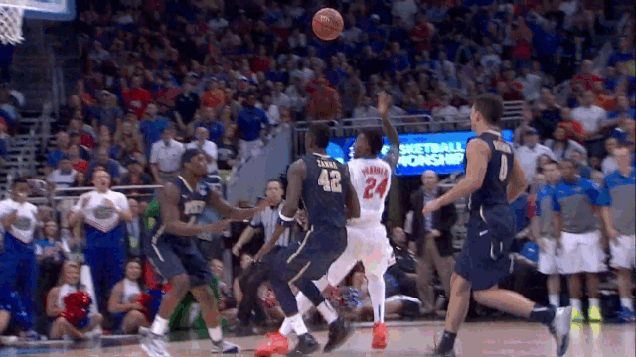 In their opening rout of Colorado, the Panthers rolled up 46 points in the first half. But with 1:04 to play, Pitt had managed just 45 in all against the Gators.
Credit a Florida D that never let Pitt establish any kind of transition game — with 24 defensive rebounds — and dominated the guard play, as starters James Robinson and Cameron Wright were held scoreless in the first half and managed a combined eight in all. The Panthers would get little help from behind the arc either, as they shot 4 of 17 on 3-pointers.
But perhaps the highlight of the Gators' defensive play was one of Patric Young's four blocks, as he let James Robinson slide by him, only to swat the ball from behind as the Pitt guard made his move toward the basket (gif via gifsection.com).
As Charles Barkley said from his analyst chair at halftime, "Patric young is a full-grown man."
Holding opponents to 39.3 percent shooting on the season, the Gators limited the Panthers to 37.3, marking the third straight team Florida has held below 40 percent (along with Albany and Kentucky).
The offense wasn't always spectacular (more on that below) but if there were any doubts surrounding Florida after it seemingly sleep-walked through its narrow victory over the Great Danes, they looked to be answered.
The steal that keyed Young's dunk and a running 3-pointer to end the first half were the lasting images, but the SEC Player of the Year did a little bit of everything in the victory.
Wilbekin had 21 points — including hitting three of seven 3-pointers — along with three rebounds, two assists, and one turnover in 32 minutes, an extremely effective performance after he had 10 points and shot 1-for-4 on 3s against Albany.
He also proved key as the Gators put the game out of reach.
After hitting a 3-pointer to put the Gators up 45-31, Wilbekin would hit five more shots in a row, helping Florida to a 57-45 lead with 1:33 to play before taking a seat to loud cheers 17 seconds later. In all, he scored 11 of the teams' 13 points in a seven-minute stretch.
It was the first time Wilbekin had gone for more than 20 in 12 games as he spearheaded a defense that forced 11 turnovers on the press. His overall performance should be a warning sign for opposing guards to come in this tourney.
The Panthers' best hope was to establish Talib Zanna's play inside and let him get Florida's bigs into foul trouble.
Given the depth Donovan's squad has at those spots, it's a daunting task, but it became all the more difficult due to the problems Pitt's guards were having in the half-court and in transition.
Zanna still managed to scored 10 points — he was the only Pitt player in double-figures — and grabbed six rebounds, but only two of those were on the offensive end.
He more than held his own in the hyped matchup with Young, but in attempting just five second-half shots, Pitt's biggest issue was limited opportunities for its most consistent offensive weapon.