Three Cuts: Will success of Braves' minor-league affiliates matter long term?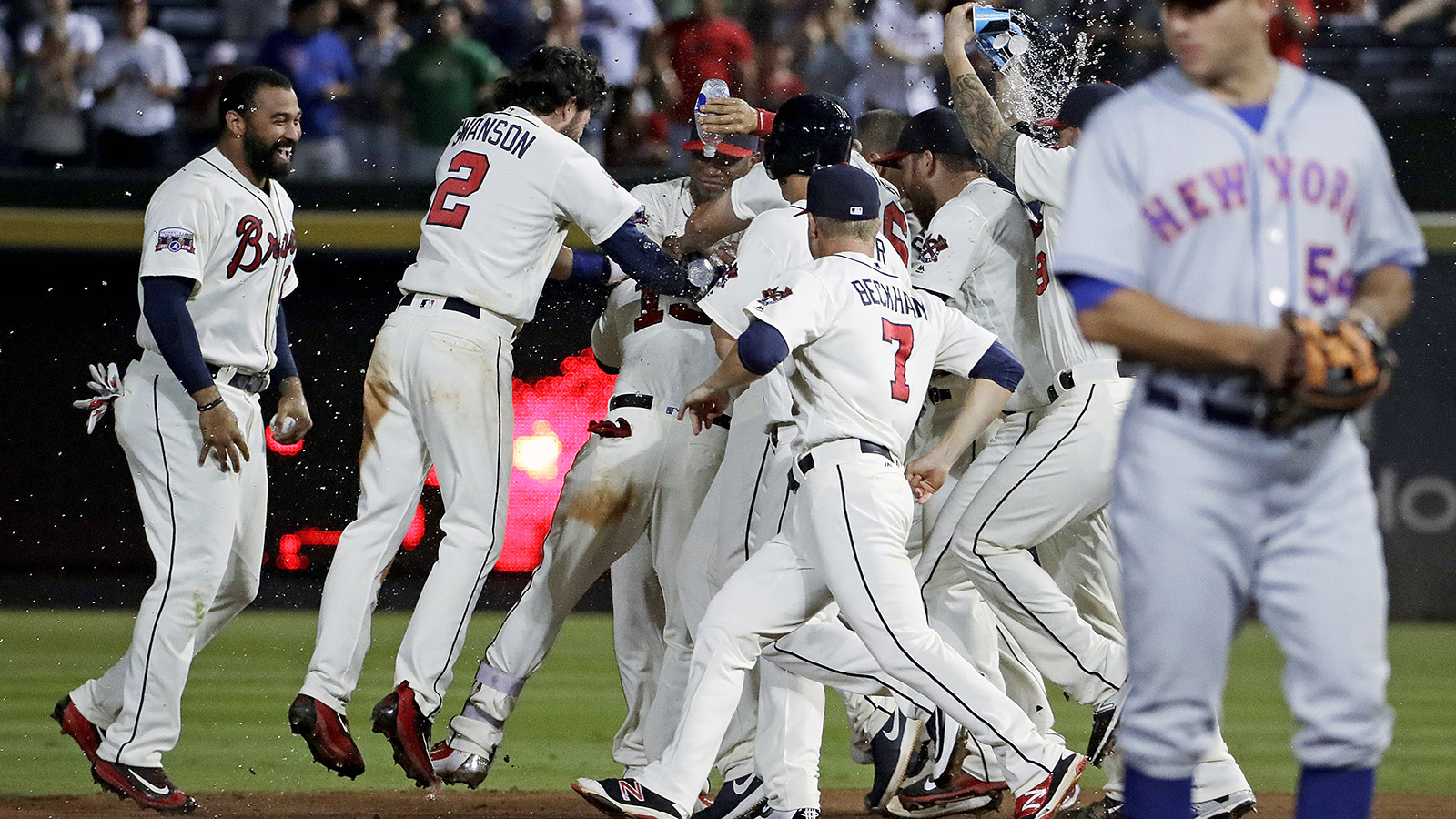 The Braves offered a reminder why they are at the bottom of the National League East pile this week, dropping five of six games against the Washington Nationals and New York Mets. Atlanta now owns a 9-23 record against the two division leaders this season. Here are three observations from a week ultimately highlighted by the success of the organization's various minor-league affiliates.
Astros general manager Jeff Luhnow immediately turned his attention to his farm system when he took over in December 2011. Armed with three consecutive No. 1 overall picks and waves of bonus pool money, the franchise built quickly. Much like what the Braves front office has accomplished over the past two years, the Astros climbed up the assorted prospect rankings until they reached the playoffs with the youngest lineup in baseball in 2015.
Before last season's breakthrough performance behind the likes of AL Rookie of the Year Carlos Correa, AL Cy Young Dallas Keuchel, Jose Altuve, George Springer and others, Houston's minor-league affiliates were rattling off wins thanks to the talent infusion. The organization valued its newfound success, too.
"When Jeff and the regime came over a few years back, the organization not only wanted to replenish the talent in the system but also change the culture," Astros' director of player personnel Quinton McCracken told Baseball America in January. "When you draft players and develop them properly, the end results are teams that are competitive
" . . . It starts with the foundation of drafting quality, talented players that have those intangibles and that winning mentality. The Correas of the world, the (Alex) Bregmans, they make players around them better. That can be contagious. It raises the bar."
From 2012 to 2015, the Astros farm system won more games and more minor-league titles than any other organization.
The Braves have seen a similar transformation play out this summer. With affiliates Triple-A Gwinnett, Double-A Mississippi and Single-A Rome advancing to their respective championship rounds on Saturday night, the focus once again shifts to the renovated farm system. Atlanta assistant director of player development Jonathan Schuerholz told reporters at the team's winter prospect development camp that while minor-league championships were not the primary focus entering the campaign, they were a very real objective. He also referenced changing the culture from the ground up.
Of course, farm system success is relative to age and talent. If you're winning A-ball titles thanks to 24-year-olds lacking big-league ceilings, then celebrations tend to be short-lived. When that success coincides with being named a top-10 farm system with top-100 prospects, though, that's worth something. It fosters that culture of winning, however trivial that may sound.
So how much is all this worth? It likely depends on who's answering the question.
The Astros fall on one end of the spectrum. Then again the Royals, back-to-back AL pennant winners and the reigning World Series champions, owned a lower minor-league winning percentage than the Braves from 2012 to 2015. In the end, top-end talent is essential. Running farm rankings are valuable predictors of future MLB success — the difference between the best and worst farm system could be the difference in around 67 MLB wins over a nine-year period — if not quite as reliable as payroll. Success is often times a reflection of talent.
The list of baseball players that would trade their careers for A.J. Pierzynki's is extensive. The 39-year-old Braves catcher played 19 major-league seasons for seven organizations, capturing a World Series ring and making two All-Star appearances. If he never plays another game, he ranks 10th all-time among catchers with 2,043 career hits.
Following Saturday's fireworks and Sunday's trip to the 15-day disabled list, there's at least a chance Pierzynski's long and successful career has run its course. Neither the veteran catcher nor the organization has announced retirement plans. Still, with only 19 games remaining in the season after Sunday's 10-3 loss, time is running short on Pierzynski's Braves tenure.
ICYMI: The @Braves farm system had a party last night… #ChopOn pic.twitter.com/VjkTxvLASs

— FOX Sports South (@FOXSportsSouth) September 11, 2016
It is a career worthy of recognition.
It is not, however, a career worthy of the Hall of Fame.
Pierzynski's case for Cooperstown has come up from time to time since he joined Atlanta prior to the 2015 season, reaching the height of its popularity when he joined the 2,000-hit club. When you're on an exclusive list including five Hall of Famers — Carlton Fisk, Mike Piazza, Yogi Berra, Gary Carter and Johnny Bench — it's tempting to be lumped in with the crowd. But Pierzynski's career milestones hinge on longevity. Perhaps his greatest career accomplishment is an astonishingly clean bill of health after more than 16,000 major-league innings behind the plate.
Pierzynski ranks 71st all-time in wins above replacement among catchers, according to FanGraphs. The list of better catchers not in the Hall of Fame is, again, extensive. (For a reference point, he could wrap up his career five hits and 51.9 WAR behind Bench.) In terms of both weighted runs created plus and OPS+, he was a sub-league average hitter for all but five seasons. All-Star appearances are midseason awards, but Pierzynski making it to the Midsummer Classic only twice does not help his resume. He claimed one end-of-season honor: a 2012 Silver Slugger trophy.
Most eye-opening, in terms of statistical value? He was never the best player on any of his 19 teams. Even in his best all-around season (3.6 WAR in 2003), he finished fourth on the Twins roster behind Corey Koskie, Doug Mientkiewicz and Johan Santana. Sometimes very good baseball players are simply very good.
Playing 19 seasons, winning a championship and earning more than $50 million over the course of his career makes A.J. Pierzynski an unequivocally successful and accomplished athlete. It does not punch his ticket to Cooperstown.
On Friday night, the Braves (somewhat controversially) tabbed Dustin Peterson as the organization's Minor League Player of the Year.
The 22-year-old outfielder dominated Double-A pitching, posting career bests in batting average, on-base percentage, slugging, weighted runs created plus, home runs, RBI and strikeout rate for the Mississippi Braves. An under-the-radar young piece in the 2014 Justin Upton trade — perhaps the least celebrated considering Max Fried's touted prospect status and the MLB contributions of Jace Peterson and Mallex Smith — Peterson handled the jump in competition with apparent ease.
Without putting the cart before the horse, Dustin Peterson's emergence at the second-highest level of the minors puts the focus back on a looming question for the franchise this offseason: What are the outfield plans in 2017?
"I don't know what tomorrow will bring. If that's it…it was fun." AJ Pierzynski addresses speculation. #ChopOn pic.twitter.com/Ty6JamY5Ei

— FOX Sports South (@FOXSportsSouth) September 11, 2016
The present-day outfield is cruising, of course.
Center fielder Ender Inciarte is in position to earn his first career Gold Glove and he's been one of baseball's top players since the All-Star break, hitting .353/.403/.454 in 53 second-half games entering Sunday. The arrival of Matt Kemp helped rejuvenate a Braves offense in desperate need of pop. Then there's Nick Markakis, who has rediscovered some of his own power (10 homers, .391 slugging) as his second-half numbers have enjoyed a sizable jump as well. In fact, their collective production led the organization keep Mallex Smith, a first-half highlight, down in the minors after returning from the disabled list so he can receive consistent at-bats.
The trio is signed through the 2018 season. That should be considered good news in Inciarte's case, but it's a mixed bag at the corner outfield spots.
Markakis will be 33 next season; Kemp will be 32. From a purely statistical perspective, both appear to be on the back end of their careers. If Peterson is going to join Smith on the MLB doorstep, it leaves Atlanta with decisions to make as early as this offseason. Both Markakis and Kemp cleared waivers last month, so it's unclear just how much trade value they carry into the offseason — if that's even the direction John Coppolella and John Hart choose to explore.
To be clear, young players pushing their way up through the farm system can be considered a good problem. It provides flexibility and depth. Now it depends on how the front office plans to use such attributes to its advantage.