Three Cuts: Should Braves swing for All-Star catcher Lucroy at deadline?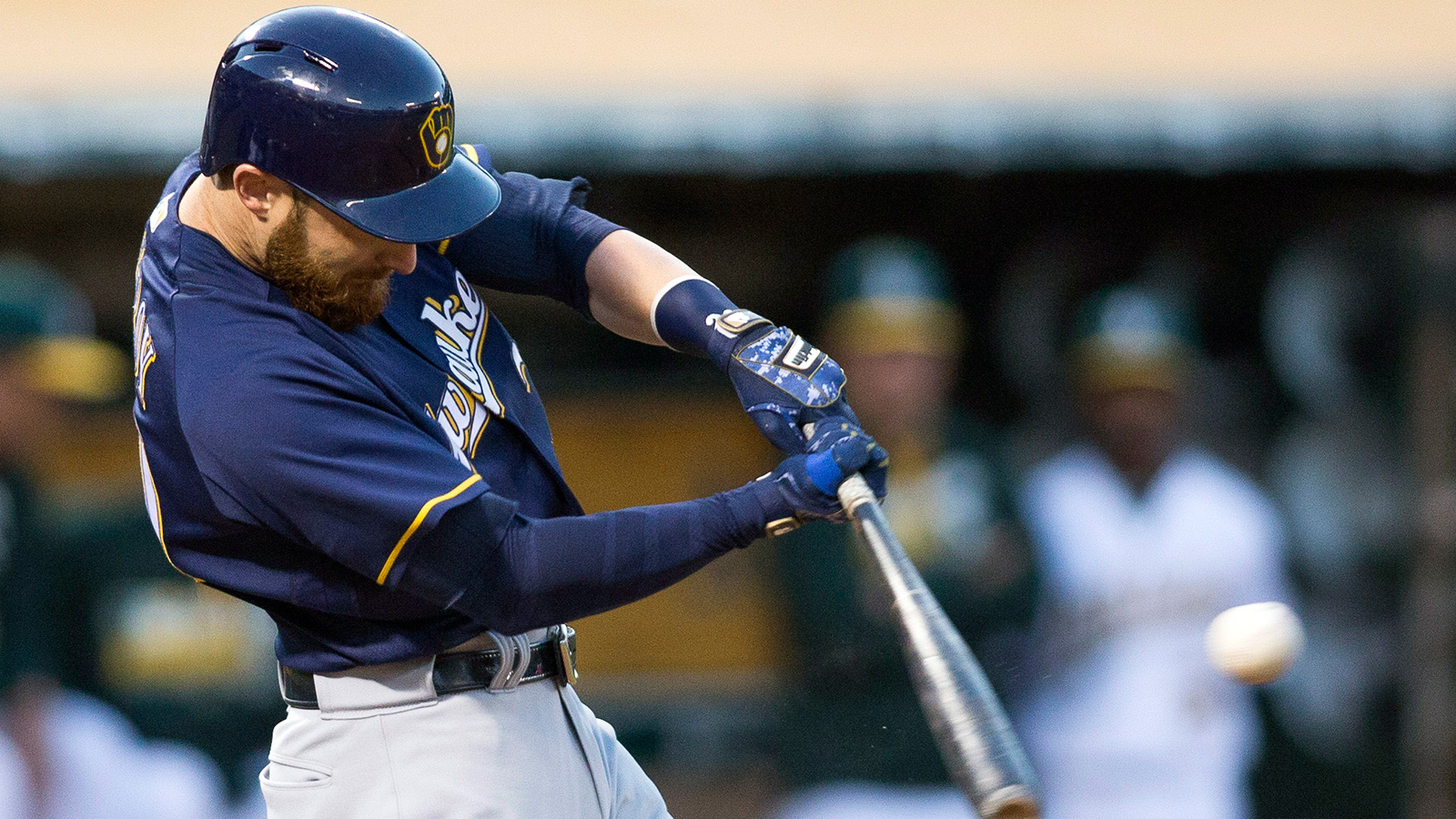 The Atlanta Braves avoided a sweep at the hands of the Colorado Rockies with the third-ever 1-0 walkoff win in Turner Field history on Sunday afternoon. As the trade deadline nears, though, most of the team's intrigue rests with the franchise's front office.
1. Is Brewers catcher Jonathan Lucroy worth the heavy price tag?
The Atlanta Braves' short- and long-term situation behind the plate remains murky, and the present suffered a significant blow when Tyler Flowers, the team's best catcher in 2016, was placed on the disabled list with a broken hand. The injury leaves veteran A.J. Pierzynski (hitting just .212/.233/.272 for sub-replacement value) and 32-year-old journeyman Anthony Recker as Atlanta's two options for the rest of the summer.
Though a 32-60 team has little business chasing needs at the trade deadline — the Braves fit the "seller" description by sitting 24 1/2 games back entering Sunday — Brewers catcher Jonathan Lucroy is on the radar for multiple reasons.
For starters, Lucroy is a proven contributor at a position defined by scarcity. The 30-year-old is a two-time All-Star with a career .284/.342/.437 slash line over the course of seven seasons. Since the start of the 2012 campaign, only Giants superstar Buster Posey has posted a higher WAR among catchers, according to FanGraphs. Such catchers rarely hit free agency in their primes.
Then again, given his age and 6,000-plus innings of mileage, there is reason to question if a non-contender should even be chasing Lucroy. He's under club control through the 2017 season — due to a more-than-affordable $5.25 million next season — at which point any long-term extension is guaranteed to include Lucroy's post-prime years.
There's a delicate balance here: What should the price tag be for a top-tier catcher, a player who would immediately become the second-best hitter on the lowest-scoring team in baseball since 2014 but also one who does not fit perfectly into the franchise's projected competitive window?
Milwaukee finds itself in a similar competitive situation as Atlanta.
The young Brewers are 11 games under .500 in the tough National League Central division, all but eliminated from playoff contention exiting the All-Star break. Their primary need moving forward? Young pitching. While top-100 prospects Jorge Lopez and Josh Hader are expected to help Milwaukee's staff as early as this season, the bulk of the system's depth falls on position prospects like Orlando Arcia and Brett Phillips. According to MLB Pipeline, only five of the Brewers' top 15 prospects are pitchers, and once Lopez and Hader make the jump the other three arms are in the low minors.
There is no better place to go shopping for young pitching than Atlanta's farm system … if John Coppolella & Co. are willing to part with a portion of their surplus. It will likely take more than one high-end prospect, too.
Lucroy is one of the top names on the trade market, and his non-rental status only ups his value.
Tyler Flowers is set to return on a reasonable deal next season, but each of the farm system's top catching prospects are at minimum two seasons away: recent draft picks Lucas Herbert and Brett Cumberland are just getting their pro careers started and top international catching prospect Abrahan Gutierrez, who signed earlier this month, is just 16 years old. (Ricardo Rodriguez, the trade return in the Christian Bethancourt deal, is another teenager to keep an eye on, but he's still in rookie ball.)
The Braves have done an admirable job in addressing what was their biggest need at the minor-league level, but Lucroy would address the same problem at the highest level and, at the very least, buy time for the promising youngsters to develop.
It's difficult to imagine Atlanta finding a more dramatic positional upgrade from now until Opening Day 2017. However, it's just as difficult to picture the front office extending Lucroy to a club-friendly contract past 2017. So what's the cost of such a predicament? Two of the system's top-10 pitching prospects? Three top-20 players?
There are no easy answers here, but Atlanta's reported interest is understandable.
2. Same run support, different half for Julio Teheran
The Braves' lone All-Star representative is pretty much guaranteed a bottom-five finish in run support after seven innings-worth of a scoreless duel against Jon Gray on Sunday afternoon. The 25-year-old Atlanta right-hander entered the game with the lowest run support among any qualified MLB starter — receiving just 2.42 runs per start — and he only distanced himself from similarly misfortunate arms Matt Harvey (Mets) and Jose Quintana (White Sox).
This is turning into 2015 Shelby Miller 2.0.
While Miller stole headlines with his franchise-record winless streak, Teheran has received even less run support than his former teammate did last season. The Braves scored 2.64 runs per start with Miller on the mound in 2015. There's still plenty of time for Atlanta's offense to surpass its past subpar performance, but Teheran's bounce-back campaign is that much more impressive given the low-scoring climate he's thrived in.
Teheran matched Gray pitch-for-pitch in their showdown at Turner Field in the series finale, finishing with seven scoreless innings and five strikeouts. His 2015 numbers to date: 2.79 ERA, 3.81 fielding-independent pitching, 112 strikeouts and 26 walks.
That gives Teheran a top-15 ERA … and he's still five games under .500.
As previously mentioned in this space, Teheran is set to extend the Braves' streak of run-support casualties to six straight seasons. Atlanta has featured at least one pitcher in the bottom-10 of MLB's run support per start dating back to Derek Lowe in 2011. Paul Maholm, Kris Medlen and Alex Wood were also in that mix.
However, none of Teheran's predecessors went through this. He's on pace to become the first pitcher this century to received fewer than 2.5 runs per start.
3. Is Jace Peterson making a case for an extended stay at the leadoff spot?
Julio Teheran isn't the only Braves player to rebound from a slow start with a vengeance.
Since re-joining the big-league club on June 10, Jace Peterson looks like a completely different player, hitting .315/.390/.481 with four home runs entering Sunday's start at the leadoff spot. The 26-year-old utility option responded yet again by reaching base three times against the Rockies, including a crucial ninth-inning walk that opened the door for Chase d'Arnaud's walk-off single. In total, Peterson has reached base 51 times in 129 plate appearances since being called back up — and given the team's lack of a consistent leadoff option he should continue to see time at the top of the order.
Eleven different players have hit No. 1 for Atlanta this season. Peterson is the only player with 25 or more at-bats in that role to hit above league average (over 100 weighted runs created plus) and his on-base percentage since June 10 would lead the team over the course of a 162-game season.
There's a legitimate case for Peterson — as ugly as his April/May numbers were — being Atlanta's second-best hitter at the moment.
With Mallex Smith on the disabled list for an extended stretch and no other leadoff option truly separating himself, expect to see manager Brian Snitker continue to give his resurgent utility threat opportunities until his bat cools off.