Three Cuts: No quick fixes for Braves' sputtering offense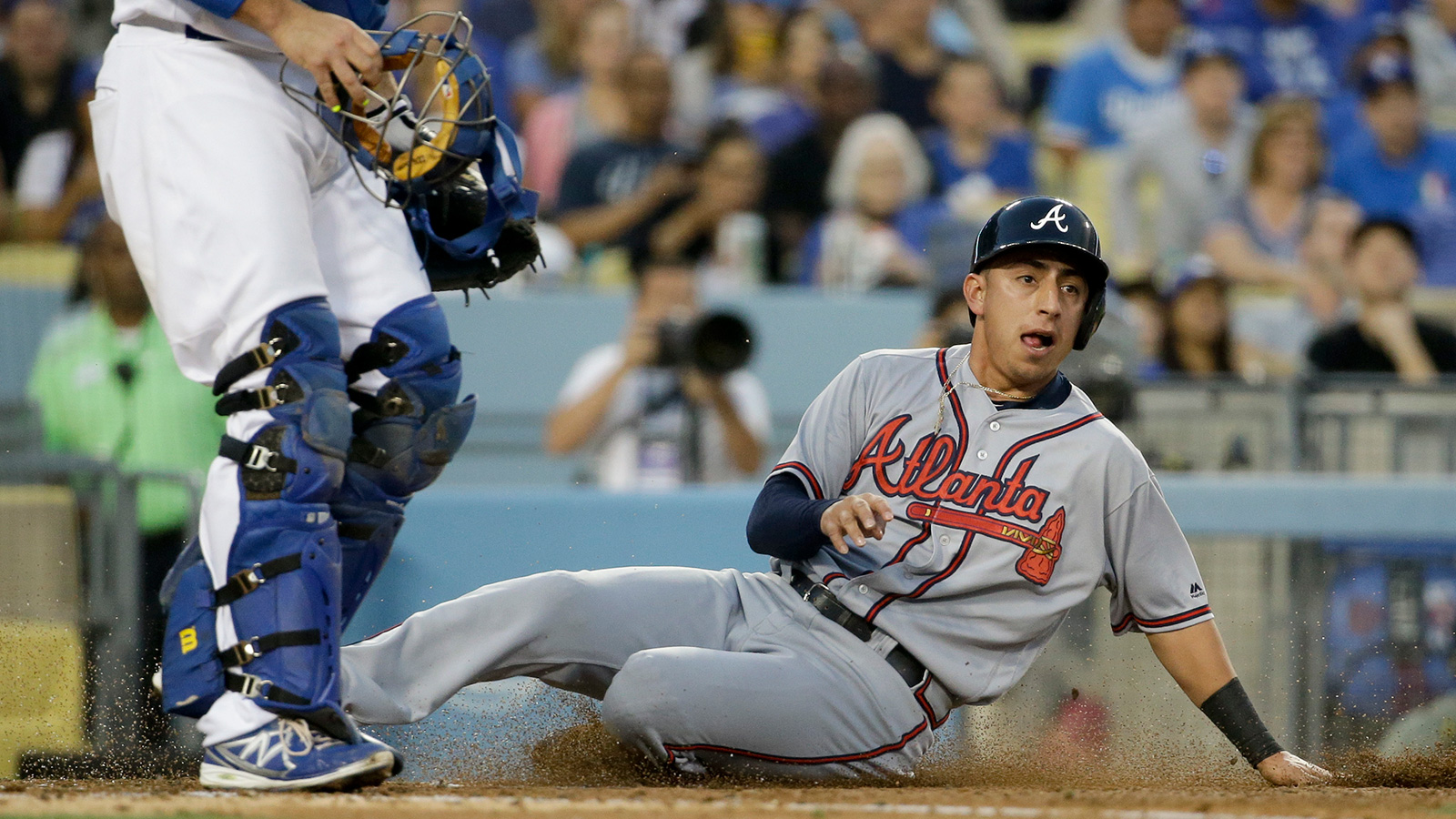 1. Options limited as Braves offense continues to sputter
The offensive struggles did not come out of left field, though certainly left field played its part.
The Braves rank as baseball's least productive group of position players by a considerable margin, and short-term optimism is either absent or misplaced. The franchise entered Sunday's finale against Los Angeles as the only team receiving sub-replacement level production out of its collection of non-pitchers, posting an eye-popping minus-4.1 WAR through 55 games, which would be the worst mark since the 1998 Twins — coincidentally catcher A.J. Pierzynski's rookie season in Minnesota. Brief spurts of decent play have been drowned out by long stretches of ineptitude.
Brian Snitker's team finds itself in one of those latter stretches at the moment. Coming off two series against NL West hopefuls, the Braves offense has been shut out three times in six games. Harping on the lowest-scoring offense in baseball — a unit that trails the 29th-ranked Phillies offense by a small margin, but finds itself nearly five wins behind due to Philadelphia's complementary defensive and base-running attributes — sets the bar low, of course. This was the preseason expectation.
How the team arrived in this predicament for the third straight season is another matter, especially when searching for potential solutions.
How could the franchise have predicted that Freddie Freeman, through 55 games played, would regress offensively for the third consecutive season since signing his team-record $135 million deal? The 26-year-old first baseman entered Sunday in yet another slump and hitting just .250/.343/.426 for the season — numbers that fall outside of baseball's top-100 qualified hitters thus far. Should the Braves have expected Nick Markakis, universally considered their second-best hitter, to rank ninth-worst in WAR among qualified MLB position players?
Or for Erick Aybar to fall into the blackhole that is the worst season of his solid career? Or Ender Inciarte's cold bat? Or for an ugly incident in Arlington, Va., and MLB's subsequent 82-game suspension handed to their starting left fielder, Hector Olivera, presumably jeopardizing his future with the team and possibly the league?
There were predictable outcomes — Adonis Garcia's power outage, Pierzynski struggling to follow-up his surprising age-38 season — but the fact that Chase d'Arnaud, Gordon Beckham and rookie Mallex Smith lead the pack in value is an unfortunate sign of the times.
A couple options are not on the table.
First of all, this team is highly unlikely to mortgage any of its long-term future on a lineup-saving bat, if that even exists on the market. (Atlanta would need three or four, anyways.) The Braves are still going to be considered sellers this summer — just how much they are selling probably depends on the market's demand for Arodys Vizcaino, Julio Teheran, Nick Markakis, a plethora of low-cost veterans and so on — and with the worst record in the National League in a suddenly competitive division, addressing present roster deficiencies makes little sense.
There's also little use in dipping into the farm system for immediate returns. Sure, Dansby Swanson and Ozzie Albies could conceivably contribute at the major-league level this season, and it would be difficult to be worse than Aybar and Daniel Castro, but expecting young assets to instantly turn the tables on the franchise's offensive fortunes is an impossible request. Two rookies, even if they sprint out of their respective career gates, are not saving this unit.
2. Corey Seager is going to be a problem for years, Braves hope they have their own waiting in the wings
In Corey Seager, the Braves can only hope they viewed a glimpse of their own future.
Baseball's top-rated prospect entering the 2016 season, Seager represents Los Angeles' answer to the sport's brightest position. Young shortstops are taking over. Ten shortstops age 25 or younger have posted at least one win above replacement this season, and that includes 21-year-old Carlos Correa's "disappointing" sophomore start. The Red Sox (Xander Bogaerts) and Indians (Francisco Lindor) have found their long-term solutions, and it appears the Cubs (Addison Russell) and Rockies (Trevor Story) might be in the same boat. It's almost unfair that the Orioles shifted Manny Machado from third base to add to the overflow.
Perhaps most impressive is that there's high-end talent still to come — and that's where the Braves fit in. They are just hoping their situation with Swanson and Albies translate into similar success stories.
The Braves are the only organization with two top-10 shortstop prospects, according to MLB.com, all but doubling their chances at finding their own long-term fit. They will not be alone. In the NL East alone, Washington's Trea Turner, who was called up on Friday, and Philadelphia's J.P. Crawford come with the hype accompanying franchise staples. Orlando Arcia will have to supplant another young, breakout shortstop in Milwaukee — 25-year-old Jonathan Villar is giving the Brewers a good problem — and the Nos. 2 and 3 overall picks in the 2015 draft, Alex Bregman and Brendan Rodgers, give Houston and Colorado enviable depth as well.
Seager is what it looks like when everything comes together: He's hitting .286/.341/.533 after blasting five home runs in three games against Atlanta over the weekend. He's keeping superstar company already, and he's just 22 years old.
Without setting unfair expectations for when the Swanson-Albies Era arrives — both when and who eventually fills the position — this is the world they will step into.
3. Mike Foltynewicz's DL stint disrupts Braves' pitching groove
Four of the top five young rotations in baseball, according to WAR accumulated from 25-and-under pitchers, reside in the National League East. The division's only pitching staff that doesn't — the Nationals — ranks ninth in the majors and has the No. 1 pitching prospect in baseball knocking on the door.
The Braves have been able to keep pace with the Phillies trio of Aaron Nola, Vincent Velasquez and Jerad Eickhoff, the Mets' combination of Noah Syndergaard and Steven Matz and the individual brilliance of Jose Fernandez in Miami thanks in large part to Julio Teheran and Matt Wisler, but it's difficult to deny the strides taken by Foltynewicz (and the surprising improvement from Williams Perez).
Foltynewicz, though, is the personification of the "next step" Atlanta's rotation could take this season. With Perez saddled with low expectations, Aaron Blair laboring through some expected rookie troubles and no sure-fire prospect en route, Foltynewicz's strides represented the high-ceiling arm to complement Wisler and Teheran.
Now, he's back on the 15-day DL with a bone spur in his right elbow.
The Braves were reassured by an MRI and CT scans that no structural damage exists, but elbow discomfort not to be ignored. When he's been on the mound, striking 7.5 batters per nine innings with a 3.51 ERA in six starts, the right-hander has flashed potential, but this will be his second trip to the DL since September. Foltynewicz was shut down during his rookie season due to a blood clot that eventually required rib surgery.
"I don't feel comfortable going out there and throwing seven innings and trying to throw 100 pitches," Foltynewicz said. "But this is my elbow. So I'm going to get some treatment and then get back on the right path and pitch."
The organization would like nothing more than for this to be a minor speed bump.