Three Cuts: Julio Teheran, Matt Wisler resembling elite 1-2 punch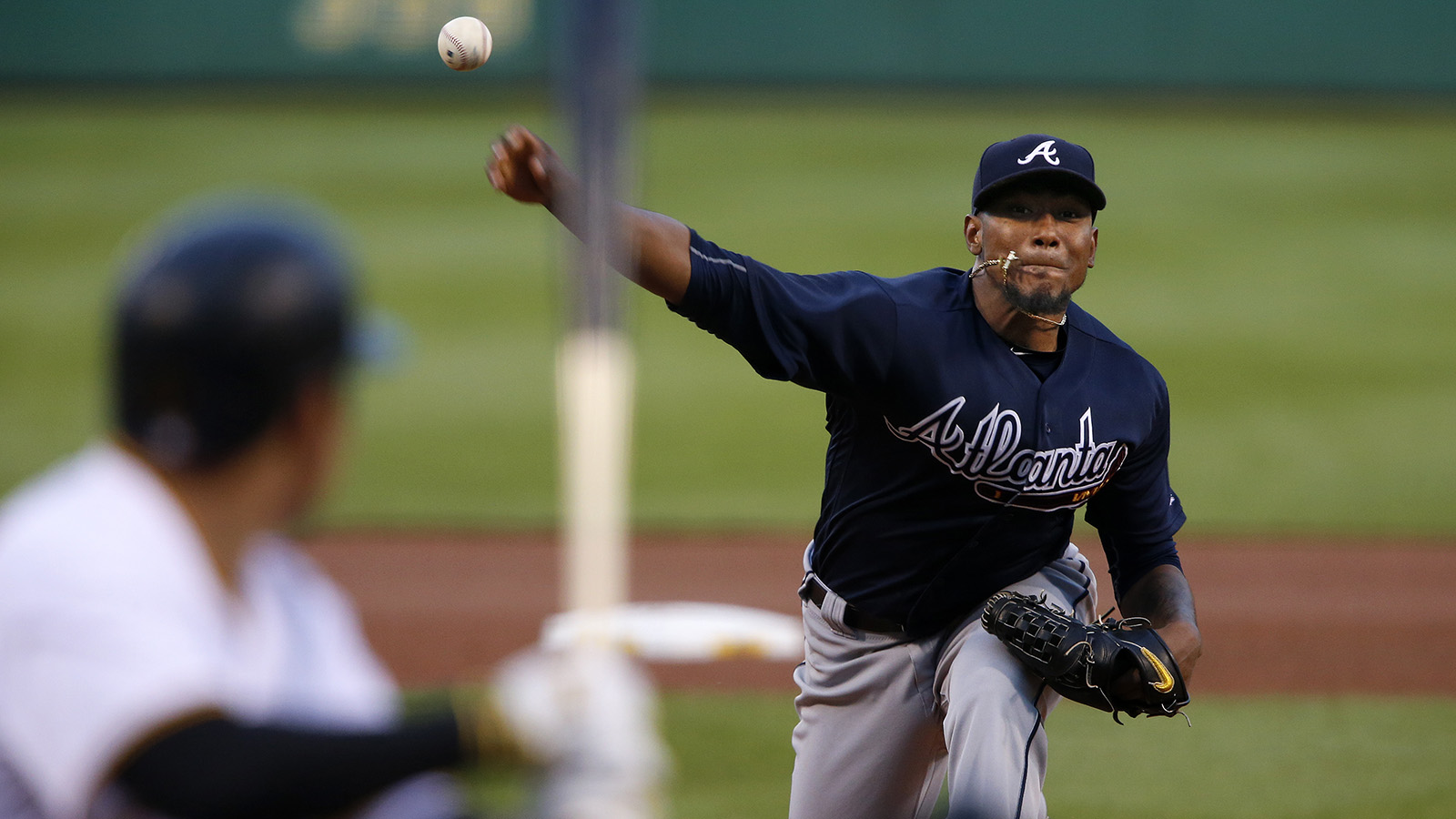 Following the busiest week of the 2016 campaign — a seven-day stretch that featured a managerial change, the strangest injury of the baseball season, an unexpected home-run surge and a respectable 4-6 record on a difficult road trip — the Atlanta Braves are starting to show signs of improvement. Here are three observations from the week:
On April 14, Julio Teheran's 2015 demons appeared to have skipped spring training only to reemerge in time for his fifth big-league season. Reigning National League MVP Bryce Harper had just taken Teheran into the outfield seats for the second time in three starts, a grand slam that helped push the right-hander's ERA to 6.35 and refreshed the ongoing debate over his long-term potential.
For a franchise investing heavily in young arm talent, where does Teheran, a 25-year-old signed to a team-friendly deal through 2020, fit into the equation? Given how the longest-tenured Braves pitcher has responded in his six starts since exiting Nationals Park, he remains a ultra-valuable commodity for Atlanta's front office.
This is Julio Teheran, front-end starter.
Over his past 39 innings, Teheran owns a 1.15 ERA and 2.71 fielding-independent pitching. He's struck out a respectable 33 batters with just nine walks — not exactly Clayton Kershaw's historic strikeout-to-walk pace, but impressive all the same. After allowing four homers to Washington hitters in his first three starts, he's coughed up just one long ball since. And his numbers have improved as the season progresses: His 0.68 May ERA led all qualified MLB starters entering Sunday's action and his 2.54 FIP over that stretch is tied with NL East aces Noah Syndergaard and Vincent Velasquez.
In short, Teheran has been one of the best pitchers in baseball over the past month. It's difficult to ask for a better response to a concerning early-season start, small sample size be damned.
Teheran's resurgence has led Atlanta's rotational improvement outside of the occasional May struggles from Aaron Blair, Jhoulys Chacin and Williams Perez. The youth-infused Braves have, in general, transformed into a middle-of-the-pack staff out of April's wreckage. Much of that has to do with Teheran, but 23-year-old Matt Wisler is right there with him.
Prior to Sunday's games, Wisler was tied with Teheran, Velasquez, Colby Lewis (Rangers) and Blue Jays ace Marcus Stroman for the 11th-best pitching WAR this month. His 1.80 May ERA matched Marlins superstar Jose Fernandez. Wisler's start-to-start consistency has improved exponentially as he figures out how to keep hitters off balance even when he doesn't bring his best stuff to the ballpark.
All told, with Teheran and Wisler hitting their respective strides at the same time, the Braves are boasting one of baseball's best 1-2 punches this month (combined May WAR via FanGraphs, through Saturday's games):
Sustainability remains a concern, as with any young pitching combination. History points to Teheran's troubles with maintaining such quality for extended stretches — this six-start run is his best since the 2014 season, by a mile — while it's rare for 23-year-olds to sidestep hiccups. Also, as with any early-season statistic, a handful of starts or 30-something innings hardly qualifies for long-term significance.
For two former top pitching prospects, though, this is a snapshot of what consistent top-of-the-rotation production looks like.
The Braves' recent "power surge" needs to be put into context: Despite doubling their 2016 home run total over a five-game stretch, the Braves are still on pace to become just the second team to post a sub-.330 slugging percentage since Jimmy Carter was inaugurated. The wrong kind of history remains in play here.
It's still difficult to ignore the strange uptick in power — of all varieties, not just home runs — since Brian Snitker took over the manager's job. There can be no correlation drawn between the two outcomes, and yet the team somehow found some semblance of power in Pennsylvania.
After hitting just 68 extra-base hits in 37 games under former manager Fredi Gonzalez, Atlanta managed 19 in six games against the Pirates and Phillies.
As mentioned in a previous column, the Braves' lack of power is the No. 1 problem for MLB's lowest scoring lineup, a glaring flaw undercutting solid pitching performances. That was the case under Gonzalez and will continue to ring true for Snitker, as underscored by a 5-0 loss in the series finale against the Phillies in which the team managed zero extra-base hits and pushed a runner past first just four times.
If the Braves can progress from being the lighest-hitting team since MLB lowered the mound in 1961 to simply the lighest-hitting team this century, there should be more results like the 3-3 record under Snitker or the 4-6 road trip against the Royals, Pirates and Phillies. Little victories.
Casey Kelly's first and final strikeout in the Phillies series finale, his first career start for Atlanta, came in the fourth inning against offensively challenged outfielder Peter Bourjos. It was the 14th time this season a Braves starter logged three or fewer strikeouts, a trend worth tracking as the young rotation grows up together.
In an era where strikeout rates continue to climb — the league's 7.77 strikeouts per nine innings would be the highest rate posted by starting pitchers in baseball history, a mark that has been broken in each of the past four seasons — the Braves are the only MLB staff fanning fewer than 6.5 batters per regulation game.
They are essentially striking out opponents like it's 2008.
The Braves could see an improvement in this category if Teheran and Wisler keep cruising and high-ceiling arms like Mike Foltynewicz settle in, but as other numbers begin to represent their collective talent level, this is one area Atlanta's pitchers lag behind the rest of the league. And it's an area of importance, as Beyond The Box Score clearly illustrates here:
And considering Atlanta's underwhelming defense outside of outfielders Ender Inciarte and Mallex Smith, its starting pitchers would be best served keeping the ball out of play as much as possible for the time being.