Three Cuts: Atlanta's power drought and why it matters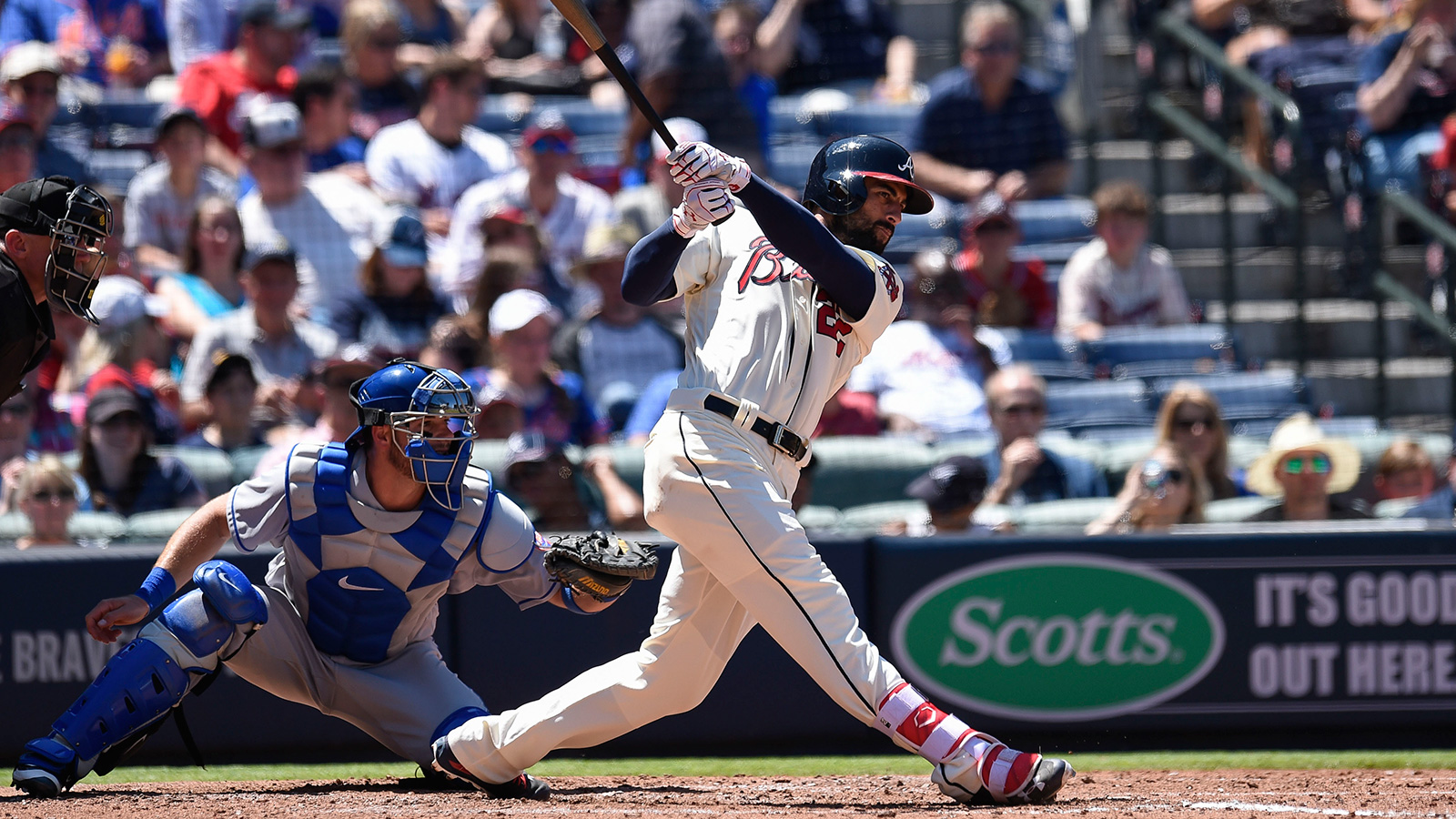 Through their first 18 games, Atlanta Braves hitters have faced 2,562 pitches.
Only three of those baseballs ended up in the outfield seats.
The Braves have morphed into baseball's small-ball outlier over the past two seasons under hitting coach Kevin Seitzer, a result driven by both philosophy and roster construction. The organization's top home-run threat, Freddie Freeman, owns one of the least powerful bats among the league's established first basemen. Four players on the Braves' active roster hit double-digit homers in 2015: bench bats Jeff Francoeur and Kelly Johnson and third baseman Adonis Garcia, who may not last the season as the team's starter. There was little room for optimism even before the season began.
This three homers in 18 games stretch is something else, though.
The 1979 Houston Astros set the modern-day record low with 49 home runs in a full season, but even they tallied six homers in their first 18 outings. This is a powerless start of historical proportions, and while it's unlikely this pace holds throughout the campaign, the team's power outage is negating alternate routes of productivity. Three seasons removed from their heavy reliance on the long ball, the Braves' run-scoring issues can be directly tied to their over-reliance on singles and walks.
Simply put, power matters.
Over the past 10 seasons, the team that ranked last in the majors in homers also finished 25th or worse in runs scored seven times. No team finished higher than 12th — and the only ones that sniffed a top-10 offense were the 2012 Giants and 2014 Royals, two World Series-bound oddities that logged doubles, triples and stolen bases with the best of them. Three teams, including the 2015 Braves, finished 30th out of 30 teams.
The more pressing issue, however, is the team's slugging percentage. In five of the past six seasons, the team with the lowest slugging percentage finished last in runs scored. Home run droughts steal headlines, but the Braves' lack of extra-base hits depletes any semblance of "explosiveness" in the batting order.
The Braves are on pace to post the lowest single-season slugging percentage since MLB lowered the mound in 1969. And, as FanGraphs documented in January, slugging percentage is the best predictor of offensive success for 14 years running (or longer):
This does not bode well for Atlanta's scoring potential moving forward. They may not finish the 2016 campaign as the second modern-day team with a sub-.300 slugging percentage, but their power numbers are bleak with no help in sight. Facing Clayton Kershaw, Matt Harvey, Steven Matz and Jacob deGrom in consecutive starts has not helped — at all — but this issue goes deeper than opposing pitching staffs.
Atlanta's offense looks destined for another finish in MLB's scoring basement.
Ten months after Matt Wisler's MLB debut, Aaron Blair became the second high-profile pitching prospect to break into the Braves' big-league rotation. If the franchise hit on its blockbuster trades and the prospect rankings hold true, at least two-fifths of the Braves' long-term rotation — depending on your projections for struggling 2016 No. 1 starter Julio Teheran — are now honing their craft at the highest level.
Just like Wisler, Blair received his call-up prior to a date with the NL East rival New York Mets. However, the latter faced a very, very different Mets offense.
The Mets entered Sunday's game riding a ridiculous hot streak, scoring 40 runs with an MLB-high 155 weighted runs created plus over that span. Behind the likes of Curtis Granderson, Neil Walker, Yoenis Cespedes and Lucas Duda, New York had hit 16 home runs over a six-game stretch. Blair, the fourth-ranked prospect in our composite rankings, dominated at Triple-A Gwinnett to the tune of a 1.42 ERA and 22 strikeouts in 19 innings, but this was a different challenge altogether.
"It's crazy being on the road in Gwinnett and then getting on the plane and coming here, realizing that your dreams have come true," Blair said. "It's just a special feeling."
The 23-year-old righty could have easily allowed his debut to fall off the rails in the early going. His first start kicked off with Granderson and Asdrubal Cabrera hitting consecutive singles, followed by a Michael Conforto sacrifice fly, to dig an early hole. (The Braves offense would only score two runs on the day.) He settled in, though, working fast through the Mets order with catcher A.J. Pierzynski to string together four fairly easy innings thanks to three induced double plays. He sat in the low 90s with his fastball and flashed promise with his curveball and changeup, even though he nibbled around the zone (perhaps on purpose) most of the afternoon.
"He came as advertised," manager Fredi Gonzalez said of Blair. "He's a guy that — he's not afraid of contact. He made them swing the bat and put the ball in play. For his first major-league outing against a team that's swinging the bat pretty good, against a team that's got professional hitters up and down the lineup, I thought he did great.
"He's one of those guys that I can't wait to see him pitch four days from now."
The Mets chased him from the game in the sixth with two more runs, capping his outing at 80 pitches. His final debut line was not overwhelming — three earned runs and one strikeout in 5 1/3 innings pitched, good enough for a 43 game score — but it was an improvement over previous rotation placeholder Williams Perez and another clear indicator that there's talent there for pitching coach Roger McDowell to mold.
As the calendar approaches May, Jhoulys Chacin, a pitcher coming off shoulder injuries signed to a minor-league deal, has been the Atlanta Braves' best pitcher. This is not up for debate.
The questions begin with how sustainable this level of productivity is for the 28-year-old right-hander.
Chacin's numbers have declined with every trip to the mound this season, but when your team debut ends with a surprising eight-strikeout, zero-walk performance against the Washington Nationals, there's not much room for improvement. The former Rockies standout did his best to stifle the Mets' bats over the weekend, allowing nine baserunners but just three earned runs in 5 2/3 innings of work. All of this has culminated with the highest WAR on the Braves' roster (0.9) as Nick Markakis' bat has cooled off over the past week,
It's easy to forget that Chacin could still have an extensive future ahead in the majors, if healthy. At 28, he already has three quality seasons under his belt at Coors Field and he's building the foundation of a comeback in Atlanta.
However, this is not realistic. Chacin boasts the highest strikeout rate and lowest walk rate of his career … by a mile. He trails only Noah Syndergaard in fielding-independent pitching among qualified starters and his strikeout-to-walk ratio is better than Chris Sale's. His Cy Young candidacy might be premature.
The one thing Chacin has done is put himself is position to stay in the rotation. After Perez was already pushed out, veteran starter Bud Norris (6.75 ERA, 5.79 FIP) could be next on the chopping block. Chacin, on other hand, has offered nothing but stability.