The Quarters: Early season tournaments providing late-season drama
Early season tournaments are off and running in college basketball, and national storylines are already beginning to take shape. The Quarters looks into the importance of November tourneys, the return of Villanova and more. (All games and statistics through Tuesday, Nov. 25):
1 Late Monday night, packed inside a Hawaiian Civic Center that overflows at the 2,400-person mark, an NCAA tournament game was held in November. It featured two overtime periods, an extreme clash of playing styles, standout individual performances and a dose of walk-related controversy. San Diego State outlasted BYU to provide the traditional Maui Invitational late-night fireworks. The result was not a surprise — the loaded Aztecs were the favorite — but that's also not the point.
Early season tourneys offer an added dose of drama, and it's not meaningless drama either.
November tournament participation has exploded throughout college basketball over the past few seasons. This season, 292 of the 351 Division I teams will participate in some form of early season tournament or round-robin. In terms of the seven major conferences, only American Conference member UCF will not compete in a multi-team event this month.
The quality matches the quantity, too: If a team has any shot at a national title, overwhelming odds are that it's going to be testing the waters in one of the tournaments being held from that Lalaina Civic Center to Brooklyn to the Atlantis Resort in Nassau.
Aside from one minor exception (2008 Kansas), every NCAA tournament champion this century has competed in an early season tourney environment — and there's a fairly strong correlation in performing well in these (occasional) single-elimination November settings and standing on a court with net strings tied to your hat while "One Shining Moment" plays in March: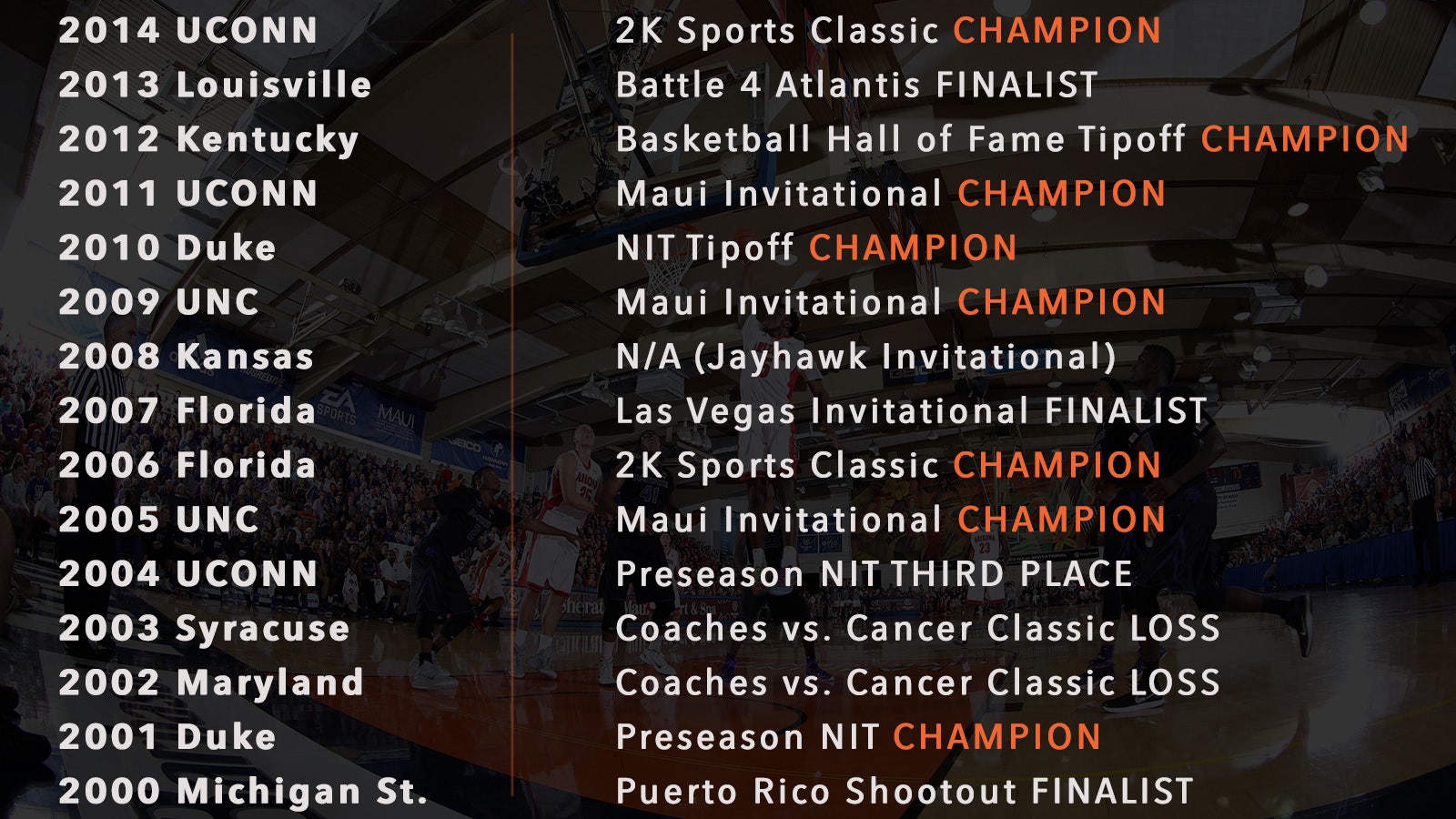 Take a look at that list. Excluding Kansas, which was involved in the not-so-major 2007 Jayhawk Invitational that season, 11 of the 14 eventual national title winners made it to the "finals" of a November tournament, including every champion dating back to the 2004-05 season. The exceptions here each faltered in Madison Square Garden, a three-year run where Maryland and a Carmelo Anthony-led Syracuse suffered consecutive season-opening losses in the Coaches vs. Cancer Classic followed by Connecticut losing to a Georgia Tech team it would later beat in the Alamodome to cut down the nets.
Of course, there are many more early season tourney finalists over that span that didn't reach Final Four glory — or even a single NCAA tournament win — but the evidence is there for the taking. Once this tournament schedule wraps up, take a glance at the top performers … recent history suggests there's a very good chance the national champ will come from that group.
This isn't throwaway action. Final scores here factor into Selection Sunday and help shape the national picture.
(With the Legends Classic (Villanova), Coaches vs. Cancer Classic (Duke), 2K Sports Classic (Texas) and Puerto Rico Tip-off (West Virginia) results already in, keep an eye on the aforementioned Maui Invitational and the stacked fields in the Battle 4 Atlantis, NIT Season Tip-off, Orlando Classic and Diamond Head Classic. Top 25 teams in the polls and top-50 teams in the efficiency rankings litter those upcoming slates.)
And lastly, even though it shatters sleep schedules and DVR space, it's entertaining as hell.
2 Once a program falls out off its Final Four-type pace, there are no guarantees it will ever push the right buttons again — or at least no guarantees that the same coaching staff will be around to push them. Look at Arkansas or Cincinnati or Oklahoma State. Look at Houston or Indiana. Look at UCLA. There are no warranties on recapturing success.
This is Jay Wright's 14th season pacing Villanova's sideline. That makes him the ninth longest tenured head coach at a major conference school — six days behind Louisville's Rick Pitino and two days before Wisconsin's Bo Ryan, if counting back by hire date. He's taken the Wildcats from NIT afterthoughts and stamped his image on them, leading them to four Sweet Sixteens in a five-year stretch from 2005 to 2009. That stretch included an Elite Eight run that ended at the hands of eventual national champion Florida and a Final Four run that ended poorly against 2009 champ North Carolina.
Then came the hard times, comparatively speaking. Returning the Scottie Reynolds-Corey Fisher-Corey Stokes backcourt in 2010, 'Nova could not recapture the March magic. The 2011 season was worse: the Wildcats lost their final six games, including first-round exits from the Big East and NCAA tourney fields.
Without exception, though, 2012 was rock bottom. At 13-19, it was just the fifth losing season of Wright's coach career, his first being more than three years on the job. Watching win totals decline from 30 to 25 to 21 to 13 is not easy — not for coaches, not for players and not for administrators. The school remained committed to Wright long-term. Wright wanted to re-commit to what put his program on the map.
"I think you get so caught up in getting guys to come [to Villanova] and then when things start going well, it's easy because everyone wants to come," Wright said at the 2012 Big East Media Day event. "But then you stop doing your research. You stop asking, 'Why do they want to come?' That matters even more and we stopped asking that. Guys want to come because you're winning, but do they understand why we're winning. Have we explained that to them and I don't think we did a good job of that last year."
So, how did Villanova navigate its way to Tuesday night at Barclays Center, a thrilling win over No. 19 Michigan a day after trouncing No. 14 VCU to guarantee the Wildcats one of the nation's most impressive early-season resumes? How did Wright reverse course from 19 losses in 2012 to five losses in 2014 to his current 5-0 mark?
Wright did shake up his coaching staff, but the aforementioned re-focus on personnel is worth exploring. Following a star-studded 2009 recruiting class — one that ranked only behind Kentucky's group of John Wall and DeMarcus Cousins — Villanova has not made an appearance near the top of the recruiting rankings since. Wright hasn't landed a single player that ranked in the top-five at his position over that stretch. The highest-rated player in 2010 was a 6-foot-6 Brooklyn teen named JayVaughn Pinkston, who ranked as the 10th-best power forward nationally but was forced to sit out his entire freshman season following an altercation at a fraternity party. Seven four-star recruits have followed, but the Wildcats were no longer contending for big-name prospects.
Perhaps this was, in some ways, by design.
Jay Wright would be disingenuous to ignore talent, but, judging by his comments, his program also began ignoring "fit" during the down years. This 2014-15 roster isn't stocked with McDonald's All-Americans. It's filled to the brim with players that are buying into a rough-and-tumble but mistake-averse system. This group ranks eighth in offensive efficiency and 10th in defensive efficiency, practically refusing to turn the ball over, working the ball around in search of quality shots and never backing down defensively. Here's the makeup of the group pulling that off (all recruiting rankings via Scout):
That collection of talent is one of the 10 best teams in the country right now. Improbable, but it's working. Villanova is still kicking and leading a resurgent Big East that still claims just two losses total this season. A year after the Wildcats knocked off Kansas and Iowa in non-conference play, it's VCU and Michigan taking the fall. Villanova was not "destined" to re-join the nation's elite, nor was Jay Wright guaranteed to be the one leading the program should things go awry. Yet here they are. Oh, and that JayVaughn Pinkston guy? He stuck through the hard times. He's a fifth-year senior now, and he's making season-changing plays like this:
3 UConn's next-guard-up way of replenishing its backcourt isn't slowing down under coach Kevin Ollie. He knows the drill. The former Huskies assistant was on staff during the recruitment of this senior class, which, after the early departures of Andre Drummond and DeAndre Daniels, is down to one player: point guard Ryan Boatright. Building a national title fortifications around an emerging National Player of the Year candidate is never a bad idea.
So the carousel continues to spin.
After the 1992 season, Chris Smith left Jim Calhoun's backcourt as the school's all-time leading scorer, ceding the top spot to a sophomore named Ray Allen. Ollie witnessed the transition first-hand as a three-year starter on those teams. In the wake of Allen's All-American career coming to a close in 1996, it was Richard Hamilton and Khalid El-Amin who stepped into the lead backcourt roles, eventually winning Calhoun his first title in 1999. Then Albert Mouring (15 points per game), then Ben Gordon, a centerpiece on the '04 title.
This cycle is still in motion going into its fourth decade. After splitting duties with A.J. Price during the 2009 season, guard Jerome Dyson took on UConn's highest usage rate (31.6 percent of available shots) of the efficiency era … at least until his backcourt sidekick, Kemba Walker, took the reins for an unforgettable run to the 2011 Big East and NCAA titles. Then it was Walker's sidekick: Shabazz Napier. Coming off the Napier-fueled '14 championship, it's on his sidekick to keep the wheels turning in Storrs. Every program eventually replaces its top players. Few do it so well.
Boatright is more Kemba than Shabazz, at least in terms of playing style. He's a 6-foot bundle of quickness. He's playing the most minutes of his career while being utilized on a career-high 29.7 percent of possessions. He dominated in wins over Bryant, College of Charleston and Dayton, and while the West Virginia loss wasn't his best effort he still put up 17 points, five rebounds and four assists. While the Huskies get their freshman and sophomore classes up to speed, Boatright is shouldering the load.
"Ryan Boatright is my leader, he's the guy that's going to get everybody involved, get himself involved on the offensive and defensive end," Ollie said earlier in the season. "We want him to make sure everybody is taken care of on the court, knows exactly where they need to be at all times and keep focusing on having him be that person that's driving that bus, and we can go very far."
It's far too early to tell if Boatright will fill such a high-volume throughout the season, or if he's capable of keeping this up through a rigorous non-conference schedule, but the big shoes are fitting pretty snug. Right now it looks like the Huskies are going to go as far he can carry them. Sound familiar? For comparison's sake, here's how the senior stacks up to his two predecessors through the first four games:
This is a next-to-impossible standard to hold Boatright to, of course. Since the early 1970s, only two programs (Duke, Florida) have repeated as national champions — and those teams returned much more than UConn, which was already a surprise and far-from-dominant title winner a year ago, does this season.
It'll be entertaining to watch another dynamic Huskies guard try anyways.
4 League perception was a hot-button issue at the SEC Media Days in Charlotte. Conference power players John Calipari and Billy Donovan spent a large chunk of their time defending the strength of one of the least-represented major leagues in the 2014 NCAA tourney but also addressing the realities of what they need to improve upon, particularly in terms of non-conference scheduling and performance. Calipari, who addressed his own unique obstacles in over-scheduling his team, promoted the concept of scheduling teams that your team can beat and avoiding bad losses.
"We just want our non-conference — we gotta all do better. Which means some schedule better, some just win more," Calipari said. "A lot of our issues are in the non-conference thing."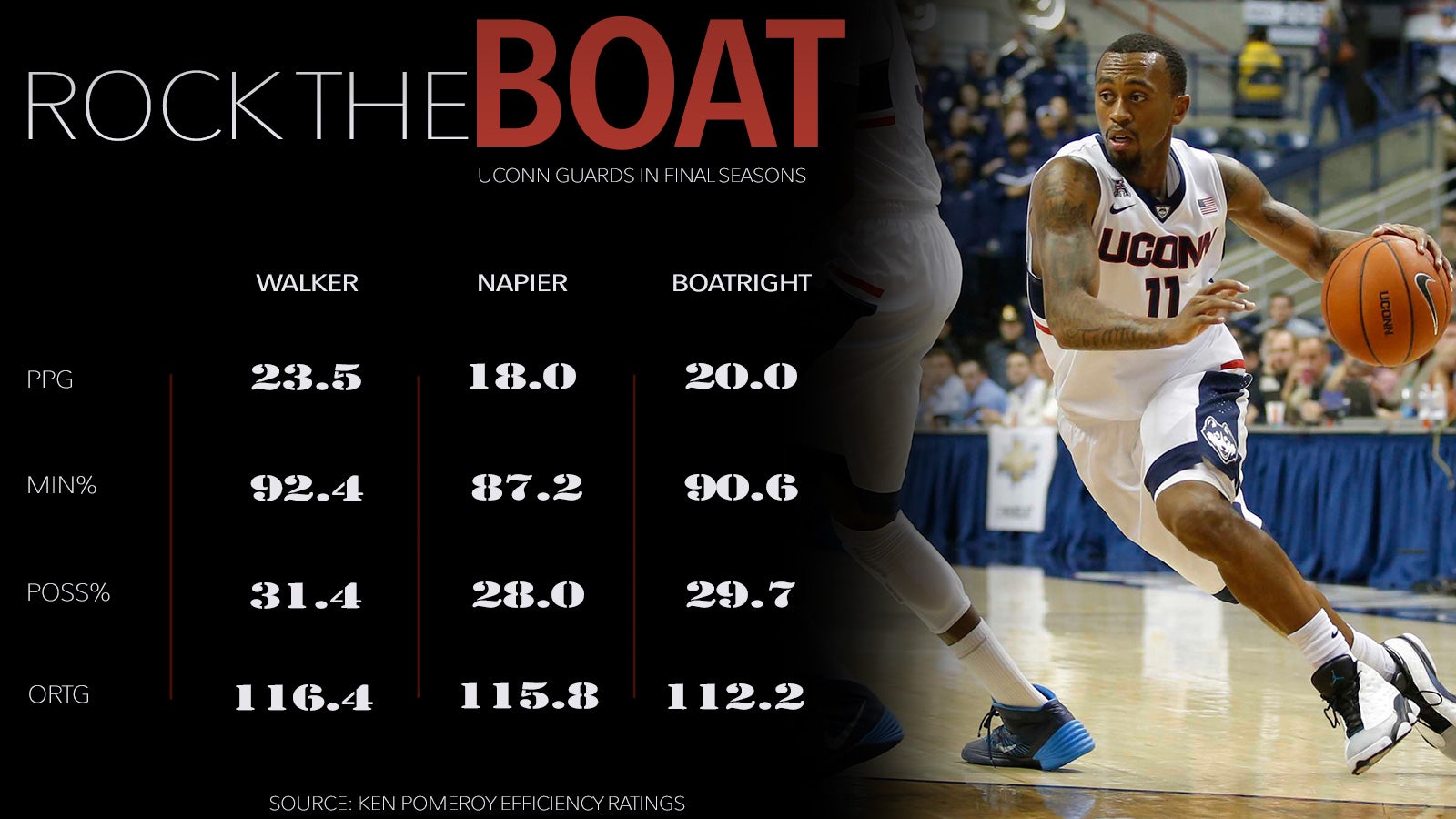 Then Ole Miss goes out and loses to Charleston Southern on college basketball's opening night. It was the worst major-conference loss of the nationwide tip-off, and just like that the narrative shifted again.
The SEC is far from the only major league dealing with such issues, but it once again looks like a top-heavy league suffering in the big picture. SEC teams have already taken 16 losses. In terms of taking "bad" losses, or upsets outside Ken Pomeroy's top-100, Missouri dropped an ugly game to UMKC and annual liability South Carolina faltered against Akron. And outside of Kentucky and an incomplete Florida team right now, there's not much holding the SEC up at the top.
The good news is that it's not alone, nor even the standard bearer when it comes to taking bad November losses thus far.
That would be its regional counterpart: the Atlantic Coast Conference.
For all its talk about being the top conference with the addition of Louisville (still too early to tell anything definitive), the ACC has already taken six losses to teams ranked outside the top-100. And while Florida State's home loss to Northeastern, a very strong mid-major that looks like it is going to wreck the Colonial this season, is not overly alarming or even necessarily an upset, it's offset by the likes of Clemson dropping two games to Winthrop and Gardner Webb and Virginia Tech falling to Appalachian State. There are bad losses all around, but in terms of sheer quantity, the ACC has some work to do (losses outside KenPom top-100 at time of game):
There's good news for the ACC, too. Through the first two weeks or so of the season, it boasts the most firepower at the top with Duke, Louisville, Virginia and North Carolina — a four-team gauntlet that could match any conference's best thus far. It's fairly clear, however, that the basements in most of these leagues are once again far removed from the attics.
It's too early for our Naismith Watch. Preseason favorites have, at most, played in three games. So here's a nod to a few of the top performers nationally, with a mention that this section will transform into our National Player of the Year Watch starting in December.
Winston Shephard, San Diego State: The Aztecs boast devastating athleticism this season, particularly on the wings there they are capable of pressing 94 feet from the basket and switch every screen. It's no surprise that Steve Fisher's team is once again top-10 in defensive efficiency. The question for San Diego State, per the usual, is where the offense is coming from. There are options, though, namely Shephard. It's unlikely that the 6-foot-8 versatile forward will need to shoulder a workload similar to that of past Aztec stars like Xavier Thames, Jamaal Franklin or even Kawhi Leonard — this team looks deeper than ever during its 5-0 start — but he's dominated the early rounds in Maui.
Frank Kaminsky, Wisconsin: How is Kaminsky following up a breakout season in 2014? Well, the 7-foot superstar is playing more minutes, taking up a higher rate of shots and possessions, adding more than 13 points to his effective field goal percentage, rebounding the ball at a much higher rate, improving his assist-to-turnover ratio and turning up his defensive numbers (9.1 block rate, 2.7 steal rate). When The Quarters reveals its (Far Too Early) Naismith Watch next week, Kaminsky will make the cut. That's already been decided.
Justise Winslow, Duke: Often referred to as "The Third Guy" in Duke's top-ranked recruiting class thanks to the package deal of point guard Tyus Jones and big man Jahlil Okafor, Winslow has already carved out a reputation for being one of the most electrifying players in the country. If there's a season-long highlight reel to date, he's making the cut. He's jumping over people. He's getting to the rim with ease. There's a case for the Houston native being the Blue Devils' best freshman to date, too: he's scored at least 14 points in every game against a difficult schedule (117.2 offensive rating) and he can defend multiple positions with his strength and athleticism. The added bonus for Coach K? Winslow turns defense into offense about as well as any player in the country:
Shannon Scott, Ohio State: Scott is the orchestrator of an offense averaging 90.7 points per game right now. With Marc Loving, Sam Thompson and freshman phenom D'Angelo Russell taking on the majority of the scoring load, it's fallen to Scott to keep the engine running. With three straight games of 11 assists or more, the senior guard from Alpharetta, Ga., holds onto the second-highest assist rate nationally (56 percent). That'll be difficult to maintain — over the past 10 seasons, Northeastern star and NBA veteran Jose Juan Barea's 54.2 assist rate in 2006 remains the top mark — but the Buckeyes boast plenty of scoring options to keep producing off Scott's passes.
DAVIDS AMONG GOLIATHS
Back in 2006, George Mason started a nice trend, one that's spanned the past eight seasons with surprising regularity. Since that magical run, five non-power conference teams (Memphis, VCU, Wichita State and Butler twice) have made a Final Four appearances, missing the prestigious stage of the NCAA tournament just three times. With that in mind, here's a look at the potential torch-bearers of that tradition, as well as some of the best stories outside the major conferences:
Eastern Washington: The Big Sky upstart rekindled the hot-seat talk around Tom Crean with its 88-86 shocker at Assembly Hall on Monday night, hitting the Indiana Hoosiers in the mouth with a 53-point barrage in the second half. The win snapped Indiana's 43-game home winning streak against non-conference foes — a streak that included wins over bluebloods North Carolina and Kentucky and strong mid-majors Butler and North Dakota State — and ranks as one of the most surprising scores of the season to date.
After seven straight losing seasons dating back to NBA guard Rodney Stuckey's departure, the Eagles have an opportunity in the Big Sky this season. Boasting a sophomore- and junior-laden group last season, coach Jim Hayford's group increased the tempo and started to find itself offensively. The now-experienced Eagles hoist and knock down 3-pointers with regularity — their 46.5 3-point rate ranks 10th nationally, a common theme under Hayford — but even when the Hoosiers aimed to take away the deep ball they found success on the interior with Tyler Harvey, Venky Jois and Drew Brandon combining for 72 points.
"When you make the 3 like we do, we really don't look at the scoreboard until there's three or four minutes left," said Hayford, who posted a 217-57 record at Division III Whitworth before taking the Eastern Washington job in 2011. "We're as much about attacking the basket as we are shooting the 3. They wanted to take away the 3 so that's what they gave us, and we exploited it."
Chase Fischer, BYU: OK, so it was Chaminade, the nation's beloved but oft-undermanned Silverswords. However, it's also Jimmer Fredette. BYU guard upstaged high-scoring teammate Tyler Haws in a Maui Invitational consolation game on Tuesday evening, breaking former All-American Fredette's school record with 10 3-pointers. Fischer finished the first half with nine 3s, a quick flurry of 27 points. That leaves the 6-foot-3 Wake Forest transfer shooting 51.2 percent from long range to provide a solid second or third option behind Haws and Kyle Collinsworth. Shades of Kyle McAlarney here:
Northern Iowa: The 2010 tournament darlings are back with what looks like their best team since Ali Farokhmanesh & Co. knocked off Kansas to advance to the Sweet Sixteen. At 5-0, the Panthers are off to their second-best start in school history at the Division I level, featuring an overtime win against Stephen F. Austin and a 19-point beatdown of Virginia Tech.
It's one of coach Ben Jacobsen's smallest teams, but it is experienced and shoots the ball well all over the floor. Seth Tuttle, a 6-foot-8 forward that is Jacobsen's biggest signee since a "tweener" three-star prospect named Doug McDermott left for Creighton, leads the way for a team that slows the game down to a grinding halt and executes at an extremely high rate. If there's a team that has any chance at tripping up Wichita State in the Missouri Valley, Cedar Falls, Iowa, might be the best place to start.
A.J. English, Iona: The nation's third-leading scorer isn't just feasting on terrible competition. He's just feasting. According to KenPom, the offensive juggernaut that is Iona year after year has faced the 44th-toughest schedule when it comes to opposing defenses … and still A.J. English is averaging 25 a night coming off a 37-point outburst against North Texas. Add in the fact that he's logging 5.8 rebounds and 4.5 assists per game — numbers bolstered by Iona's high rate of possessions — and it's no wonder the 6-foot-4 star is drawing NBA attention.