Returning defensive standouts give Louisville chance in top-heavy Atlantic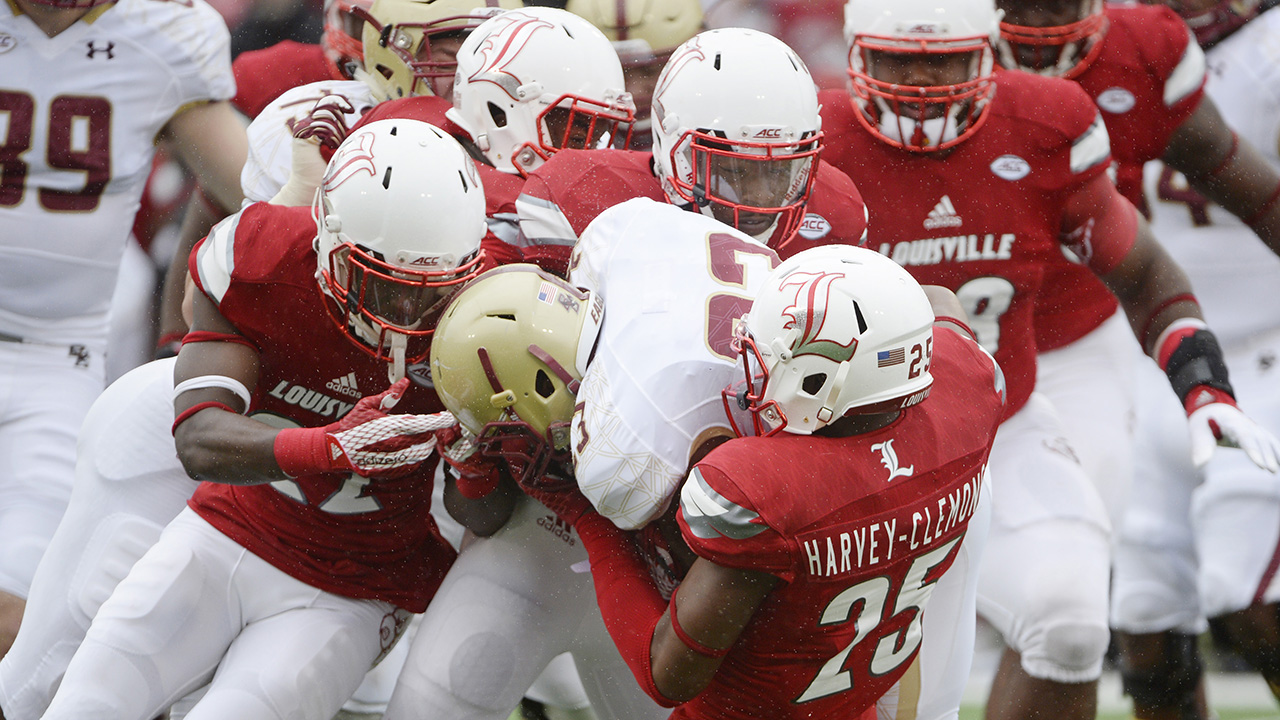 CHARLOTTE — Louisville's ACC welcoming party was far from hospitable.
When the Cardinals first ventured into the ACC Atlantic during the 2014 season, it was perhaps the most top-heavy division in college football. Florida State and Clemson, the conference's preeminent powerhouses this decade, combined to post a 29-3 league record in the two seasons prior to Louisville's arrival — and two-thirds of those losses were a product of head-to-head results. In 2014, the Seminoles were the reigning national champions en route to a second straight perfect regular season while the Tigers boasted consecutive BCS bowl wins over LSU and Ohio State with a national championship appearance right around the bend. Louisville's addition offered the possibility of competitive balance.
Bobby Petrino's group held its own in 2014, too. Despite the departure of three first-round draft picks, including productive quarterback Teddy Bridgewater, two of Louisville's three ACC losses that season were by eight total points.
Then the depth chart crumbled.
Twenty-three seniors and four juniors left, many becoming part of a school-record NFL draft class. "It's like, OK, we're starting over again," Petrino said. " … It was like you lost a whole roster."
Roster turnover could have defined the Cardinals' second ACC offseason. Defensive standouts Keith Kelsey, Devonte Fields, Josh Harvey-Clemons and DeAngelo Brown could have joined a lengthening line of Louisville's NFL early entrees, departures that threatened to hinder the team's upward trajectory after winning six of its final seven games following the emergence of electric freshman quarterback Lamar Jackson.
The four juniors — Kelsey, Fields, Brown and Harvey-Clemons — called a press conference in January and announced they were each returning for their senior seasons. Jackson was in the room during the announcement, smiling and processing the rising expectations: "Offense could be older, I guess, and score points, but we gotta have a defense that can stop the other opponent from scoring, too. That was a major upgrade."
"That was one of our biggest recruiting jobs," Petrino said. "There's no question about that."
Louisville's defense hit its stride in the second half as Fields, one of the nation's elite pass rushers, worked himself into game shape. (The 2012 Big 12 Freshman Defensive Player of the Year transferred to Louisville out of the JUCO ranks after being dismissed from TCU following his arrest on assault charges stemming from a July 2014 incident with an ex-girlfriend.) The unit posted 26 sacks and 62 tackles for loss over the final seven games. It forced 14 turnovers over that span.Kelsey, a top inside linebacker, finished with 107 total tackles while Harvey-Clemons, a Georgia transfer with hybrid capabilities at safety, logged 88 tackles and three interceptions.
And while the Cardinals lose another first-round pick in end Sheldon Rankins, eight returning defensive starters leaves the roster in its best position yet to challenge for the conference crown.
"It starts in the locker room," said Kelsey, who said the four rising seniors weighed their stay-or-leave decisions collectively. "Coaches coach, but we've got to go out there and make the plays. We've got to hold each other accountable and go out each and every week and not take anybody lightly."
Add any defensive improvement to the near-guarantee of Jackson leading a better offense in 2016. After two seasons of searching, Petrino appears to have found a quarterback to build his offense around … even if it is perhaps a different type of athlete than he's ever worked with at the position. As Jackson becomes more and more acclimated to the playbook — he joked that there were times as a freshman he would simply rely on his athletecism and wing plays he was unfamiliar with — the bulk of his skill-position players and offensive linemen return to the fold as well.
All of this tallies up to a potential headache for the presumptive national title contenders Florida State and Clemson. The Cardinals are still searching for their first league win against the Atlantic powers, but they've played Clemson to single digits in both meetings and the Seminoles travel to Papa John's Stadium this season.
Since accepting the position, Petrino has been open about building the necessary depth to compete with the best programs. By returning four defensive starters and landing two top-40 recruiting classes, the veteran coach believes the two deep's tide has already turned.
"I think we're there this year."