Oklahoma stuns Alabama, spoils McCarron's sendoff
It's the SEC's house, where it won three of its national titles during the BCS era. But the Superdome was also the site of one of the most shocking losses of Nick Saban's tenure at Alabama.
Thursday night, the same location, with another Crimson Tide team that looked sluggish, provided the same result.
No. 11 Oklahoma took the lead with Trevor Knight's 8-yard touchdown pass to Jalen Saunders with 1:53 remaining in the second quarter and never trailed again, stunning third-ranked Alabama 45-31 in the Sugar Bowl.
Coupled with a loss to Auburn in the Iron Bowl, it was the first time the Tide had fallen in back-to-back games since 2008. That season, 'Bama dropped the SEC title game to Florida before it was upset by then-mid-major Utah in New Orleans.
Here are four observations from Oklahoma's win, continuing a slate of BCS games that have each been won by the underdog — and may have us closing in on history.
Through three games (Rose, Fiesta and Sugar), we have seen a combined 214 points, 115 away from '12's all-time record of 329 with four high-scoring teams remaining in the Orange Bowl (Clemson and Ohio State) and national title game (Auburn and Florida State).
We scoffed at Bob Stoops last spring when he claimed the SEC's mystique was "propaganda." We chuckled this fall when he slammed the league's defenses.
Amid it, those comments were the first thing that came to mind on BCS selection night when Stoops' Sooners were matched up against the poster boys of the SEC's dominance and its defense.
All Oklahoma did was race out to a 31-17 halftime lead, the most points allowed in two quarter by the Crimson Tide in the Saban era. Oh, and those four Sooners TDs were as many as they had in the first two quarters against Baylor, Oklahoma State, Texas and West Virginia — combined.
The end result was Oklahoma becoming the first team to hang 40-plus on 'Bama in a bowl since 1979.
Let's not belittle the SEC's accomplishments of the past seven years, all of them ending with crystal football. In six of those years, the league's national champ finished in the top 10 nationally in total D.
But the last two games, Alabama has looked nothing like a vintage SEC defense.
The wheels, effectively, came off as the Tide, allowed a combined 819 yards and 79 points over their final two games. This from a team that went into the regular-season finale allowing 263.9 yards (third in FBS) and 9.3 points (first).
Meanwhile, the Sooners — from a conference where defense is more often than not optional — showed their No. 14 ranking is no fluke as they picked off AJ McCarron twice in the first half and forced a fumble. In all, Oklahoma forced four turnovers and scored 28 points off of them.
The cameras panned to his famous girlfriend and mom ad nauseam, a duo that have garnered more than their fare share of airtime as McCarron became one of college football's biggest stars.
His resume will show a pair of national titles, a Maxwell and Johnny Unitas Golden Arm Award and a Heisman Trophy runner-up. It will show a program-best 36 wins and a senior season in which he became the first quarterback in Alabama's storied history to throw for over 3,000 yards in a season.
It will also show a sendoff that, despite a career-high 387 passing yards and two TDs, included a pair of costly interceptions (it was his fourth multi-pick game in 40 starts) as the Sooners built that 14-point halftime lead.
McCarron was also sacked a season-high seven times and struggled with a Sooners defense that presented constant pressure. The lasting image there will be a game-sealing fumble on McCarron's last snap as Eric Striker stripped the ball, leading to Geneo Grissom's TD.
His legacy is cemented, but this wasn't the finale that anyone could expected from McCarron.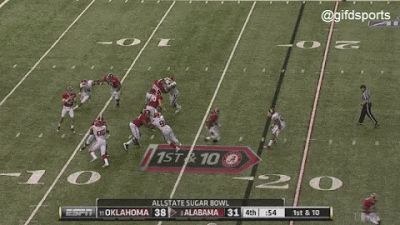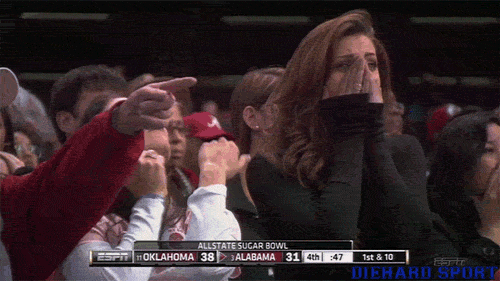 Benched in the fourth quarter against West Virginia on Sept. 7 after a period in which he threw more interceptions (two) than completions (one), it took an injury to Blake Bell for Knight to move back into the starting spot more than two months later against Iowa State.
With both QBs available Thursday night, Stoops went with Knight because of a skill set that has historically given the Crimson Tide fits. Their last four losses came courtesy of Auburn's Cam Newton (2010), LSU's Jordan Jefferson (2011), Texas A&M's Johnny Manziel ('12) and, this season against Nick Marshall and Co. in the Iron Bowl.
But it wasn't Knight's legs necessarily that hurt the Tide — though his ability to throw on the run was key — he ran for just seven yards on five carries — but his arm as he passed for 348 yards, four TDs and a pick. By halftime, he already had 206 yards and three scores and was completing passes at a 78.3 percent clip.
The question now is whether they're still dealing with a QB quandary in Norman?
Bell was the more proficient of the two all season with a 60.1 completion rate in the regular season to Knight's 52.2 and had a better rating (132.2 to 105.6), but Knight's performance against a team that many still believed, before this game, was the nation's best, will be hard to bypass.
The 2014 opener against Louisiana Tech is more than eight months away, but after this steady, impressive performance, it would be stunning if anyone but Knight is under center for that one.
Saban has been known to stockpile running backs as if there's a shortage. He signed four in his 2013 class after bringing in two in '12, one in '11 and three in '10.
It's a necessity given the way he typically rides a two-man rotation at the position and this season that has been 1,100-yard rusher T.J. Yeldon and Kenyan Drake (694). But in the loss to the Sooners, Saban showed just how deep his stable of backs goes.
Freshman Derrick Henry, who had 282 yards while appearing in eight games, starred as he ran for 100 yards and a score on eight carries. He also had 61 yards and another TD on one reception.
In a surprising turn, Drake didn't touch the ball once despite no reports or rumblings of injury or other transgressions.
Henry's emergence and Drake's disappearance sets up what should be an intriguing debate in Tuscaloosa. Though after the struggles on defense, there will be plenty of those.