Numbers To Know: Braves' lineup looks to break out of MLB scoring cellar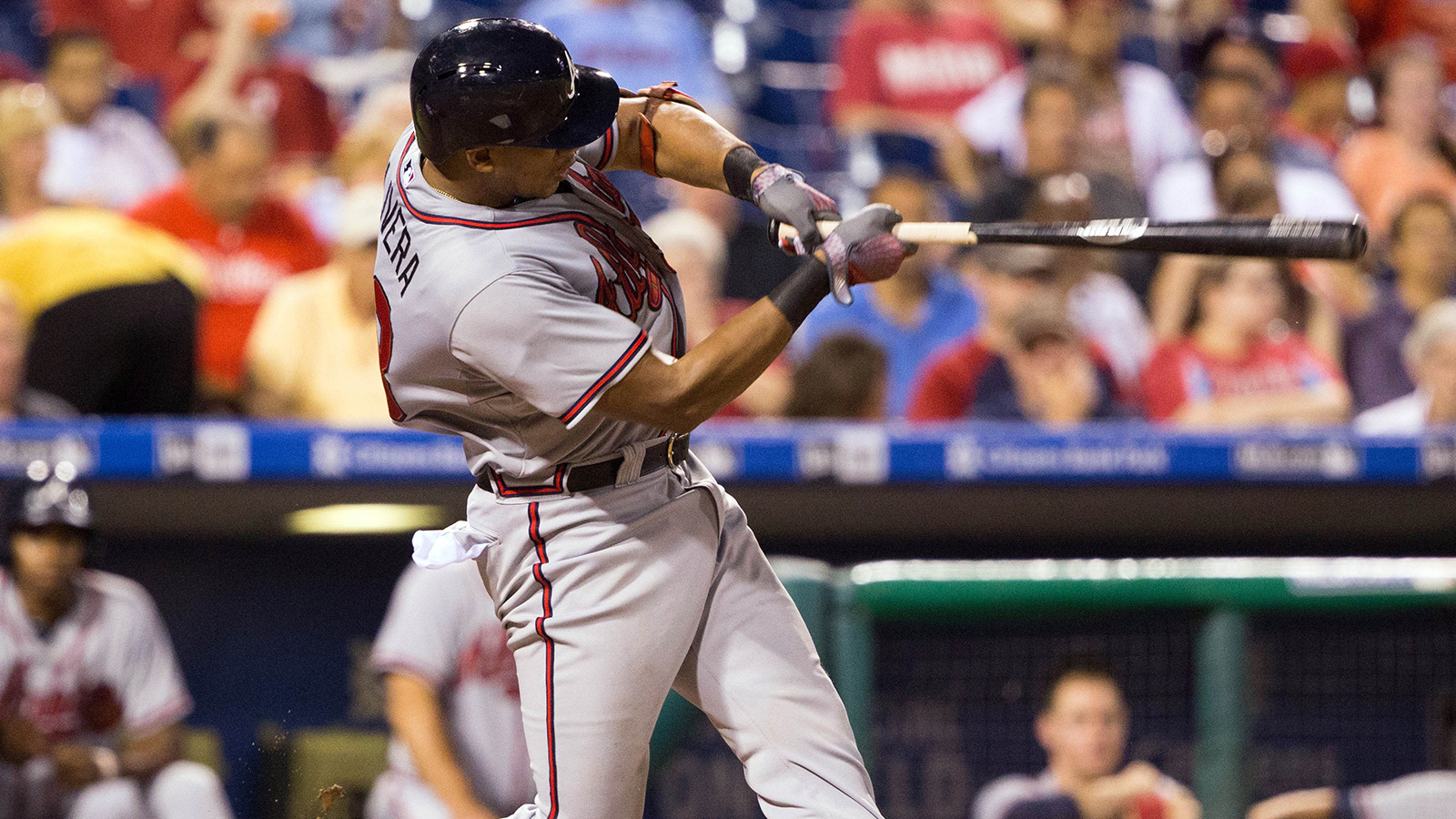 Two general mantras prevailed for the Braves' front office this offseason: We will win more games and we will be better offensively. The latter statement will obviously influence the former, and for a franchise that ranks dead last in runs scored over the past two seasons improvement can not come soon enough. Here are some numbers to keep in mind with the franchise's Opening Day lineup and bench options:
Number To Know: 3
To say A.J. Pierzynski's offensive resurgence came as a surprise is an understatement. Not only did the 39-year-old shed the mentor label within the first few weeks, he earned another one-year contract — a $3 million bargain — and became a bigger part of the franchise's future than his former pupil, Christian Bethancourt.
Pierzynski's numbers were also historically rare. Dating back to 1990, only three catchers over the age of 37 have played more than 100 games and hit above league average: Hall of Famer Carlton Fisk, former Yankees star Jorge Posada and Pierzynski. Both Fisk and Posada hit below league average the following season, so the spotlight turns to Pierzynski as he plans to split time behind the plate.
Number To Know: 169
Flowers' primary function on this 2016 Braves roster lies in grooming a young pitching staff, much as he did the past few seasons in Chicago with White Sox standouts Chris Sale, Jose Quintana and Carlos Rodon. One of his best attributes in this regard, particularly in building pitchers' production and confidence? Pitch framing. The Roswell, Ga., native ranked as the second-best pitch framer in baseball last season, earning 169 extra strike calls for the White Sox.
If his bat holds up — he's never hit league average (100 weighted runs created plus, but he came close enough in 2011, 2012 and 2014 — Flowers, who signed a two-year deal, could log the most starts behind the plate in Atlanta this season.
Number To Know: 10
Despite dealing with a lingering wrist injury, which cost him 44 games and limited his second-half production, Freddie Freeman retained his place among the most devastating bats in baseball against right-handed pitching. For the third consecutive season, he posted 150-plus weighted runs created plus against righties. Only nine other hitters have maintained that level of dominance since 2013, and their names are of the household variety: Trout, Harper, Cabrera, Votto, Goldschmidt.
The difference in Freeman's output was his production against left-handers. His numbers hit a career-low mark against southpaws (89 wRC+), dipping below league average for the first time since the 2012 campaign. The 26-year-old looked more than adequate in camp in such situations, posting a .462 on-base percentage and two homers, so perhaps the issue is already in the rearview mirror.
Freeman is also looking to reverse a trend that started with his franchise-record eight-year, $135 million contract, a diminishing return on investment over the past three years.
With his compensation hitting eight figures for the first time this season, the team's star first baseman needs to stay healthy and return to All-Star level production.
Number To Know: 5
For a player earning "place-holder" status, Jace Peterson was a solid contributor. The 26-year-old played solid defense and posted decent offensive numbers for an under-the-radar rookie, especially considering he played with a torn tendon in his thumb for the majority of the campaign. Of course, the presence of the Dansby Swanson-Ozzie Albies duo is the primary reason behind Peterson's uncertain role in the franchise's long-term future. The Braves are actively exploring their options, though, playing Peterson at five different positions in spring: second base, shortstop, third base, left field and right field.
In Atlanta, any utility role mention comes with the lofty expectations of Martin Prado, and Peterson's bat will have to improve dramatically to even warrant consideration — to say nothing of his struggles against lefties last season. But he has the athleticism to make this a successful experiment on the defensive end. Just how much Fredi Gonzalez moves Peterson, his presumed starting second baseman, around in 2016 remains to be seen.
Number To Know: .315
The 32-year-old has proven he's quality veteran option at shortstop, but one who has very little business hitting at the top of a lineup. Aybar, acquired in the Andrelton Simmons trade and the second de facto middle-infield placeholder for the Swanson-Albies Era, owns a .315 career on-base percentage, which, for those counting at home, is just 11 points higher than Simmons' career mark. (Simmons was sent out of town largely due to his bat, and he posted a higher OBP in 2015.)
In fact, of the 74 hitters who have accumulated 4,500 plate appearances since 2007, Aybar's first full season, only three have posted a lower on-base percentage.
Even if the Braves are not going to consider hitting their best player at the No. 2 spot — Freeman should probably hit there, especially against right-handed pitching — they should plan on moving Aybar down in the order. All of that being said, Aybar should be a marginal offensive upgrade and he's averaged a 2.7 WAR over the past three seasons. Not bad for a placeholder.
Number To Know: 21
This Braves offense boasts precious little power. The franchise's pipe dream is for Adonis Garcia, who was a surprisingly productive 30-year-old rookie last year, can provide some pop for a lineup that finished 20 home runs behind the 29th-most powerful lineup in baseball. That's a tall order for a player that combined for just 21 homers in more than 300 minor-league games, but the small MLB sample size offered hope.
Garcia was one of just four players to finish the 2015 season with double-digit home runs in fewer than 200 plate appearances, joining Curt Casali (Rays), Gregory Bird (Yankees) and Franklin Gutierrez (Mariners). Seven extra-base hits in 52 Grapefruit League at-bats and a dominant winter effort have him in contention, however ill-advised, for the team's cleanup role, particularly against right-handed pitching.
Number To Know: .900
There's a reason the Braves, along with other MLB clubs, fell head over heels for Hector Olivera's bat during the international scouting process. The soon-to-be 31-year-old was an absolute force in the Cuban League, posting an OPS over .900 in five of his final six seasons. For context, only 11 MLB players hit at that level last season.
While Olivera has a long way to go after a whirlwind first season, that's the backdrop for his lofty expectations. Olivera led the team in spring at-bats, which was no accident. Not only is he transitioning to the outfield for the first time in his career, but there's a good chance he's the best right-handed bat in the lineup … and they need him to produce.
Number To Know: 29
The list of players capable of filling Atlanta's defensive superstar role left vacant by the trades of Jason Heyward and Andrelton Simmons is comically short. The 25-year-old Inciarte's name makes the cut, though. The Gold Glove-caliber speedster, acquired in the Shelby Miller heist, logged 29 total defensive runs saved while bouncing between all three outfield spots in Arizona last season — second-most in baseball behind only Tampa Bay's Kevin Kiermaier. With back-to-back seasons of 20-plus runs saved, that puts him in elite company.
Of course, Inciarte's skills extend past run prevention. He's poised to be the primary leadoff hitter, at least against right-handers, for a team desperate to put its offensive woes in the rearview mirror. His .303/.338/.408 slash line with 21 steals should only help a lineup starving for even league-average hitters.
Number To Know: .370
Nick Markakis' power outage was not necessarily rare among outfielders — players like Ichiro Suzuki, Juan Pierre and Ben Revere have been around for years — but his one-dimensional offensive approach did set him apart. The 32-year-old became the first outfielder since Hal Morris in 1998 to post a .080 isolated power (slugging minus average) while failing to reach double-digit stolen bases — in other words, light-hitting outfielders are typically the speedy types. Markakis was neither.
The right fielder's saving grace in 2015 was his unfailing ability to string together quality at-bats and find ways to reach base. His .370 on-base percentage not only ranked 18th-best in the majors, but it also tied the second-best mark of his long career. Without the challenges of offseason neck surgery and a disrupted workout routine, the Braves are hoping Markakis regains some power and speed while still maintaining his role as on-base machine.
Number To Know: 8
Perennial trade option and longtime Atlanta resident Kelly Johnson returns to the fold for his third stint with the franchise, providing a proven and steady bench bat that can play five or six positions. The only disappointment? His Braves return prevents Johnson from adding to his eight-teams-in-six-seasons world tour.
Defensive versatility, veteran presence, offensive balance — for his career, he's posted near-identical splits against lefties and righties — the list of reasons for the Kelly Johnson signing are readily apparent. (Plus, as illustrated last season in helping to acquire John Gant and Rob Whalen, there's also a chance another team is looking to acquire a proven bat near the deadline.)
Number To Know: 6
Beckham's bat never followed up on an excellent rookie season in Chicago — he's hit just .238/.298/.358 since that first year — but he was a plus defender at second and third base last season. Now 29, the former University of Georgia star signed with the intention of challenging for the third-base job, but incumbent Adonis Garcia will likely get an extended look. Still, with six defensive runs saved at third last season, Beckham could at least be a late-inning defensive replacement.
Number To Know: 4
There are two ways to view the Jeff Francoeur's inclusion on the 25-man roster. For starters, he did not hit poorly last season. He posted 93 weighted runs created plus — closer to league average than most of the Braves' position players last season — after hitting .258/.286/.433 with 13 home runs in Philadelphia. As a bench bat for lefty-dominant lineup, the argument goes that he was a better option than the likes of Emilio Bonifacio and Michael Bourn. He's spring production backs this sentiment up.
Then there's the fact that Francoeur has been a sub-replacement level player for the past four seasons, totaling a minus-3.8 WAR since his surprisingly productive season with the Royals in 2011
If used sparingly (pinch hitter, rare replacement for Nick Markakis against left-handers) the 32-year-old can still be a decent bench piece. If he logs 300-plus plate appearances again, as he did with the Phillies, something has gone wrong: The outfield is locked in and any vacancy due to long-term injury or trade could (or should) be addressed with top outfield prospect Mallex Smith.
Number To Know: 11
The latest addition to the Braves' roster, Stubbs enters the mix after a disappointing year splitting time between the Rockies and Rangers. The 31-year-old took Michael Bourn's spot as the backup center fielder, although it remains to be seen just how willing Atlanta will be to sit its Gold Glove-caliber starter in Inciarte. Stubbs owns impressive career numbers against southpaws, but it must be pointed out that he's lived a hitter's dream by spending all but one season in hitter-friendly parks: Coors Field, Great American Ball Park and Globe Life Park.
All that being said, Stubbs brings an intriguing blend of speed and power when he's producing. He's one of 11 MLB players with at least 80 home runs and 100 steals since the start of the 2010 season.