Numbers To Know: Braves' all-righty rotation faces significant hurdles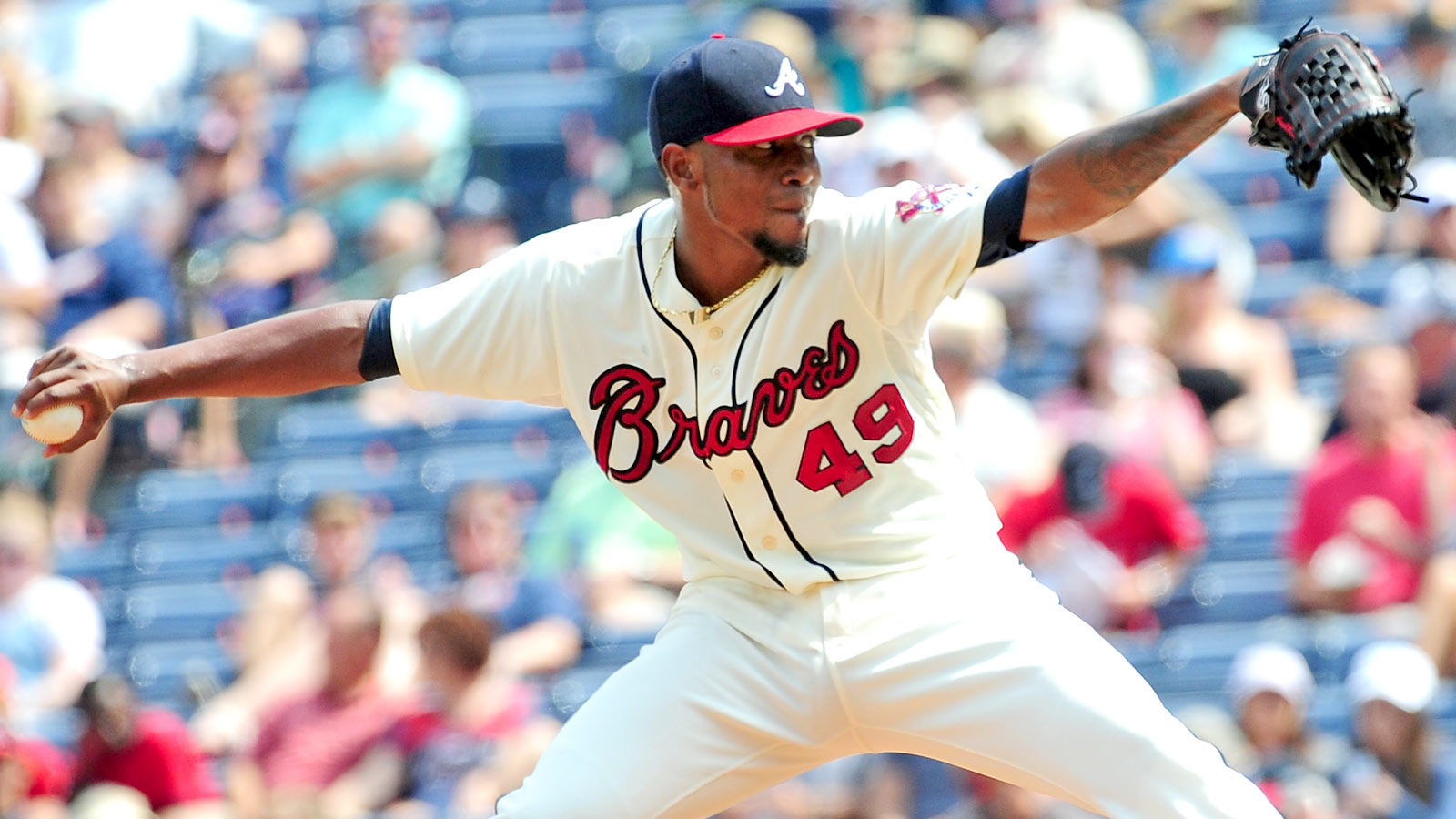 The Atlanta Braves are rolling with a four-man rotation until April 12, at which point veteran Jhoulys Chacin is expected to receive the call-up from Triple-A Gwinnett. The staff projects to remain a fluid situation throughout the season, though, with hard-throwing right-hander Mike Foltynewicz pressing for time early on and, later in the year, the likes of top prospects Aaron Blair and Tyrell Jenkins potentially pushing their way into the conversation.
For now, here are some statistics and trends to keep in mind with the four Opening Day starters:
Number To Know: 294
As the 24-year-old steps into the No. 1 role in his fourth full season, he will need to find consistency against left-handed batters if he wants to put last season behind him. Teheran's 2015 splits against lefties and righties were even more extreme than his first- and second-half numbers — struggles that, at least in part, led to his shift to the first-base side of the rubber in early August.
In total, his fielding-independent pitching (FIP) was 294 points worse when a left-hander was in the box: His strikeout-to-walk ratio plummeted and his home run rate more than doubled. While Teheran has rarely shown the ability to shut down opposing lefties in his young career, the trend spiraled out of control last season. If he's going to be an ace, he'll need to correct a number of last year's deficiencies, but shutting down lefties would be a good place to start.
Number To Know: 9
Matt Wisler's rookie season encountered its fair share of obstacles, but his final three starts left ample room for optimism this offseason. Wisler was one of only nine pitchers who were 23 years old or younger and tossed at least 100 innings last year, joining the likes of young stars Noah Syndergaard, Carlos Martinez, Lance McCullers, Taijuan Walker and Carlos Rodon. And while he wasn't nearly as productive as other names on the list (0.1 WAR, 4.71 ERA), he was also younger than everyone on this list except McCullers, Rodon and Red Sox standout Eduardo Rodriguez. (For what it's worth, Wisler is just two weeks younger than Syndergaard.)
One last thing to keep in mind on the birthday front: Wisler is younger than Blair, Jenkins and surprise bullpen addition John Gant.
There's a maturity about Wisler's approach that makes it easy to forget his age — seeking out Tom Glavine for offseason work on his changeup, for instance. It's one thing to be a rookie. It's another to make your MLB debut at 22 years old, take your lumps on a 67-win team and pitch three gems to end the season.
Number To Know: 856
The veteran's numbers in Baltimore and San Diego leave plenty to be desired, but the Braves seem to believe he can recapture his 2010-14 production (9.5 WAR) to eat up innings before the prospect cavalry arrives.
Even in his down years, Norris has churned out respectable strikeout numbers, logging 856 strikeouts since his first full season in 2010. In fact, there are only six pitchers who have logged 850 or more strikeouts in fewer than 1,000 innings over the past six seasons: Francisco Liriano, Chris Sale, Cliff Lee, Stephen Strasburg, Jeff Samardzija … and Bud Norris.
Number To Know: 5.43
With the Braves carrying an all-righty rotation into the season — and perhaps for the majority of the season — they need to find answers against left-handed bats. The only viable rotation option that posted quality numbers in such situations last year was Gant — and he went through his own struggles in the Mets system before posting a 0.55 ERA versus southpaws at Double-A Mississippi.
The rest of the bunch, including Foltynewicz, Chacin and Manny Banuelos? They each posted a 5.00 FIP or worse, at least 19 points worse than league average.