MLB Draft Primer: Braves' options open with gifted outfielders, high-ceiling arms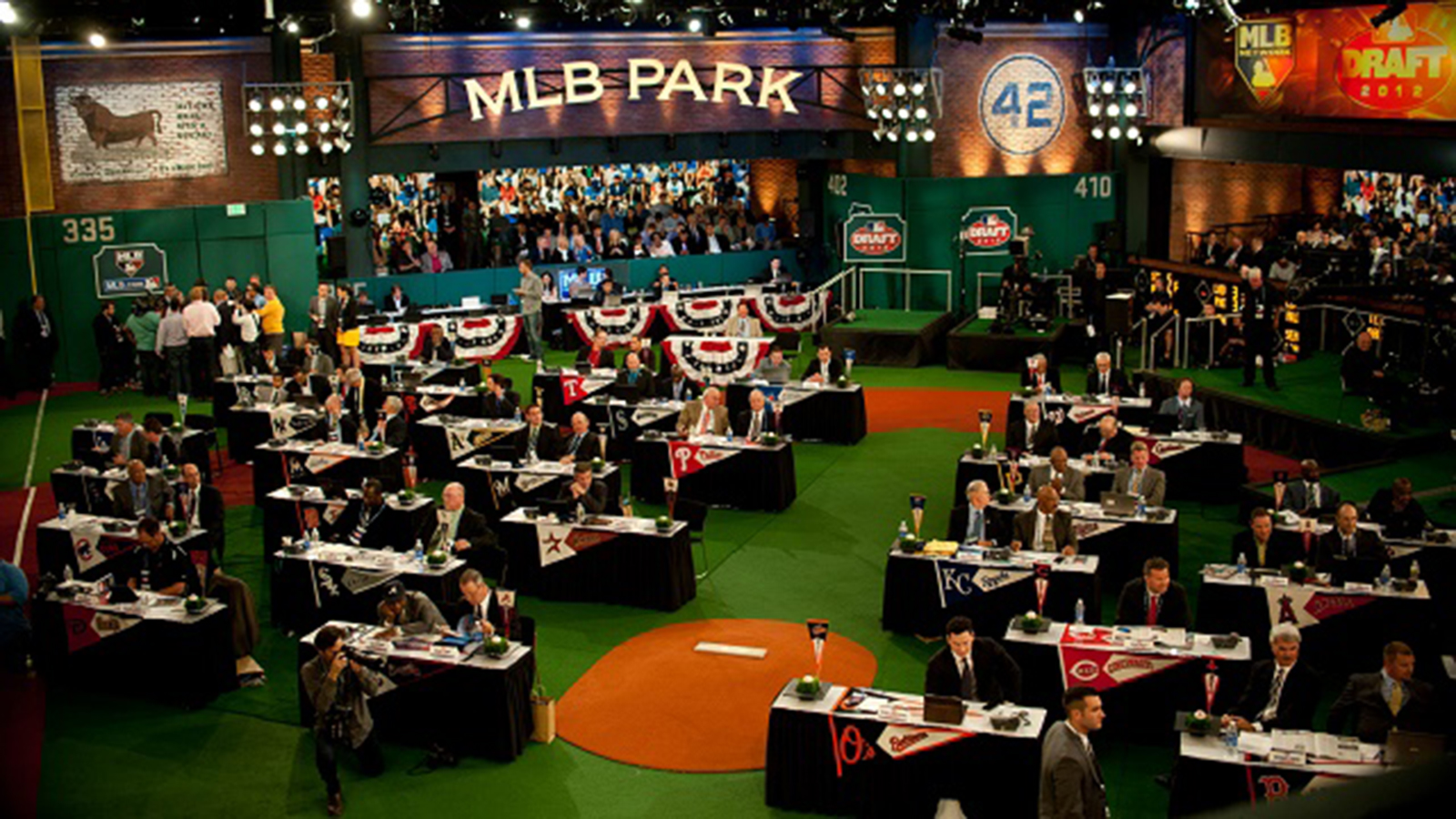 A defining date in the Atlanta Braves' rebuild arrives next Thursday — one of a select number of occasions when the franchise can acquire top-tier amateur talent before significant improvement becomes an industry-wide expectation.
The 2016 MLB Draft, much like its pending '17 edition, barring a complete shakeup in the current standings, presents the Braves with a unique and valuable commodity: It is the organization's first top-five pick since 1991.
While a highly rated farm system and a bevy of high draft picks allow John Hart and John Coppolella the flexibility to "miss" with the No. 3 overall pick, efficiency bumps the perceived ceiling of this ongoing endeavor even higher. Of course, the organization wasn't incredibly efficient last time it went through this process, and that worked out just fine. With six consecutive top-10 selections from 1986 to 1991, the Braves landed a future Hall of Famer (Chipper Jones), two left-handed pitchers who pieced together solid-but-unspectacular careers for a variety of reasons (Steve Avery, Kent Mercker) and three whiffs in Derek Lilliquist, Tyler Houston and Mike Kelly.
(Atlanta missed on the likes of Kevin Appier, Craig Biggio, Frank Thomas and Manny Ramirez at the top of the 1987, 1989 and 1991 drafts. Now, re-imagine that 1990s dynasty.)
Again, the Braves can afford to miss at the top, especially with five of the top 80 draft picks and the third-highest bonus pool, but they are operating in a different financial world than when Ted Turner owned the franchise. These picks carry greater weight when the odds of signing a 26-year-old reigning Cy Young winner in free agency or trading for and re-signing a perennial MVP candidate, as the franchise did for the 1993 season alone, are slim.
The Braves' options for the '16 draft hinge primarily on the choices made by the Phillies and Reds ahead of them, but they have a few available strategies at their disposal regardless. Will they simply draft best player available? Will they avoid the inherent risks associated with high-school players by targeting more immediate needs with a college bat — a route Coppolella has hinted at on multiple occasions. Then there's also the possibility the Braves take full advantage of their financial flexibility by selecting a more "signable" talent at No. 3 to hand over-slot bonuses at picks Nos. 40 and 44.
Atlanta isn't paying the Matusz contract to acquire the 76th best player in the draft, they're doing it to pay a top 20 talent @ 40 or 44.

— Eric Longenhagen (@longenhagen) May 24, 2016
Everything should be on the table.
Until the Phillies and Reds reveal their plans, here's a few top names that could be on the table for Atlanta at No. 3, notably featuring big-time high-school arms and impressive college outfielders (listed in order of MLB Pipeline's rankings):
Jason Groome, LHP, Barnegat High School (N.J.)
It's been a wacky senior season for the 6-foot-6 southpaw — complete with an odd suspension coming off a 19-strikeout no-hitter and the perceived drop in his draft stock in some scouting circles — but he possesses top-of-the-rotation arm talent in a projectable frame. Groome owns one of the best amateur fastballs around, sitting comfortably in the mid-90s, and his New Jersey prep competition has offered precious little resistance.
Given the franchise's pitching depth and the well-known risks associated with prep arms — top-five prep picks who became viable MLB starting pitchers are few and far between — Groome would be considered a "best player available" option, if that is indeed where he's listed on Atlanta's board. The franchise doesn't technically need his services, and yet the Coppolella-Hart duo has spent the better part of two years proclaiming that there's no such thing as too much pitching.
In Groome and Sean Newcomb, the Braves would instantly boast two of the best left-handed pitching prospects in baseball.
Riley Pint, RHP, St. Thomas Aquinas High School (Kan.)
Pint offers a similar organizational fit to Groome … only he pitches from the right side and might have an even more electric arm. At 6-foot-4, 210 pounds, the Kansas product's fastball has been clocked at 102 miles per hour and he sits in the mid-90s, more than enough to make him a top-five pick. He could even become the first high-school righty to go No. 1 overall, though Philadelphia has been widely linked to Florida's A.J. Puk.
More on Pint's secondary stuff from MLB Pipeline: "He throws a power curveball that already is a plus pitch and can turn it into a harder slider when he wants. The Louisiana State recruit presently has little need for a changeup, though his has good fade and gives him another plus offering when he needs one."
Considered more of a high-risk/high-reward candidate, Pint would only add to the Braves' pitching collection.
Kyle Lewis, OF, Mercer
The Braves have not spent a non-compensation first-round pick on a college position player since taking Mike Kelly out of Arizona State in 1991. It's just not in their draft DNA.
Taking homegrown talent, however, is definitely the organization's M.O., and Lewis could end up being the best college bat in the draft. After going undrafted out of high school, the 6-foot-4 outfielder hit 37 home runs over his final two college seasons at Mercer — not to mention seven homers and a .500 slugging percentage in the 2015 Cape Cod League — to catapult up the ranks of draft prospects. For what could turn out to be one of the least powerful teams in modern baseball history, Lewis' gifts check off obvious boxes. His 66 walks and .535 on-base percentage only underscore the All-American's mastery of college baseball.
As the franchise continues to groom Ender Inciarte and Mallex Smith as its presumed speedy, defensive-minded outfield of the future, Lewis would become the heir apparent to Nick Markakis' right-field spot if and when the club decided to move on from the 32-year-old veteran.
A.J. Puk, LHP, Florida
It's difficult to deny the immediate success of top college pitchers at the major-league level. Since the 2010 draft, nine top-10 picks have made the leap from college arm to established MLB starter in short succession, including the likes of Gerrit Cole, Matt Harvey, Aaron Nola and Carlos Rodon.
Puk could be next in line to join that group.
An overwhelming favorite to go to Philadelphia with the first overall pick, the 6-foot-7 left-hander is striking out more than 12 batters per nine innings — all while competing in a tough Southeastern Conference — and he lowered his ERA to a career-best 2.88 ERA. Though he's had some command and consistency issues, he joins Groome, an SEC commit himself, at the top of the lefty class.
This, from MLB Pipeline, is Puk's No. 1 selling point: "Big and strong, Puk arguably has the best raw stuff of any arm in the class, with the chance to have three plus pitches."
It's worth mentioning that not a single major outlet is projecting Atlanta to select the Gators' ace, with only one (FanGraphs) having him falling past the second pick. Still, much like Groome and Pint, regardless of the Braves' pitching depth, if Puk is available he will require a second — and third — look in the draft room.
Mickey Moniak, OF, La Costa Canyon High School (Calif.)
Four outfielders sit comfortably among the top names available in the draft — a welcome sight for a franchise that could use both outfield help and impact bats moving forward. The latter sentiment is where Moniak fits in. The left-handed center fielder is considered one of the top pure hitters in the draft with a hit tool reaching up to 70 (on an 20-80 scale) in some scouting circles.
Five-tool skill sets get thrown around liberally this time of year, but it's difficult to ignore this type of praise:
Moniak's draft positioning fluctuates from potential No. 1 selection to falling outside the top-10, but Atlanta swiping him up would fit both a long-term need and the franchise's past draft tendencies: Moniak would be the third high-school outfielder taken with the Braves' top overall pick in the past 10 years, joining Braxton Davidson and Jason Heyward.
Corey Ray, OF, Louisville
On a Louisville team overflowing with MLB talent, Ray stands above the crowd with his combination of power (15 homers in 2016) and speed (39 steals). Standing 5-foot-11 with plus defensive ability, Ray would slide right into the Inciarte-Smith profile of Atlanta's 2016 outfield — only with more potential pop. Much like Inciarte, Ray, who's played right field for the Cardinals throughout his career, could fill any of the three outfield spots.
The 21-year-old made his name in the competitive Atlantic Coast Conference, meaning he could be ready to contribute in the near future, certainly sooner than the two high-school outfielders on this list.
Nick Senzel, 3B, Tennessee
Very few franchises entered the 2016 season with a messier situation at third base.
The organization transitioned since-suspended Hector Olivera out of the position during the winter. Olivera's initial replacement, Adonis Garcia, whose smoke-and-mirrors power numbers fell back to his minor-league averages, was a sub-replacement-level problem both offensively and defensively. If it weren't for the surprise contributions of Gordon Beckham and Chase d'Arnaud — veterans on one-year deals who have combined for a 1.2 WAR at the position — Atlanta's hot-corner situation would be in shambles.
And while the future looks bright with Rio Ruiz, one of the youngest players in Triple-A's International League, and 2015 compensation-round pick Austin Riley, the Volunteers star could very well be the most MLB-ready player in this draft. After going undrafted out of the high-school ranks, his numbers improved considerably in Knoxville before winning MVP honors in the Cape Cod League.
During his junior season, Senzel hit .352/.456/.595 with most of his games coming against SEC competition — Dansby Swanson-type college numbers for those keeping score at home. If Atlanta were to pick him up, he could leapfrog both Ruiz and Riley to the front of the line, and potentially form a promising future infield with Swanson, Ozzie Albies and Freddie Freeman. Not bad.
Blake Rutherford, OF, Chaminade College Prep (Calif.)
If it weren't for Moniak's rapid ascension, Rutherford would likely be considered the consensus top prep outfielder. And he still might be. As MLB.com points out, Rutherford has been a known commodity for years in the high-school ranks, which, like in many other sports, can lead to scouts analyzing and then re-analyzing his flaws. In other words: prospect fatigue. Still, there's very little the 6-foot-2 outfielder does not do well:
Chalk this up to the same future projection as Moniak: Rutherford would immediately become one of the franchise's most valuable position prospects, but he would likely be a building block for years down the road.
And one final name that continues to draw buzz…
Ian Anderson, RHP, Shenendehowa High School (N.Y.)
Though not ranked in MLB Pipeline's top-10, the Braves continue to be linked with Anderson, though the organization's perceived hope is that he'll last until the 40th pick. As draft analyst Jim Callis noted in his latest mock draft, the Braves "were out in force at right-hander Ian Anderson's start on Saturday and covet the New York high school right-hander."
Anderson, a 6-foot-3 Vanderbilt commit, is another cold-weather pitcher in the mold of 2015 first-round pick Mike Soroka that Atlanta's scouting department seems to target. If the Braves do reach outside of the perceived "top" names, it could be for signability reasons — attempting to sign their first pick at underslot value to hand overslot money to their second and third picks — essentially trying to land three top-25 names as opposed the third-, 40th- and 44th-best players, respectively.