Matt Kemp sets sights on Braves' future: 'Let people know we're coming'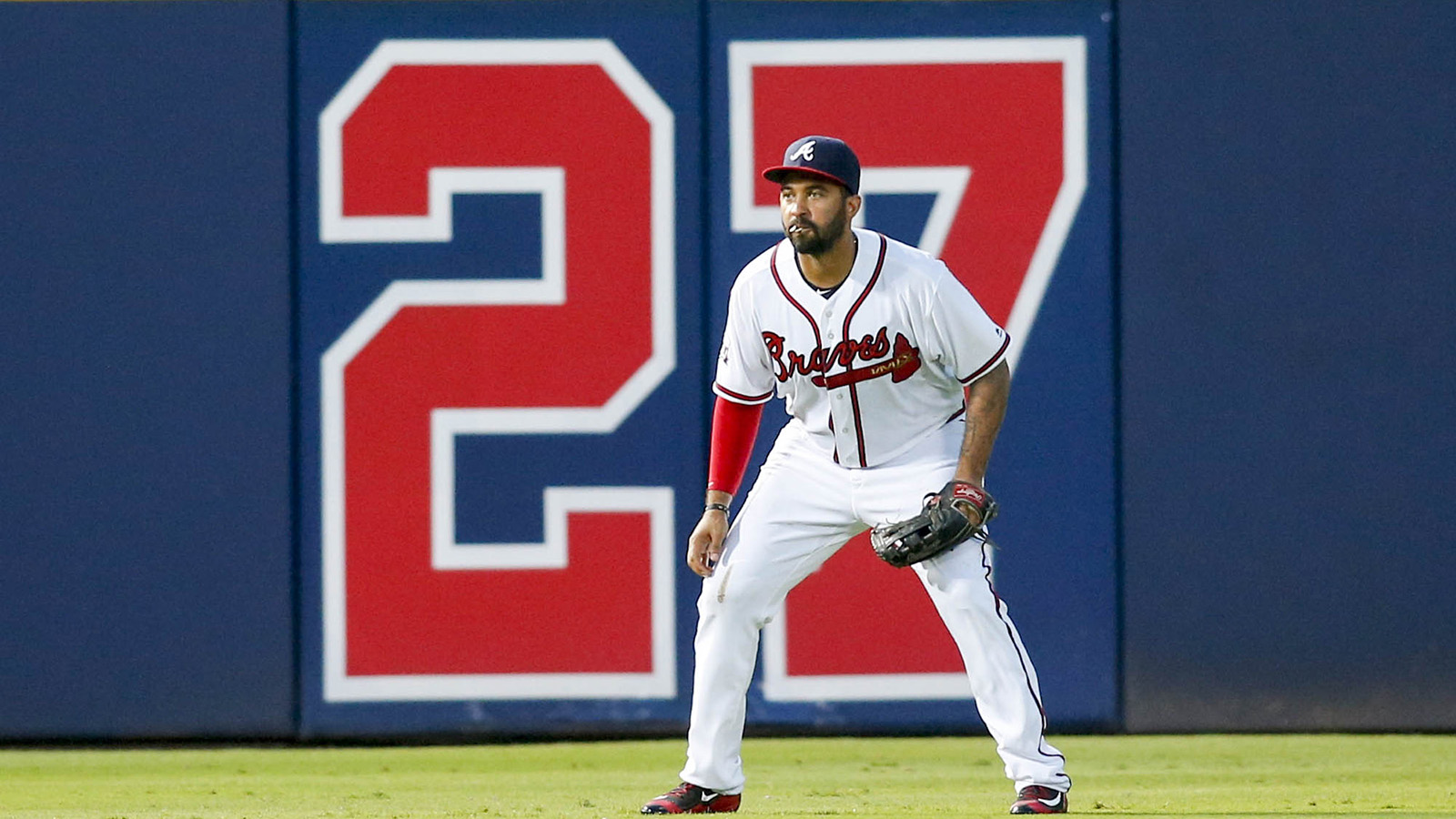 ATLANTA — An impromptu meeting took place at Turner Field on Tuesday afternoon. Atlanta Braves manager Brian Snitker and his pitching coaches, Roger McDowell and bullpen coach Marty Reed, gathered in the bowels of a ballpark on its stretch run, just 26 games remaining now, a new addition the topic at hand. Then the new addition joined the conversation.
Snitker, while specifically mentioning McDowell and Reed, both of whom served as pitching coaches in the Los Angeles Dodgers farm system during Matt Kemp's steady rise in the early- to mid-2000s, said the introductory sit-down was optimistic and forward-looking. Declining numbers, injury setbacks and former GMs describing a Kemp-less roster as a "highly functioning baseball team, as opposed to a collection of talent" did not enter the discussion.
The Braves seem genuinely optimistic about the arrival of Kemp and Kemp, a former two-time All-Star looking to regain something that was lost, appears to welcome a new stage surrounded by the images of his boyhood fandom.
"It's like we told him," Snitker said, "'We're trying to do something big here. We're in the infancy stages of it. We really want you to be a part of it.'"
The straightforward way of describing Atlanta's trade for Kemp, who played his first game in a Braves uniform on Tuesday, is a swap of unwanted contracts. The Braves front office sent Hector Olivera — a 31-year-old outfielder whose lackluster 30 MLB games were overshadowed by an 82-game suspension under the league's new domestic violence policy — for the $54 million remaining on Kemp's contract that runs through 2019. The Padres immediately designated Olivera for assignment and the Braves assumed greater financial obligations partnered with the belief that the 2011 NL MVP runner-up has more in the tank than his seasonal average of 0.4 wins above replacement since 2013.
The good news for Atlanta: Kemp expects more of himself.
"I've got more than a few more years left. I'm trying to play 10 more years," Kemp said. "So I've got 10 more years to make my mark."
Nearly five years have expired since Kemp last made his mark, sitting atop the baseball world.
Then in his age-26 campaign, the one-time Dodgers superstar led the National League in WAR, home runs and RBI and finished top-three in batting average, slugging and stolen bases in 2011. Following a controversial finish in the MVP voting, he signed the largest contract in NL history … and then watched everything slowly dissemble.
"Once you set those numbers," Kemp said, "you can't be nothing less than that."
In 2012, his MLB-leading consecutive games streak ended due to a hamstring issue, eventually costing him two months of action, with shoulder surgery to repair a torn labrum bookending the season; he missed 56 games of his highly anticipated encore. The following year was even worse, playing just 73 games while battling hamstring, shoulder and ankle issues.
A bounce-back season in 2014 (1.3 WAR) repaired his stock enough in time for Los Angeles' new front office to send his services to San Diego, where arthritis was discovered in both of Kemp's hips. Two seasons later — years defined offensively by 46 homers and a .301 on-base percentage — his flight landed in Atlanta.
Writing for The Players' Tribune on Monday, Kemp did not skirt personal culpability in his career path. Instead, he made a direct promise: "The Matt Kemp of old —€" the kid who was the first at the park and the last to leave, the kid who would take cuts in the cage till his hands bled, the kid who would literally run through a wall for his teammates, the kid who was playing to win … not for a contract —€" that's the kid who's on his way to Atlanta." It read like a rare moment of public self-reflection. The 31-year-old wrote candidly, and self-critically, about falling victim the trappings of fame and the frustration of injuries as factors in losing "love for the game."
Kemp, who grew up watching the likes of past Braves greats Terry Pendleton, his new bench coach, and David Justice, plans to put his second fresh start in two seasons to good use.
"There's been times where the game wasn't fun for me, especially when you're injured and trying to come back. It's not fun being on the DL or playing with an injury," Kemp said before Tuesday's game. "I don't think a lot of people understand what baseball players go through — they go through those rough stretches where there might be a reason why they're struggling. Something might be hurt. It might be personal problems or whatever it is."
Braves reliever Chris Withrow was climbing through the Dodgers minor-league system when Kemp reached the height of his powers.
When Withrow broke in as a rookie in 2013, the L.A. boasted star power ad infinitum: Not only was Kemp coming off back-to-back All-Star seasons as one of the game's premier do-everything offensive forces, but Clayton Kershaw was en route to his second Cy Young Award and Yasiel Puig was challenging Jose Fernandez for NL Rookie of the Year. Zack Greinke, Hanley Ramirez, Kenley Jansen, Adrian Gonzalez, Carl Crawford, Andre Either … when healthy, Kemp was a tour de force in the batter's box.
"He's a guy that when he's at the top of his game, he's MVP quality, honestly," Withrow said. "He's a guy that can drive in runs. He's on base. He's making plays in the field. He's a leader in the clubhouse. It's a good thing the Braves got him."
Withrow went through his own injury setbacks in Los Angeles, which eventually led to his own eastbound journey, and was not a steadfast member of those Dodgers rosters, but, for his part, he sees Kemp as a positive addition to a clubhouse that should only get younger over the next two months.
"He was always high energy, always smiling and happy to be in the clubhouse, which I thought was always good to see as a young guy," Withrow said. "This is a grind on a day-to-day basis. For somebody to have some energy and some joy to come to the clubhouse, it makes it easier. Even as a young guy you're already excited to be in the big-league clubhouse, but the days are not easy. Travel is not easy. Some things aren't easy about it. It just makes it easier to have guys happy to play the game."
In the aftermath of the trade, Braves president of baseball operations John Hart alluded to a long search reaching its conclusion. A franchise sitting dead last in home runs since the start of the 2014 season had finally found controllable right-handed power. And it's not an indefensible statement: Kemp's averaged one long ball per 23 plate appearances dating back to 2009. Four hundred-plus plate appearances virtually guarantees a 23-homer season for him at this point.
Still, Kemp finds himself in the least productive offensive season since his rookie year.
He's devolved into a one-dimensional power threat, posting a .284 on-base percentage with zero stolen bases and problematic defensive numbers. (In his first game in a Braves uniform, he reached base once in his five plate appearances but stranded five base runners in a loss to Pittsburgh.) Hitting coach Kevin Seitzer, who preaches contact over power, will be tasked with resurrecting Kemp's consistency, but it should be mentioned that since his forgettable May, Kemp was hitting .296/.333/.513 with 10 homers. Only five players boasted better second-half offensive production — names including Joey Votto and Miguel Cabrera, his former peer group — than Kemp prior to Tuesday's action.
At the very least, the Braves are banking on name recognition and raw power to provide more lineup balance.
"We got a great player back," said outfielder Jeff Francoeur, who stands to lose playing time due to Kemp's addition. "It might not be the 2011 version where he was running everywhere, but anybody that can hit close to 30 home runs a year this day and age in baseball is tough to find."
Added Snitker: "It'll help Nick (Markakis). It'll help Freddie (Freeman). It'll help everybody when you get a guy like that. As we've seen over the course of time, when one of those guys like (Kemp) gets it going it kind of relaxes everybody else. It doesn't make them feel like they have to do too much. A lot of times when you do that, you've got a lot of guys operating like that, you get more out of them."
Still, Kemp is framing this reset as a redemption story — and the script writes itself.
The Braves own the worst record in baseball and sit 25 games back in a division they used to decimate when a young Matt Kemp, watching from Oklahoma, would soak in Ted Turner's dynasty. Kemp's personal rebound, if it exists in the future, stands to bouy the collective. And according to Atlanta's newest addition, that starts with the final 56 games.