Lucas Sims, Rio Ruiz headline Braves' April All-Prospect Team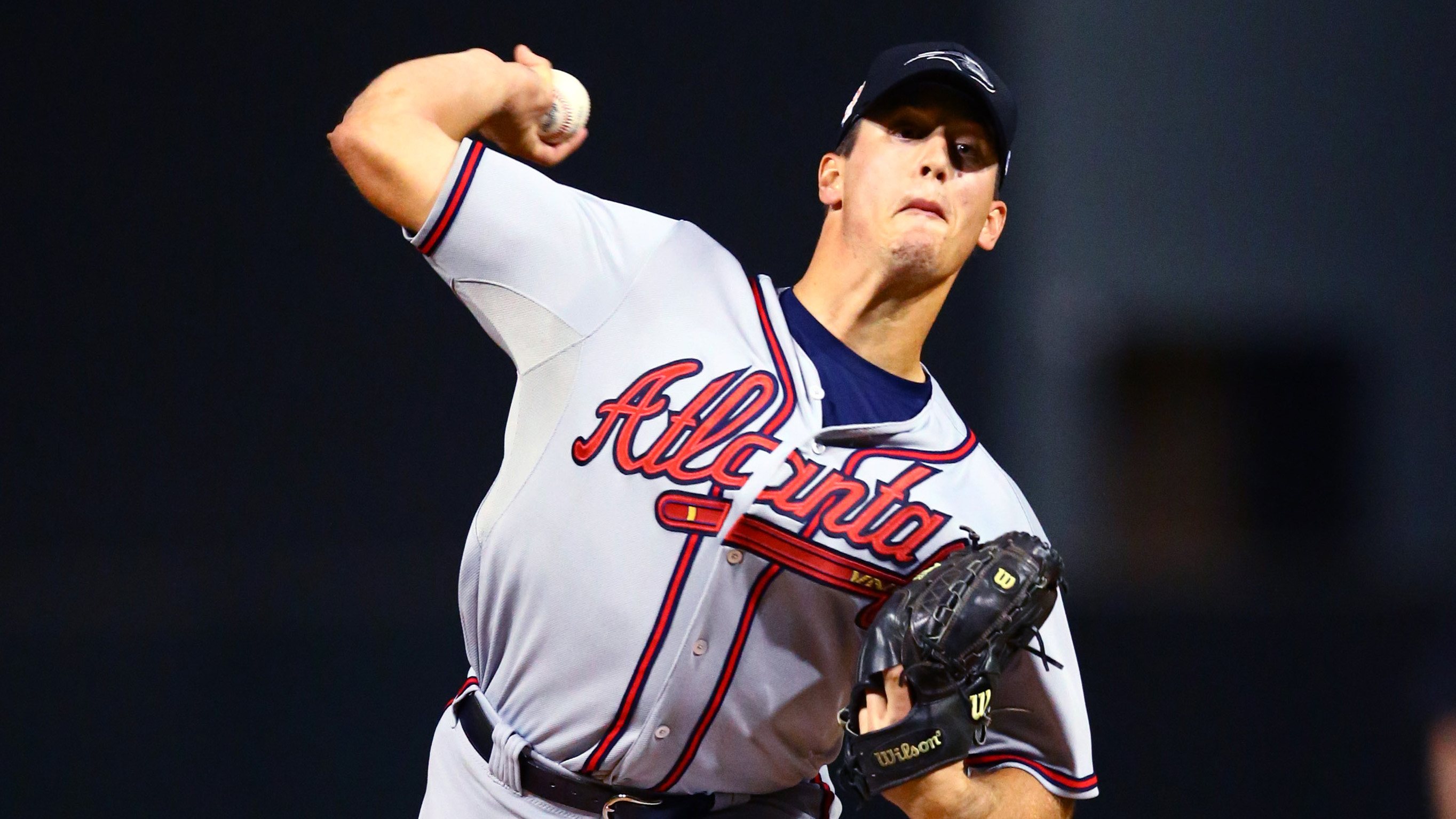 Atlanta's gradual youth movement at the major-league level comes as little surprise given the team's 5-18 April record. Heading into the ninth series of the 2016 campaign, Mike Foltynewicz is set to join the likes of Aaron Blair and Mallex Smith as another young option for manager Fredi Gonzalez.
The encouraging sign for the organization through this difficult stretch is that there are future options pushing their way through the pipeline, as opposed to being rushed up out of necessity. Here are a few of those top-tier names and other productive players in our April All-Prospect Team (relative age for minor-league affiliate taken into consideration):
Willians Astudillo
Willians The Whiffless Wonder has, alas, whiffed once in his first 69 plate appearances this season. However, he remains the contact king of affiliated baseball — when healthy, he's posted the lowest strikeout rate at any level dating back to his rookie-ball season in 2010 — after striking out just 42 times in more than 1,500 career plate appearances in the Braves and Phillies organizations. (He also rarely ever walks.)
The 24-year-old will never turn heads with his athleticism or defensive ability, but his knack for putting the ball in play remains intriguing at the position general manager John Coppolella has labeled the organization's biggest area of need. Although catchers Joseph Odom and Jonathan Morales have technically posted better offensive numbers, the "Willians Watch" at Double-A Mississippi continues to be a social phenomenon.
Joey Meneses
Unlike their options behind the plate, the Braves' lack of a top-tier first base prospects does not lead to many concerns given Freddie Freeman's presence. The upper levels are stocked with low-ceiling options already pushing the age limits of their respective stops, so 23-year-old Joey Meneses takes top honors from High-A Carolina.
The former undrafted free agent signee hit .288/.366/.384 thanks to a career-high 11 percent walk rate. His 2014 power output has disappeared over the past two seasons for the Mudcats, but his numbers suggest he's found a comfort zone in Year 2 at High-A and could push for Double-A consideration this summer.
Luke Dykstra
Overshadowed among the middle-infield ranks for obvious reasons, the former seventh-round pick pieced together a strong 2015 season at Single-A Rome and, while his bat has slowed down, the 20-year-old keeps producing. Walks remain an issue, but he doesn't strike out and he's shown enough pop to eventually keep moving up the pipeline (five doubles in 76 plate appearances).
Ozzie Albies
Pitching is the organization's pride and joy, but shortstop depth is a close runner-up. And with all due respect to No. 1 overall prospect Dansby Swanson (169 weighted runs created plus at High-A Carolina before his Double-A promotion) and under-the-radar Rome prospect Ray-Patrick Didder, who is transitioning to the outfield and could easily have stolen a spot on this list there, the 19-year-old tearing up the Southern League takes top honors.
Albies, the fast-rising wunderkind, hit a scintillating .369/.442/.512 in 95 plate appearances to force his way to Triple-A Gwinnett before the end of April. (His promotion coincided with Swanson's call to Mississippi.) He's now the youngest player in the International League and just a call away from being one of the rare teenagers to break into the majors.
Rio Ruiz
Albies' new left-infield running mate is putting all 2015 doubts behind him. The organization challenged the 21-year-old Ruiz by having him open the season at Triple-A Gwinnett — and now he's pushing for early MLB consideration. Ruiz, the featured prospect haul alongside Foltynewicz in the Evan Gattis trade, entered May hitting .310/.389/.452 with two homers. He's one of 18 International League players exceeding 145 weighted runs created plus, and he's the youngest of that bunch by almost a full year.
With the high-ceiling potential of Ruiz, Albies and Swanson, the parent club's current infield predicament looks to be a short-term issue.
Ronald Acuna
The Venezuelan product is already turning heads. At just 18 years old, the 2014 amateur free-agent signing flashed his five-tool potential while dominating two rookie-ball levels last season and he's quickly adjusting to Single-A Rome.
After collecting 14 doubles, four triples, four homers and 16 stolen bases last year, Acuna started the tally early with four extra-base hits (two homers) and six steals in 2016. He's the youngest position player in Rome's league and he's hitting .294/.368/.388 and drawing some pretty lofty comparisons.
"I don't wanna really put any comparisons on him, but I also had Andruw Jones when he was coming up and he was a 17- and 18-year-old kid, and Ronald's 18 years old and he reminds me a lot of him," Rome manager Randy Ingle told FOX Sports South. "He's made tremendous plays in the outfield already. He has a plus arm. Plus, he's already hitting over .300, he can swing the bat and he has speed."
Dustin Peterson
The oft-forgotten fourth piece of the Justin Upton trade in December 2014, Peterson is putting things together at Double-A Mississippi. The 21-year-old is starting to show some power with the highest slugging percentage of his career — thanks to six doubles and three homers in 97 plate appearances — and his walk rate continues to climb.
Two pieces of the aforementioned blockbuster (Mallex Smith, Jace Peterson) have already made their MLB debuts and the original centerpiece, Max Fried, begins pitching his way back from Tommy John rehab this season, but keep this second-round pick in mind.
Mallex Smith
This is a little unfair given the Braves speedster logged just 16 plate appearances at Triple-A Gwinnett. (The aforementioned Ray-Patrick Didder deserves yet another mention here for his stellar play.) What a 16-plate-appearance showcase it was, though. And if we throw in his spring training dominance and the fact that he'd likely still be tearing up the minors if Ender Inciarte had not injured his hamstring, we can fit in the fastest player in the system onto April's squad.
Smith posted a .400/.438/.667 slash line in his short stint in Gwinnett last month, and while his MLB career got off to a rocky (and bloody) start he seems like he's getting the hang of things lately.
Lucas Sims
With blockbuster trades and draft picks and public statements, the Braves have made "more pitching" their organizational battle cry. Boasting enviable arm talent and depth at every minor-league stop, there's still talk of Atlanta selecting best player available with the No. 3 overall pick this summer … which could very well be another arm like high-schooler Riley Pint or University of Florida lefty A.J.Puk.
Sims, on the other hand, has been on a mission to prove the front office's inherited cupboard was not entirely bare.
He's given up two or fewer earned runs in each of his past 10 past starts dating back to last season, running up 76 strikeouts in just 57 1/3 innings over that stretch. Throw in his lights-out Arizona Fall League performance, and he's arguably been the franchise's most productive pitcher since mid-August.
The 21-year-old righty opened the season ranked behind Sean Newcomb, Aaron Blair, Kolby Allard and Touki Toussaint in our prospect composite — four players added since the front-office turnover. That could change soon. In his second start at the Triple-A level, the former first-round pick allowed one run and struck out 11 in seven innings. Look out.
Aaron Blair
Blair earned his promotion. The 23-year-old can now be found figuring things out against major-league hitting, but jumping right into a new organization and posting a 1.42 ERA and 2.37 fielding-independent pitching at Triple-A Gwinnett was noteworthy. He threw six scoreless innings in his second start at Triple-A and then upped the ante with seven no-hit innings with 10 strikeouts and one walk. He might never return.
Mike Soroka
As 2015 top pick Allard's season debut is put on hold, the 28th overall pick is setting the stage for what could be an overpowering Rome rotation by late May or early June. Even tracing back to draft night, Soroka, the 6-foot-4 Canadian righty, was primed for a meteoric rise. Though there are no promises with high-school pitchers, his cold-weather upbringing left less mileage on his arm and ample room for growth.
At 18, he joins Acuna as one of the youngest players in Rome's league, and he owns arguably the most impressive numbers of any player in the Braves system. He boasts a 1.33 ERA with the peripherals to match: striking out nearly 10 batters per nine innings, issuing just three walks in 27 innings and refusing to allow a single home run. He's one of three qualified pitchers with a sub-2.00 FIP in the South Atlantic League.
If scouting director Brian Bridges & Co. guessed right, Soroka is just scratching the surface.