Longtime executive John Schuerholz transitions to next phase of Braves career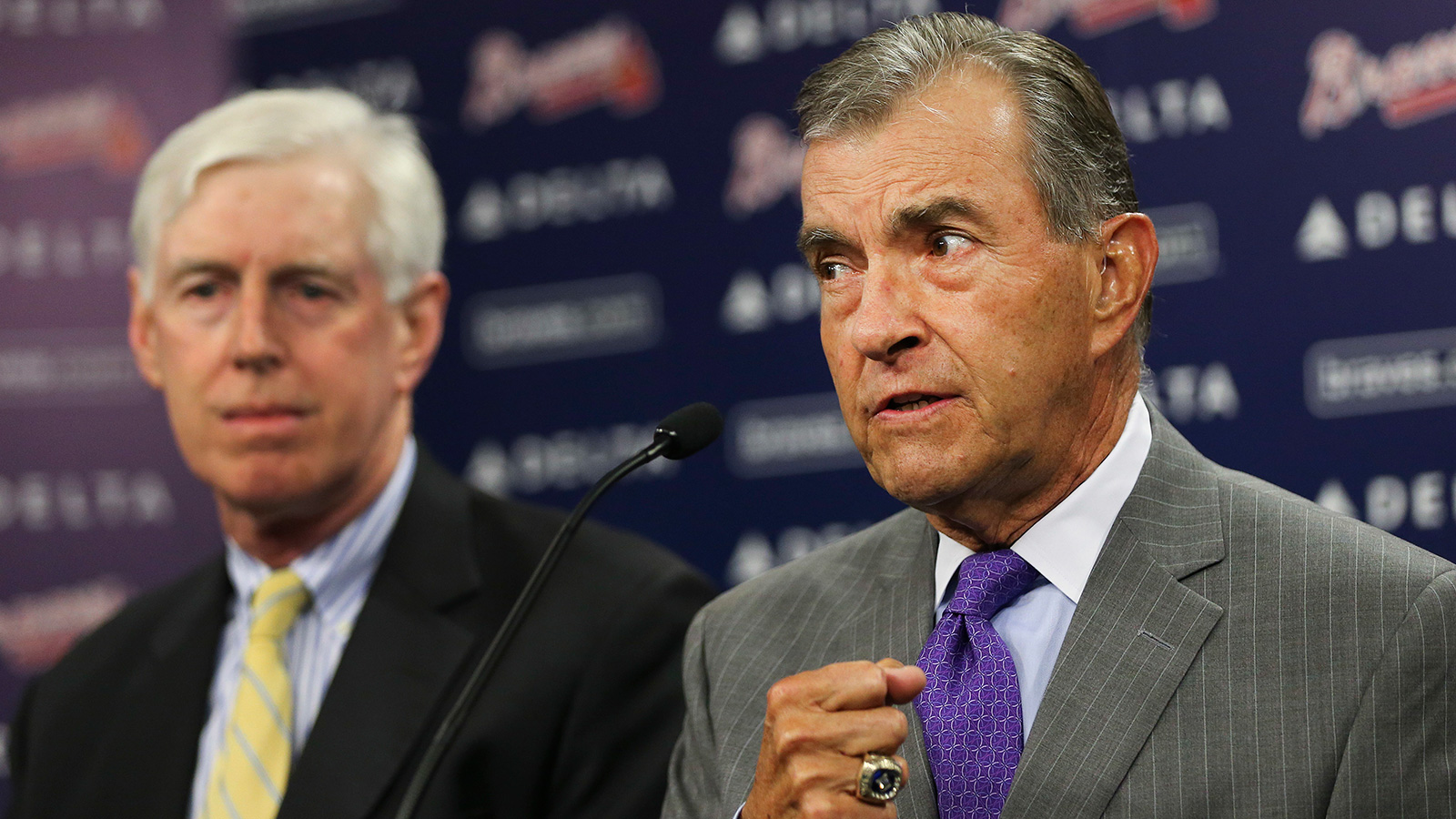 Baseball's landscape has shifted noticeably since 2007, the year John Schuerholz transitioned from successful general manager to Atlanta Braves team president.
In announcing Schuerholz's latest transition — a front office shakeup that comes in the middle of the team rebuilding its major-league roster and farm system, construction of a brand-new ballpark opening in 2017 and an ongoing search for a new spring training site — Braves chairman and CEO Terry McGuirk documented just how expansive the president's role had become, and why there needed to be a division of responsibility.
"The Atlanta Braves that John took over in 2007, I think that's the year, very much a smaller organization and a simpler organization. John did a brilliant job in leading us through that period," McGuirk said at Thursday's news conference. "The Braves that we are today, as you now notice, we have three subject-specific presidents. I don't know that there's one person who could ever spread-eagle as a president an operating unit over all of those three areas.
"The construction (of SunTrust Park), player personnel, the business, the digital age. Everything that's going on. It's a huge job. It's a very complicated business. What we're doing today is really just acknowledging how we've organically developed to who we are and what we're doing."
Schuerholz moves into the role of Braves vice chairman, effective immediately, as longtime executives Mike Plant (president of development) and Derek Schiller (president of business) step into higher-profile positions.
Each of the four executives acknowledged the day-to-day responsibilities for each position would not be greatly affected — Schiller and Plant have spearheaded the move to SunTrust Park from the beginning, while president of baseball operations John Hart and general manager John Coppolella have handled the roster reconstruction — but Schuerholz, 75, will remain in an advisory role for all parties while allowing himself more free time.
"I'm at that intersection of my life where, you know, 51 years (in baseball) and I taught school for three years before those 51 years. So I've been working for most of my adult life. It's time for me now to spend a little more time with my family," said Schuerholz, who noted his fourth grandchild is on the way. " … But still continue to do what I can for the Braves. I love this organization. I can't go play golf every day. I don't want to."
The soon-to-be Braves Hall of Fame inductee, who led the organization to 14 consecutive division titles and the 1995 World Series, would not accept one emerging narrative concerning the move.
"I'm not stepping down. I'm not stepping out. I'm not stepping back," Schuerholz said. "I'm stepping forward, maybe with little bitty steps this time and not quite the larger steps I've taken over my career."
The franchise also continues to push for Schuerholz's consideration in Cooperstown given his long list of career accomplishments. Following the blueprint he employed while announcing Schuerholz's Braves Hall of Fame induction in August, alongside his own former international signing, 10-time Gold Glove outfielder Andruw Jones, McGuirk once again took the opportunity to publicly call upon the Baseball Hall of Fame to recognize the extensive resume.
Prior to joining the Braves organization in October 1990, Schuerholz helped lead the Kansas City Royals to the 1985 World Series title. Following his hire and Bobby Cox's return to the dugout, the Braves went on to post a 1,594-1,092 record in Schuerholz's 17 years as the general manager — the best mark in baseball over that span.
The franchise's string of division titles, as Coppolella pointed out earlier in spring training, will likely last longer than Joe DiMaggio's 56-game hit streak.
Added Plant: "It's not often you can sit here and every day be part of an organization that has a legend."
Schuerholz moved onto the second phase of his Braves career in 2007, five months after Liberty Media purchased the franchise from Time Warner. He could already see the landscape shifting.
"I was a general manager for 26 years and I went to Terry and I said, 'Terry, I think we need to find a younger, more flexible, more fluid, more modernized general manager going forward into how baseball's emerging.' And I said, 'I need to step back from this job, I think for the good of this organization,'" Schuerholz said on Thursday. "And he came up with the idea of, 'Well I have a better idea: Be president.'
" … It was a stimulation for me in my life at that time. It was something new. It was something unique. It was something most interesting. I got more involved in the business aspect."
Schuerholz will remain directly involved in the franchise's business operations, particularly the Braves' search for a new spring training facility.
The new presidents will oversee the rest. Schiller and Plant were involved in the move to Cobb County from Day 1, piecing together ideas and plans in an attempt to make the move to SunTrust Park and its surrounding mixed-use development, The Battery Atlanta, a successful transition next season. Plant said on Thursday that the ballpark is "on time, on spec and on budget."
Plant, a former Turner Sports executive, joined the Braves in November 2003 and he has overseen the construction of two minor-league ballparks and the subsequent moves of team affiliates to Pearl, Miss., and Lawrenceville, Ga.
"I call him our boots on the ground," McGuirk said of Plant and the new ballpark. " … He's the ramrod that's making it happen every day out there."
Schiller joined the organization the same month as Plant back in 2003 after holding an executive decision with the city's former NHL franchise, the Atlanta Thrashers. The 45-year-old is responsible for all forms of revenue within the organization, with McGuirk calling him, "an indispensable part of our team."
The new job titles come with their fair share of prestige, but Thursday's stage still belonged to Schuerholz. He remains the organization's foundational presence and voice. McGuirk called him The Godfather. Schuerholz himself jokingly referenced his nickname around the front office: Obi-Wan Kenobi.
The announcement did not signal a shift in front office power; it was simply a public endorsement of the current state of decision-making within the organization. And it's seemingly aimed at keeping Schuerholz in the fold long-term.
"This has been a long time coming. This is not a sudden decision," McGuirk said. "I've said to John, 'I want you to be a Brave forever.' And that means a lot. We say that to only the most loyal and long-standing executives. And John responded, 'Yes, I want to be a Brave forever.' This is part of that transition."