Late-game execution spoils Hawks' Game 1 comeback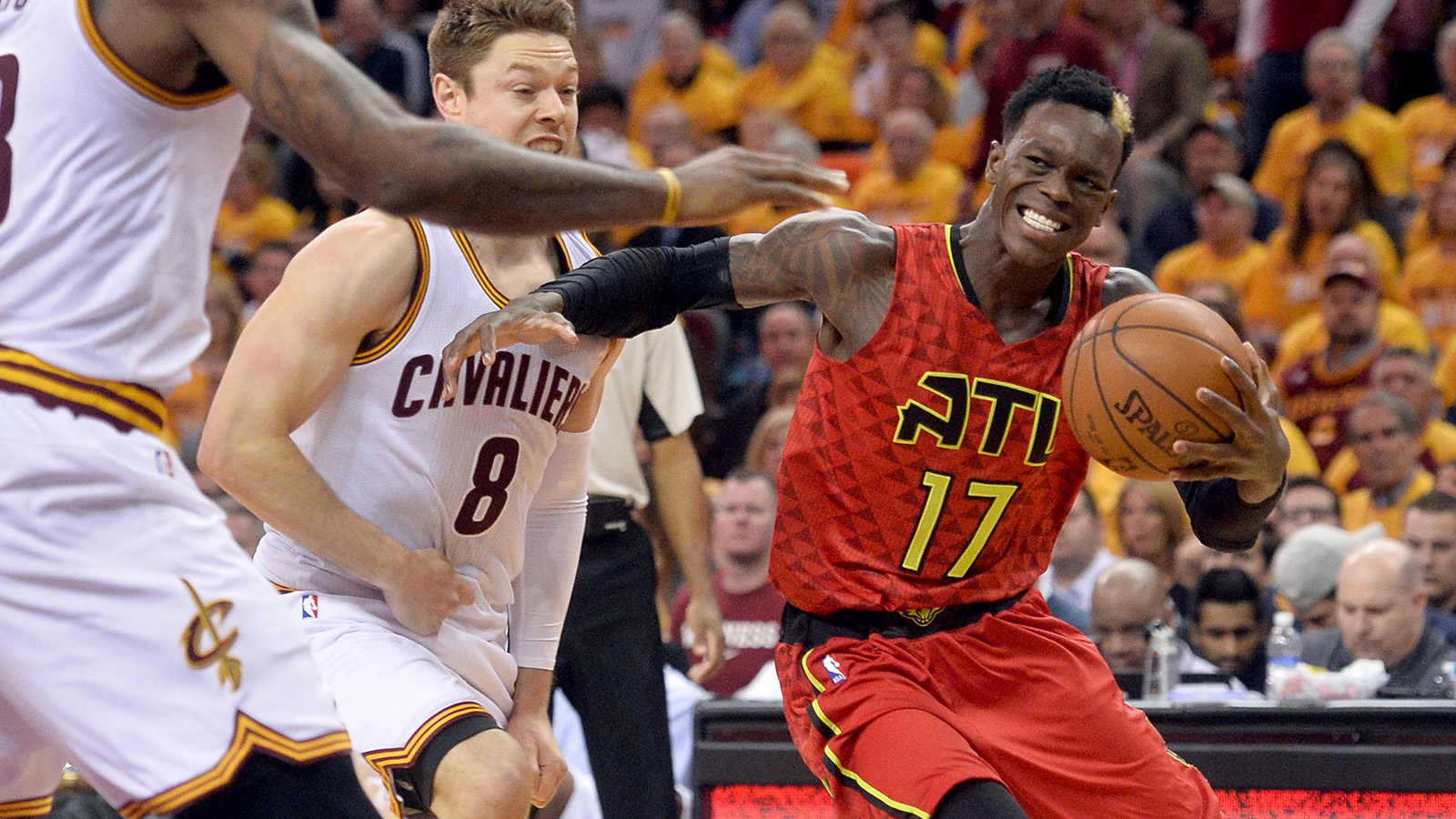 The Atlanta Hawks, squaring off against the Eastern Conference's decade-old playoff nemesis for the second straight season, took their first lead in Game 1 with four minutes and 28 seconds remaining. When the final buzzer sounded at Quicken Loans Arena, the Cavaliers held an 11-point advantage and a 1-0 series lead.
Theories were tossed around after Cleveland's 104-93 win as to what happened in the interim to Atlanta, which had erased a double-digit deficit behind Dennis Schroder's career-best postseason stretch, as LeBron James, Kyrie Irving and the top-seeded Cavaliers slammed the door. The Hawks received next to nothing out of their final 10 possessions. Defensive stops were undermined by offensive rebounds. Turnovers. Poor shot selection. Cavaliers' defensive adjustments.
The end result was their ninth consecutive playoff loss to a LeBron-led Cavs franchise dating back to the 2009 playoffs.
"Even though we had a chance to win," guard Kent Bazemore said, "we did so much stuff wrong."
Back to that 88-87 lead. Once the Hawks held the advantage, a lead built on exploiting Cleveland's pick-and-roll defense with Irving and Kevin Love, particularly with Schroder knocking down five 3-pointers, their execution disappeared. The Cavaliers closed on a 17-5 run after Atlanta shot 1 for 7 from the field — the only made field goal being a Lamar Patterson garbage-time 3 before Cleveland dribbled out the clock — and committed three turnovers.
The Hawks' only other points came from two Paul Millsap free throws stemming from an odd loose-ball scramble.
"I'm sure it's a little bit of both. Some good defense. I felt like we had a couple of good open looks," Hawks coach Mike Budenholzer said when asked about the late-game execution. "I know we had two turnovers. I think our spacing wasn't as good as it needs to be. Your execution in the last two (or) three minutes, four minutes, needs to be good. And I know there's a couple of spacing situations where we can be better."
Bazemore, per the usual, took the upbeat approach, noting how the Hawks were en route to a lopsided defeat before their second-half turnaround.
"We gave ourselves a chance," he said. "We've been doing that a lot this season and it's only a matter of time before we get back in the game and kinda take it. We had so many opportunities there the last four minutes. Myself, I have to be a lot better. I missed some easy bunnies and a turnover, an inadvertent foul on Kevin Love over there in the corner. Just growing pains."
It's difficult to assess just how positive the Hawks should be after the series opener.
On one hand, the defense continues to hold for extended stretches and they shot the ball rather poorly, even with uncontested looks. (That, however, continues to be an issue.) Starting point guard Jeff Teague was quiet, Al Horford could not even lease a basket in the first half and top outside threat Kyle Korver accounted for just three points — each one coming at the free-throw line.
Then again, asking a 32 percent outsider shooter (Schroder) to knock down five 3-pointers as the Cavaliers duck under screens is a long shot. The Cavaliers should, and likely will, take their chances if Schroder is hoisting 10 3-pointers per game in this series.
The definitive positive takeaway, from Atlanta's perspective, is that the Irving-Love defensive combination is there for the taking in the pick-and-roll. Teague did not consistently attack that tandem early on, but it was a primary factor in Schroder's career-high 27 points and his ability to get Horford back into the flow of the offense. If the Cavaliers continue to glue J.R. Smith or another perimeter defender on Kyle Korver at all costs, there will be room to run the Hawks' two-man game to create drives to the rim or pick-and-pop opportunities.
Cleveland will likely continue to force Teague and Schroder to prove they can hit outside shots, but at least Atlanta found some offensive life and what should be its general blueprint for offensive sets moving forward.
Both teams adopted the "room for improvement" post-game mantra — James noted the Cavaliers' long layoff affected their timing — but only one needs for it to be true. At some point in this rematch, the Hawks will have to find a way to close. The Cavaliers are simply too talented for their late-game execution to implode.