Kyle Korver's shot returns to help lift defensive-minded Hawks over Celtics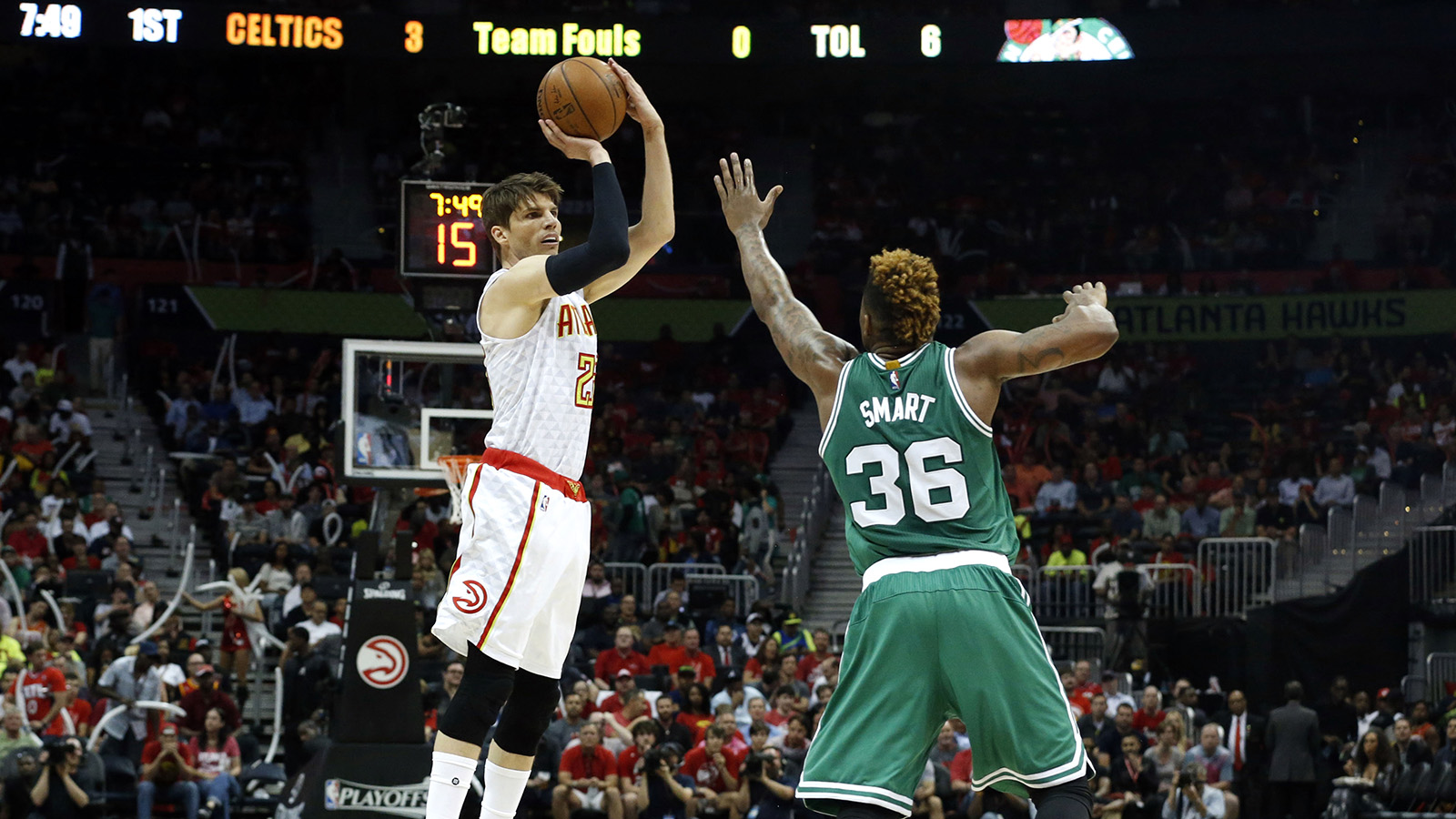 ATLANTA — Kent Bazemore did not try to hide the Atlanta Hawks' first-quarter offensive strategy: "When a guy is rolling like that, you ride that wave."
The Hawks took a 2-0 series lead over the Boston Celtics behind the Eastern Conference's most fearsome defense — blocking a franchise-record 15 shots and holding the shorthanded 5-seed to a shot clock era-record seven first-quarter points in an ugly, physical playoff clash — but their offense, much like last postseason, has been hit-or-miss thus far. Fortunately for Bazemore & Co., sharpshooter Kyle Korver put his own Game 1 misses behind him on Tuesday night, knocking down five early 3-pointers, including four in the game's first seven minutes.
Atlanta simple rode the wave from there.
"I didn't shoot the ball very well in the first game. We all have pride, right?" said Korver, who missed each of his seven 3-pointers in the series opener. " … I think I was playing pretty focused."
The 35-year-old guard finished with 17 points, seven rebounds and the Hawks outscored the Celtics by 25 when he was on the floor.
It was a necessary turnaround for team that, despite its pace-and-space reputation, does not feature a host of outside threats. Coach Mike Budenholzer's offense featured middle-of-the-pack shooting this season, hitting just 35 percent from long range, as Korver and Paul Millsap struggled to replicate last season's numbers and Bazemore couldn't quite match DeMarre Carroll's 3-point proficiency. In a surprising development, point guard Jeff Teague and backup forward Mike Scott featured similar percentages as Korver.
Essentially, the Hawks feature one never-ever-leave-him-open shooter.
This fact has informed the Celtics' defensive gameplan this series — and every playoff series and big game dating back, at the very least, to the Brooklyn Nets first-round matchup in 2015 — which has been to smother Korver for every screen, cut and transition opportunity. It was also partially why Celtics coach Brad Stevens was unhappy with his team's early performance.
"Korver is one of the main things we talk about every time we walk into this building, every time we walk into the hotel and every time we land in Atlanta. We know that we have to be in his airspace or else we're toast," Stevens said. "You knew coming off a 1 for 10 game he was going to have the hunger to make shots and take shots early on. We talked about that, but it was just a matter of we lost him a few times."
Prior to Game 2, Budenholzer remained adamant that opponents' gameplans and Korver's subsequent shooting struggles were not necessarily a detriment to the offense.
By sticking defenders so close to Korver, Boston or any other team is limiting its help defense, which can provide more pick-and-roll spacing for Teague and Dennis Schroder to run the offense's primary action. That paid off in Game 1 with Teague and Al Horford managing to hold off Boston's frantic comeback with an effective two-man game down the stretch.
"The great thing about this team is figuring out how to play on different nights, regardless of who's playing well," Budenholzer said. "Not depending on one guy, whether it be Kyle or Paul or Al or whoever it is. Each night it can be somebody different, and Kyle's not any different.
"Tonight he was great. We want that every every night from all five, but it just isn't realistic."
Atlanta's offensive efficiency may not truly matter the rest of this series anyways. The Celtics' shooting-deficient group was already in a bind against what has been the NBA's best defense in 2016, but losing guard Avery Bradley to a hamstring injury and the absence of Kelly Olynyk in Game 2 only added to the misery. The Celtics have hoisted 190 shots in this series. They've missed 125 of them.
This is nothing new for a Hawks team that held opponents to an NBA-low 46.3 effective field goal percentage after the All-Star break. This is their calling card.
Still, it's evident that Korver occasionally punishing a relaxed defense is better for the team's psyche than simply spacing the floor. He singlehandedly ignited a run that Boston never recovered from on Tuesday night. And for an Atlanta team that has hit, outside of Korver's Game 2 fireworks, just 11 of its remaining 48 3-pointers this series, it's a major boost when their veteran guard is shot-hunting with confidence.
"If there's anyone in this locker room that has confidence in him, I'm probably the ringleader," Bazemore said. " … That's what he does. He stretches the floor for us. When the ball's going in, it's contagious."