Health of Simmons, Withrow key for Braves bullpen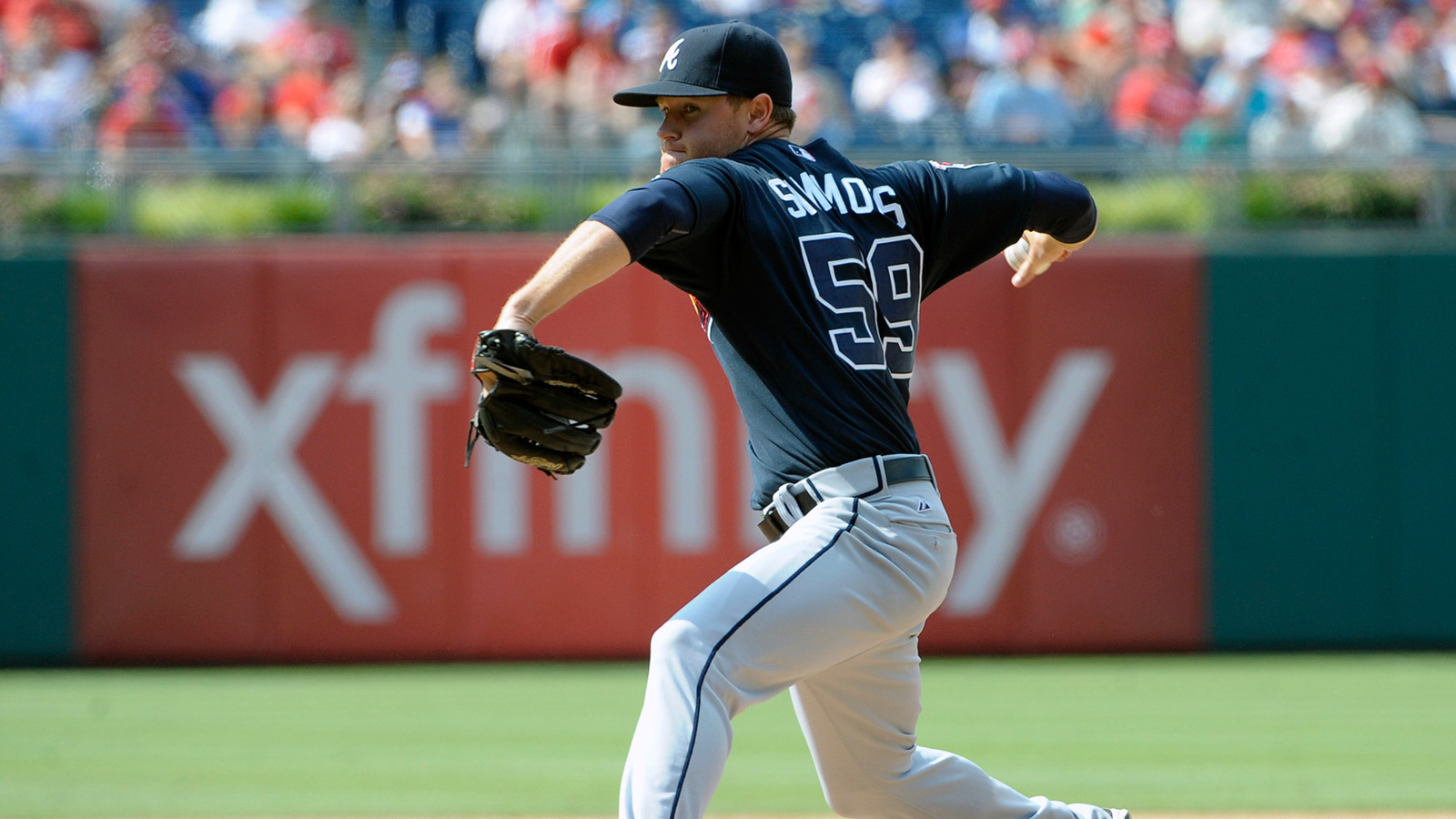 KISSIMMEE, Fla. — Fredi Gonzalez could not find quality relief options at times last season. The Braves' president of baseball operations knew where at least a few were located.
"John Hart came down the Gulf Coast (last season), came back up and he goes, 'You're bullpen is down there in the Gulf Coast League,'" Gonzalez said. "You'll get them next year."
Trades took their toll on the Braves' bullpen after last year's trade deadline, but significant injuries predated the downfall. Rehab stints, per Hart's quip, stocked the franchise's minor-league affiliates with recovering big-league talents.
Shae Simmons, who posted a 2.91 ERA with electric stuff during his rookie season before missing the final two months with shoulder discomfort, rehabbed from Tommy John surgery throughout the '15 campaign. Veteran Jason Grilli lived up to expectations in the closer role, but a ruptured Achilles tendon ended his bounce-back effort. A third unavailable name, Chris Withrow, was acquired from Los Angeles Dodgers largely due to his injury status — after undergoing two surgeries in a seven-month span in 2014, the right-hander was stuck in a slow rehab process last year.
Barring the 11 offseason transactions aimed at improving Atlanta's bullpen, simply returning to full health bolsters the franchise's relief options.
"It was a tough time just because you know you can't rush anything," said Withrow, who was included in the Juan Uribe trade in May. "So I kept having to tell myself, 'Keep doing what you're doing each day. Try to get better. When that time comes, be ready.' I really didn't look at it as if I needed to rush. I knew that if I rushed I was jeopardizing what I was working so hard to avoid."
Withrow's rehab was a slow marathon.
The 26-year-old underwent Tommy John surgery in June 2014 to address nagging pain in his right elbow due to a partially torn ligament. He needed another surgery that December to correct a chronic herniated disc. Twelve months later, in early December, he started his throwing program a few weeks ahead of schedule.
He looks at his back surgery as a silver lining for his arm — "You just kinda get a little more time to heal," he said. — but this spring training is the first time he's been considered 100 percent in 21 months.
"Mentally, you have to look at it as some days you're not going to feel good, some days you're going to feel great," Withrow said of his rehab process. "You have to try stay flat-lined on that, because you can't get too excited about the good days and do too much that day and jeopardize what you're doing. The bad days, you have to try to look past them and see the light at the end of the tunnel."
At 6-foot-4, Withrow is a three-pitch power arm when healthy. Even while dealing with chronic elbow pain, he's averaged a career fastball velocity of 95.6 miles per hour, which helped him post double-digit strikeout rates in Triple-A Albuquerque and in 56 innings with the Dodgers. His walk rates have been problematic, but a 2.73 ERA in 56 innings make him a promising piece for the Braves bullpen.
Grilli and Simmons are better-known commodities in Atlanta.
Serving in the unenviable role of Kimbrel's replacement last season, the 39-year-old Grilli saved 24 of his 26 opportunities as his numbers jumped back up to 2013-esque levels, his only All-Star season. When Grilli's season ended in Colorado, the Braves' relief production went down with him: The team's bullpen ERA jumped 63 points in the second half.
Jim Johnson and Arodys Vizcaino filled his ninth-inning role well, but the trickle-down effect decimated the franchise's bridge from their starters to the final frame. Grilli expects to be ready when the regular season arrives and he's considered the closer until proven otherwise.
"The second half of the year, we had no idea who we went to," Gonzalez said. "We had a bunch of guys down (in the minors) we just kept bring up and trying to mix and match."
Simmons, on the other hand, is re-entering a very, very different bullpen. Kimbrel, Jordan Walden, Anthony Varvaro, Chasen Shreve, Luis Avilan and David Hale are gone. David Carpenter, the team's steady setup man in 2014, is in Braves camp, but it's on a minor-league contract.
After making his MLB debut with statistically the best bullpen in baseball — a group anchored by Kimbrel that led the majors in wins above replacement, ERA, fielding-independent pitching and strikeout rate from 2010 to 2014 — Simmons is returning from the disabled list as a possible lifeline. The 25-year-old is still behind schedule for Opening Day, but he's thrown off the mound four times as of Friday and he could provide a boost as early as May.
The Braves' brain trust has not downplayed the franchise's 2015 struggles this offseason. At the Winter Meetings, for example, John Coppolella quipped, "I'm not saying we're the best at everything, because obviously last season we weren't the best at scoring runs." The bullpen was mentioned as the front office's No. 1 priority this offseason, and the numbers tell the story why. The 2015 Braves bullpen was the polar opposite of its predecessors. Thirty-three pitchers logged relief appearances for Atlanta, combining to rank second-worst in four major categories.
Adding Withrow, Grilli and, eventually, Simmons into the mix should provide a significant boost.