Hawks alter defensive gameplan to shut down Isaiah Thomas in Game 5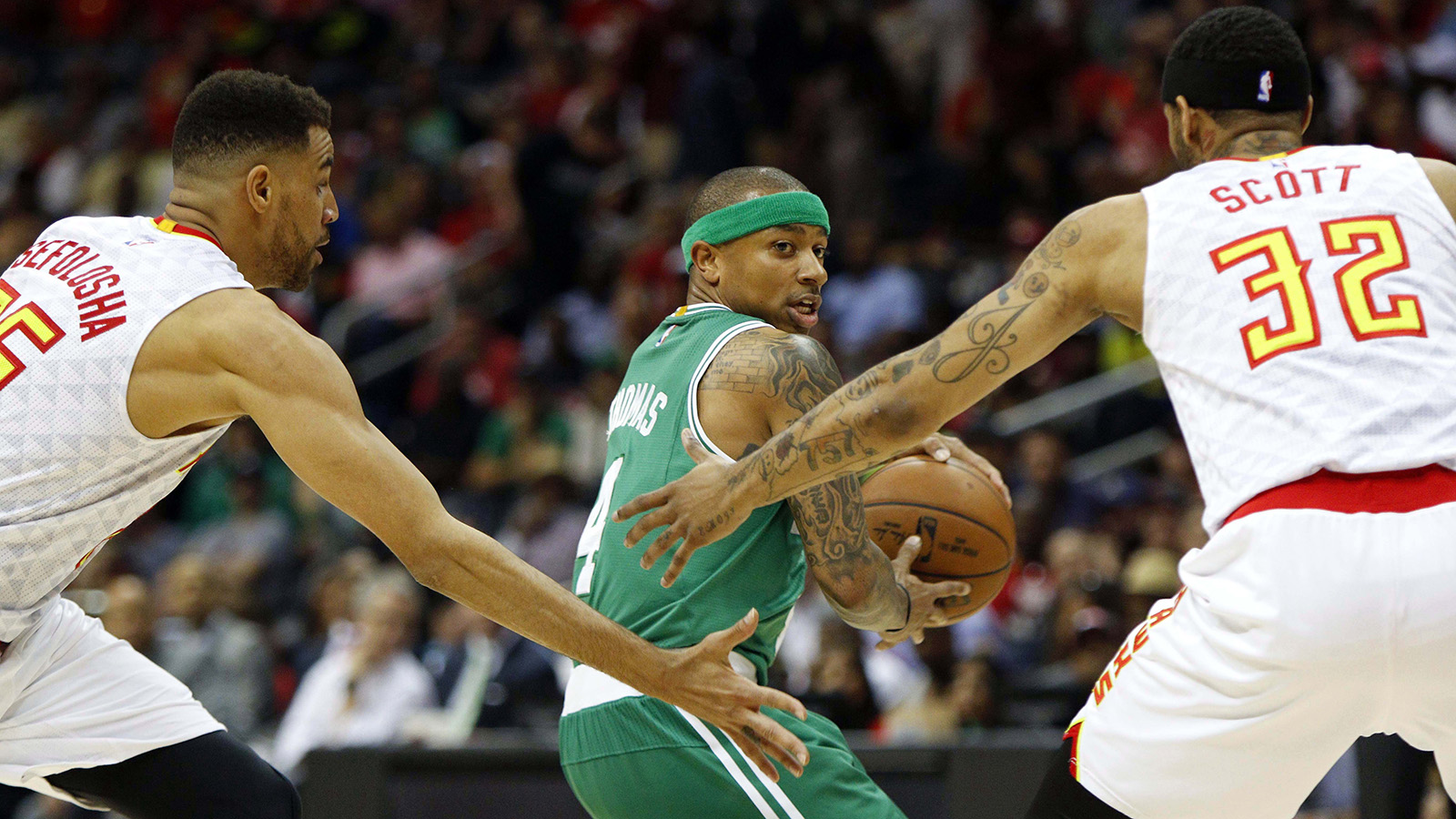 ATLANTA — There were moments in Boston's TD Garden when Isaiah Thomas looked capable of singlehandedly stealing a series. The Atlanta Hawks featured an All-Star frontcourt, more proven shooters and better defense, but they did not have the 5-foot-9 Celtics wunderkind, the one leveling the playing field with 70 points in two nights.
On Tuesday night, for the first time in this back-and-forth series, Atlanta erased Boston's singular advantage.
In the aftermath of the Hawks' 110-83 Game 5 dismantling, guard Kyle Korver did not keep their intentions secret, either: "Tonight the gameplan was to put pressure on Isaiah Thomas and be aggressive."
Thomas averaged 24 points per game on 56.9 percent true shooting — a marvel of offensive efficiency given his series-high usage rate. Thomas' scoring average was masked by his 16-point effort in Game 2, though, because his 42 points in Game 3 gave the Celtics new life and his 28 in Game 4 helped force overtime to send Atlanta's coaches back to the drawing board. As Hawks point guards Jeff Teague and Dennis Schroder either stagnated or sputtered, Thomas darted in and around screens to torment the NBA's second-ranked defense. He was Boston's edge.
The Hawks were admittedly hellbent on forcing the Celtics to find different avenues to the scoreboard.
The result had the desired effect from the outset, even if the Hawks' devastating run was delayed by 18 minutes: Thomas did not score a single point in the first half and he left the game with a sprained ankle after tallying just seven points, his lowest-scoring game of the season.
"They trapped a lot of Isaiah's pick-and-rolls, obviously," Celtics coach Brad Stevens said. Thomas announced he will play in Game 6. "So they were very extended on that, which forces other guys to handle and make plays and make shots. At times we did and at times we didn't do as well. … I thought Isaiah did a really good job of just getting rid of the ball. That's what you have to do when you're getting trapped and making the right basketball play."
There's reason to question why Atlanta waited to unveil its Thomas-focused adjustment, unless coach Mike Budenholzer was simply avoiding showing all of his cards in the early going. Boston's shooting deficiencies were not a secret entering the first-round matchup — the Celtics ranked fifth-worst in 3-point shooting and sixth-worst in true shooting after the All-Star break, ranking ahead of only the Grizzlies among playoff teams — and those percentages suffered a setback with Avery Bradley and Kelly Olynyk missing time due to injury.
Stevens' group had not exactly shot above its weight class this postseason (29.7 percent from 3), but players like Marcus Smart and Jonas Jerebko had made just enough to keep the Hawks honest. But Thomas kept attacking Teague and Schroder, whether he played on or off the ball, and they did not do enough on the other end to balance the equation.
So Budenholzer played his hand.
"I think it was a different look that we hadn't used as much in this series. That was a good adjustment. He's obviously been huge in this series. He's a handful. At least try to make it as tough as we can on him," Korver said. "I thought Jeff did a great job of trying to deny him the ball as much as he could. We had a lot of guys that were able to — our bigs are so good at being able to go up there and kinda blitz him."
Doubling a playmaker creates a type of scramble effect with the three help defenders, leaving them to account for acres of basketball space. The Hawks have excelled in this physically taxing arena throughout the season, but it is a game of risk regardless. Multiple variables can disrupt the execution.
And even as the coaching staff's adjustment held Thomas scoreless in the first 24 minutes and the Celtics struggled to reconfigure their offense, Korver said the team went over multiple plays at halftime where rotations broke down. (Keep in mind: The Celtics finished the first half with 39 points.)
"You've gotta have a good trap and you've gotta know where you're going to rotate and you've gotta be able to close out to shooters and you've gotta get the rebound at the end of the play," Korver said. "And that's the hard part: Often times when you're trapping and the bigs are really getting away from the basket, offensive rebounds are really important. That hurt us a few times."
Added wing Thabo Sefolosha on the strategy: "It can backfire, but I think tonight it was great. Everybody was communicating defensively, helping each other and it was really working for us."
Stevens' counter-adjustment will await Budenholzer & Co. in Boston, but there's no escaping the Celtics' shooting woes. Perhaps they will find another home-court spark — as the Hawks eventually did by knocking down 14 3-pointers on Tuesday night, culminating in 70 points in an 18-minute span — but, if Game 5 offers any insight, the Hawks appear more than willing to let Smart or Jerebko or Jae Crowder do the heavy lifting.
Atlanta has apparently seen enough of Thomas.
Now it's playing a numbers game.
"We got back to what we were doing in Games 1 and 2, just showing him a crowd and trying to let the other guys beat us and getting out and contesting shots," Hawks guard Kent Bazemore said. "The difference between tonight and the past few games is they had a lot guys hitting a lot of shots.
"We just let the percentages catch up and dared guys to make shots."