Five reasons Auburn will win BCS title game
The SEC is without question the dynasty of the BCS era, a label it has redefined yearly through a run of seven consecutive national titles.
Top 10 biggest messes of the BCS era
An eight and final national championship in this system will be something else entirely, not just for the sheer magnitude of it, but for the path Auburn will have taken to deliver it.
No team has ever gone from unranked in the preseason to BCS champ and since 1982 it has only happened twice in the AP — Miami in 1983 and BYU in '84. The Tigers, coming off a three-win 2012, weren't on anyone's radar in their first season under Gus Malzahn.
Yet here they are, facing No. 1 Florida State on Monday night in Pasadena with the SEC's streak in their hands. Though if Auburn does keep the league's run intact there would be some synergy in it. The lowest-ranked team to ever win a BCS crown? The Tigers in 2010, when they opened up 22nd.
Can Auburn deliver where Notre Dame, which went from unranked to the BCS title game a year ago, couldn't? Here are five reasons the Tigers will leave California with a title.
(Click here for the five reasons Florida State will win)
There's little doubt where Auburn's strength lies on offense. It is going to run and it's not going to get away from it regardless of the opposition.
The Tigers have run on 71 percent of their plays, the highest of any non-triple-option team and lead the nation at 335.7 yards per game. They have already racked up 296 yards on Alabama, which went into their matchup fourth vs. the rush and burned Missouri (14th at the time), for 545 yards.
Third in total defense, the Seminoles have been strong vs. the rush, allowing 116.5 per (14th), but they have had their struggles against top-flight runners.
Boston College's Andre Williams went for 149 yards on 28 carries against Florida State, while Miami's Duke Johnson had 97 on 23 tries before suffering a broken angle in the third quarter. As strong as those two are, neither comes from an offense that's as multifaceted as the Tigers.
It starts with a Heisman Trophy finalist at running back in Tre Mason (1,621 yards and 22 TDs) and quarterback Nick Marshall (1,023 yards and 11 scores), who has been a magician with the zone-read. There's also depth with RBs Corey Grant (650 yards) and Cameron Artis-Payne (609).
That potency, along with the breakneck pace with which the Tigers operate will be unlike anything the Seminoles have dealt with. Auburn should get production on the ground; we've seen nothing so far to think otherwise.
The Seminoles largely controlled eventual Bednarik, Nagurski and Outland winner, Pitt's Aaron Donald, limiting him to one sack, while Clemson's Vic Beasley had zero.
But not only does Florida State have to contend with an elite pass-rusher on the Tigers' defensive line, Auburn's is a group that brings plenty of depth to put pressure on Heisman winner Jameis Winston.
Senior end Dee Ford has 8 1/2 sacks — all coming in the last nine games — along with 12 1/2 tackles for loss and 17 QB hurries. He's part of a 10-man rotation that includes veterans in senior Nosa Eguae, who started in the '10 title game and juniors Gabe Wright, LaDarius Owens and Ben Bradley, along with an impressive freshman class of Carl Lawson, Montravious Adams and Elijah Daniels that's paced by Lawson's four sacks.
The Seminoles have been susceptible to pressure, giving up 29 sacks (84th in FBS), with 13 of those coming in the last five games. The flip side of that is how effective Winston has been when facing rushers, hitting on 70.6 percent of his passes with 20 TDs against five or more pass rushers (per ESPN's Stats & Info).
Given the troubles with the Tigers secondary (98th vs. the pass), it's paramount that they get pressure via the front four, but this is a unit with the talent and manpower to make it happen.
The junior college transfer's aforementioned skills on the zone-read have been his biggest weapon, but if he and the Tigers are known as one-dimensional, it's out of ability, not necessity. Frankly, if no one can stop Auburn's running game, why get away from it?
Marshall, who threw for 3,142 yards and 18 scores a year ago at Garden City (Kan.) Community College has been reliable with his arm when given the chance.
While he got off to a slow start as he continued to learn the playbook, Marshall threw for 1,759 yards 12 TDs and five picks with a 60.4 completion percentage. Those numbers get even more impressive of late, with zero INTs the last nine games and a rate of 66.1, an average of 8.9 yards per attempt and six scores in the last five SEC games.
He had games of 339 yards (Mississippi State), 236 yards (Texas A&M), 229 (Georgia) and 224 (LSU) and five times completed 67.6 more more percent of his passes.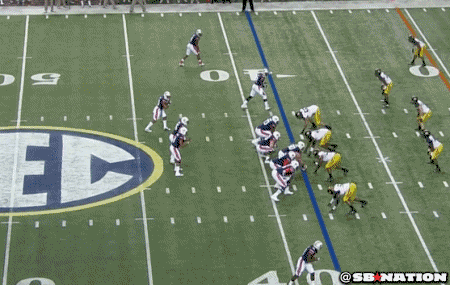 No one has been better at defending the pass than the Seminoles, who are allowing an FBS-best 152 ypg and have given up 12 TDs (ninth). But they'll be committed to stopping the run and that focus, plus Marshall's ability on the ball-fake, should result in some opportunities to move the ball vertically.
Winning by an average margin of 42.5 points per game reeks of dominance, but it's also a stroll through a schedule that's ranked 63rd in Jeff Sagarin's ratings (one of the six computer rankings used in the BCS formula). It's a slate that includes just two teams currently in the AP Top 25 (Clemson and Duke).
Meanwhile the Tigers, whose schedule is 20th, played a whopping six games vs. Top 25 teams (Alabama, Georgia, LSU, Missouri, Ole Miss and Texas A&M). They've also played six games decided by eight points or less, while the Seminoles' closest game was 14 points vs. Boston College.
This all tells us one of two things: either Florida State is just that good or that it hasn't truly been tested. What we do know is Auburn is experienced, playing in and winning close games and should the title game be a tight one, the Tigers have something to draw on that the Seminoles don't.
The Immaculate Deflection and Kick Six will be replayed for generations, giving creedence to one of the more overused tags in sports today: team of destiny.
It's not quantifiable — except for in the results — and is probably more of a byproduct of an up-tempo offensive scheme that defenses just can't crack than some unforeseen force at play. But after the stunning wins over Georgia and Alabama and the 11th-hour help Auburn received in Ohio State's Big Ten title game loss, it can't be denied.
The long layoff could give Florida State's defense an edge as it tries to dissect the Tigers' ground game and hurt an Auburn squad that had hit its stride, averaging 381.6 rushing yards over a nine-game winning streak. But given the way things have broken for Auburn, is anyone willing to believe it can't happen again?
Luck plays a role in any title race, it just so happens that the Tigers' luck has been the unforgettable kind — and it just may have a little left.