Cavaliers' 3-point onslaught leaves Hawks looking for answers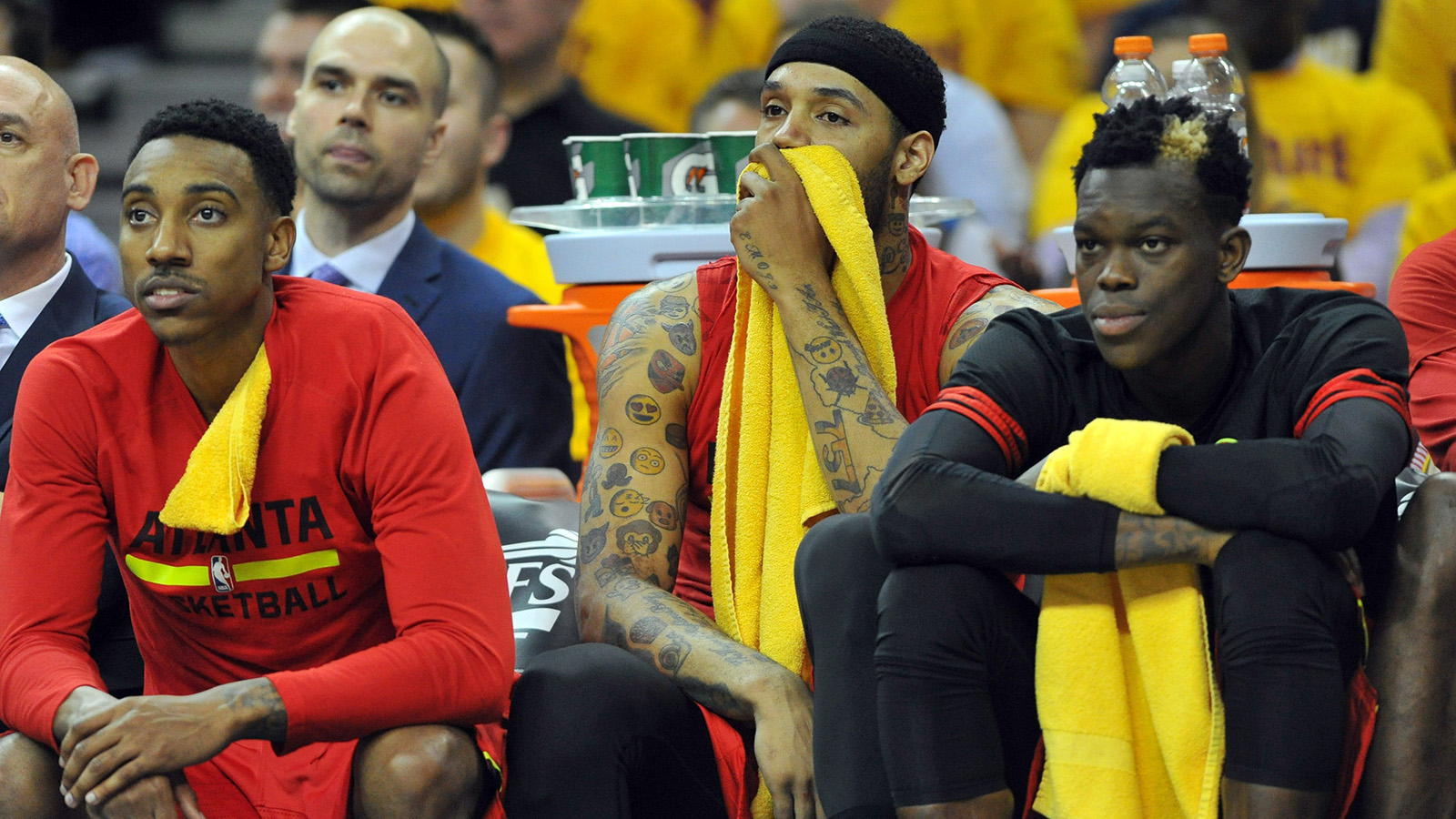 The Atlanta Hawks are guaranteed 96 more minutes this postseason to try and solve their open-ended LeBron James problem.
In a 123-98 Game 2 rout in the Eastern Conference semifinals, the franchise appeared to be no closer to finding the answer than it was seven years ago. Dating back to the 2009 playoffs, the Hawks have dropped 10 straight postseason games against a James-led Cavaliers team — and, after Wednesday night's onslaught, yet another sweep is in play.
"Their shooting it just unbelievably well, whether it be the first round and now these first two games," Hawks coach Mike Budenholzer said when asked how this Cavaliers group is different from last season's 4-0 sweep. "A healthy Kevin Love gives you another guy that spreads the floor, is able to make 3s, create space. I think the way they're playing in transition, the way they're moving the ball (is better). But they were excellent last year. They're obviously a team that's put together well.
"We're going to have to be very good to change it."
When an opponent pours in a single-game record 25 3-pointers — that's the record for any NBA regular-season or playoff game, by the way; Cleveland set the playoff mark with 17 minutes remaining — it's a stunning collective effort that, to a certain extent, would have transpired regardless of Atlanta's defense or overall performance. There are no brakes for runaway trains. If J.R. Smith, Kevin Love, Kyrie Irving, Iman Shumpert and Richard Jefferson were to shoot 24 3s and miss just eight on a nightly basis, the Golden State Warriors' title defense is in trouble.
"A beatdown like that … there's not much to say there," center Al Horford said.
Still, the four-time MVP is the perpetual underlying threat.
James commands attention, sets the table for his teammates and leaves room to pursue his own triple-doubles. In 10 career playoff games against Atlanta, James is now averaging 30.8 points, 8.8 rebounds and 7.5 assists. Those numbers are not too far removed from his playoff averages overall — we're talking about a player who could've been inducted into the Hall of Fame approximately three years ago — but this remains the 6-foot-8 obstacle Atlanta can not climb.
There are no easy answers here.
NBA records aside, there are matchup issues in this series. Kyrie Irving is playing at a high level and, barring Dennis Schroder's surprise 27-point outburst in Game 1, causing matchup problems for Atlanta's point guards. Tristan Thompson has once again morphed into an offensive rebounding juggernaut. The singular focus on James, much like the previous postseason meeting between these two teams, is creating quality looks for the offense's ancilliary components.
The league's second-ranked defense figured out Boston in the first round in large part by taking away its strength (Isaiah Thomas) and funneling it toward its weaknesses. The Cavaliers have far fewer weaknesses. They are not nearly as one-dimensional.
"We came in with a game plan that we thought was really good," Horford said. "And it got discarded real quick."
Perhaps an even bigger issue moving past Cleveland's record-setting night is that the Hawks have looked consistently uncomfortable on offense in this series. Twenty-five 3-pointers will not likely be topped in this series (or this postseason), but Atlanta's inability to create open looks — and then make them — needs to change at home. As Cavaliers coach Tyronn Lue said, "I thought that was our best defensive effort in a long time."
That defensive effectiveness, in turn, is setting up the Cavaliers' long-range efficiency.
"In transition we're not doing a good enough job. We need greater urgency. We need greater understanding of getting to all of their shooters. So I think it starts there," Budenholzer said when asked about the challenge of guarding Cleveland's shooters. "And then in the half court, I just think they're in the paint probably a lot and so, you know, when you collapse or you get to the paint and people help, they're moving the ball.
"They're making the extra pass. They're making shots."
The Cavaliers are demonstably the better team here. Their regular-season record, playoff seeding, plus-36 point differential already in this series and overall talent level are a testament to that sentiment. The same would apply to any Eastern Conference team when they are playing at this level. Barring a dramatic turn of events in Atlanta, this series might not even be competitive.