Mendenhall, Cavaliers maintain optimism despite 0-3 start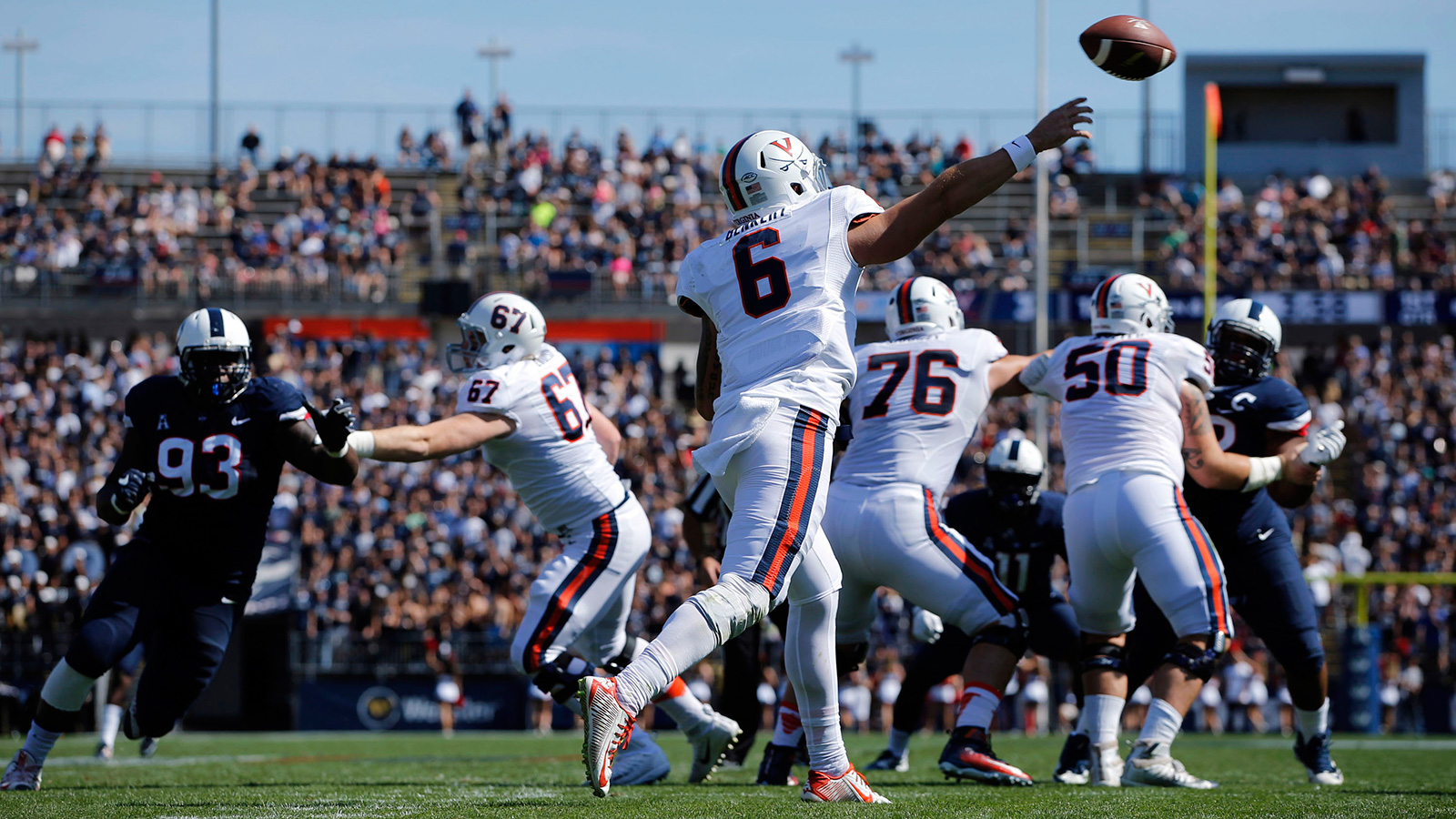 In Bronco Mendenhall's first game as a head coach, inheriting a 2005 BYU team left behind when Kyle Whittingham replaced Urban Meyer at Utah, he watched as an ACC defense ransacked LaVell Edwards Stadium.
Boston College, then ranked 22nd nationally, methodically limited the Cougars' attack, allowing a third-quarter field goal before walking out with a decisive win. On the opposite sideline, little-known sophomore quarterback Matt Ryan watched as BYU fans booed their new coach's late-game decision to punt with just one field goal on his resume.
"I realized really quickly, 'Oh, this is what being a head coach is like.' I've never had 65,000 people boo me before," Mendenhall said last month about the 20-3 loss. "So I realized right then just what was now at stake and what comes with the visibility."
From that perspective, his Virginia Cavaliers can relate. That 2005 Cougars team rebounded with a win over Eastern Illinois only to lose a barnburner against TCU and get pummeled on their first road trip, a visit to San Diego State. Mendenhall has called that San Diego State game a turning point. Whether a similar pivot has materialized in Charlottesville, it's difficult to say. The Cavaliers have opened Mendenhall's tenure with consecutive losses to FCS power Richmond, No. 24 Oregon and Power Five lightweight UConn.
It's the most disappointing start of any of the league's new coaches.
Mendenhall has walked this path before, though. That '05 squad rebounded to make a bowl appearance before the program went on to win 10-plus games in five of its next six seasons. Even so, the 50-year-old head coach said he's been surprised by his new team's response to its 0-3 start — in a positive way.
"I didn't know what to expect, not only when I arrived, but certainly after our slow start. But the sincere belief and optimism that this will work and our approach in the processes will pay off is contagious," Mendenhall said. "I think they're gaining momentum rather than losing momentum."
The UConn loss was, at the same time, both the most encouraging and excruciating defeat yet. It hinted at signs of improvement — the defense held the Huskies to just 13 points after being gashed by Richmond and Oregon — but also provided its own share of disheartening moments. For instance, the final moment. On UConn's 6-yard line with 30 seconds remaining, Virginia fell short on a third-down quarterback draw. That left Division III soccer transfer Alex Furbank, who had never played a football game in his life, to kick the game-tying field goal. He missed. So the search for that elusive first win continues.
There are no guarantees that will arrive against Central Michigan — the infamous team that exploited a blown officiating call for the best finish of this young season — this weekend. Mendenhall seems to believe, however, that his team is responding more despite the lack of success thus far.
"They're clearly finding out that just a new staff arriving isn't the only answer. It's going through the processes that we put in place and the amount of work that's necessary," Mendenhall said. "They're embracing that part at even a higher level than they were before, which is a good sign.
"A lot of times if you don't have success, it goes the other way."
One significant turnaround for the Cavaliers in the UConn game was winning the turnover battle for the first time. It's rarely just one singular issue that undermines a winless team, but taking care of the football is a decent starting point for transfer quarterback Kurt Benkert and the offense. The Cavaliers rank third-worst out of 128 FBS teams in turnover margin (minus-five), which also serves as a reflection of a far-from-opportunistic defense.
Though the scoreboard did not reflect it, Virginia does appear to be moving in the correct direction, twice cutting its total turnovers in half. That's one example of what the typically philosophical Mendenhall described as "simple successes" through the first quarter of the season.
He's still hoping he doesn't have to continue finding silver linings in defeat for too much longer.
"There is something that's called, the real phenomenon, is called command influence. Besides the searching every part of our program to try to accelerate it as fast as possible, what I consider now a massive change effort, I'm invigorated by that and I'm exhausted by that at the same time. A tangible result would be helpful," Mendenhall said. " … I'm looking for the simple successes as well. They help me to keep going as well as what I'm focusing on with the players. I think it's the same approach for both of us.
"I'm trying to model — but also the things that are helping me I'm hoping help them, looking for every little thing in our program that is getting better. Difficult, though. I'll say (the process is) difficult."