Braves trade veteran Bud Norris to Dodgers for 2 pitching prospects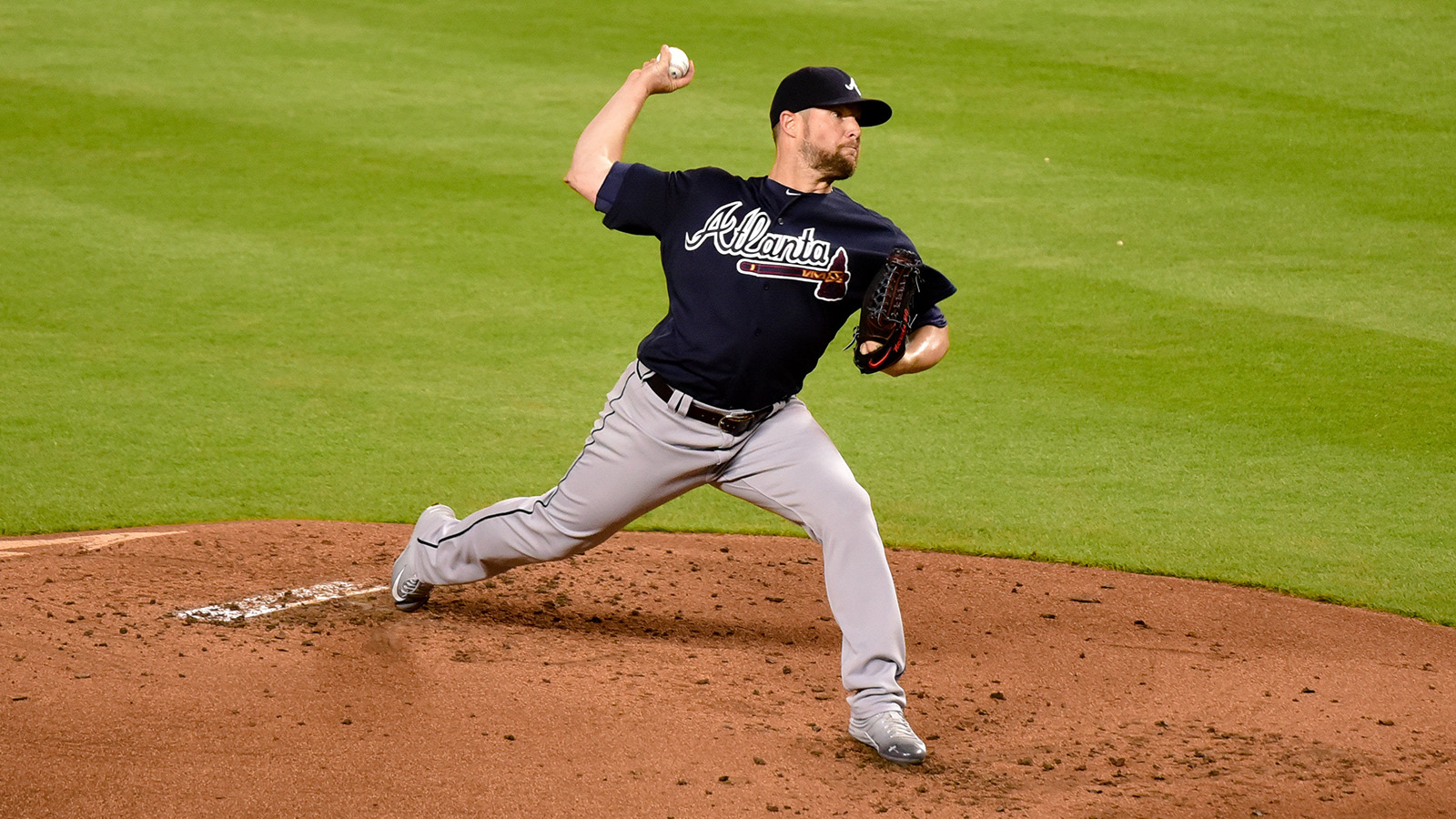 ATLANTA — The midseason resurgence of Bud Norris paid off as the Atlanta Braves strengthened baseball's best farm system — but where it leaves the current major league rotation is a lingering question.
The 31-year-old right-hander was dealt to the Los Angeles Dodgers Thursday as Atlanta continues its youth movement, trading veteran pieces to open up roster opportunities for younger players. Atlanta will also send outfield prospect Dian Toscano, a player to be named later and cash considerations to Los Angeles.
"That's the thing and why I hate to see (Norris) go, is because you don't turn around and have somebody come in and do what he did," said Braves interim manager Brian Snitker. "But somebody's going to have an opportunity to better themselves."
In return, the Braves netted two minor-league arms in Caleb Dirks, the 30th-ranked prospect in the Dodgers' farm system according to MLB Pipeline, and Phillip Pfeifer.
"For us, (it's) getting two young players that aren't far away that our scouts like that put up really good numbers," said Braves general manager John Coppolella. " … We feel like they're both guys we can see soon."
The right-handed Dirks, 23, was originally drafted by Atlanta in 2014 and spent two seasons in the organization before being traded along with outfielder Jordan Paroubeck for $249,000 of international pool money last summer. The 6-foot-3 reliever boasts an effective fastball and has allowed just seven earned runs in 42 appearances at Double-A Tulsa over the past two seasons. He could be a 2016 option for Atlanta's bullpen.
"We didn't want to trade Caleb Dirks last year, "Coppolella said. "…. We gave away somebody that we really liked and we're happy to get him back in the Braves organization."
The left-handed Pfeifer is a little farther away. The Dodgers' third-round pick in the 2015 draft and a former teammate of Braves No. 1 prospect Dansby Swanson at Vanderbilt, Pfeifer owns a double-digit strikeout rate at each of his three stops in the low minors.
This is the third consecutive trade in which the Braves received at least one pitching prospect in exchange for a veteran MLB piece, following the deals that sent Jason Grilli to Toronto and Kelly Johnson to the New York Mets.
Norris signed a one-year, $2.5 million deal with the Braves in the offseason to serve as an innings-eating placeholder and trade chip as the franchise waiting for its farm system's pitching depth to bubble up to the majors, but his April struggles (8.74 ERA) upended the original blueprint. The former Astros and Orioles starter found success in a relief role, however, utilizing his cutter to the tune of a 1.96 ERA in 18 1/3 innings before moving back into the starting rotation on June 4.
That return came when Mike Foltynewicz went to the disabled list, and over his last four outings, Norris is 2-1 with a 2.15 ERA over 29 1/3 innings with 29 strikeouts to eight walks and a .200 batting average against.
"He went to the bullpen and thought he did really there and was forced into another start and he was all in," Snitker said. "We were sitting in the office there in Los Angeles and he was like 'I'll give you whatever I have in my tank' and he did and I'm appreciative of that."
Overall, Norris owns a 3.84 FIP and 0.8 WAR this season.
The Dodgers lost National League Cy Young favorite Clayton Kershaw to the 15-day disabled list with a lower back injury and they can use Norris in either a starting or relief role — he allowed just seven earned runs in five starts after he returned to Atlanta's rotation — as they attempt to close the NL West gap between them and the first-place Giants.
Norris was slated to start Saturday opposite Jose Fernandez in the third game of the series against the Dodgers. Snitker said it's a day-to-day approach to how they'll fill the rotation spot, but if he's not used over the next two days in a relief role, the Braves may turn to righty Tyrell Jenkins, who has made two appearances out of the bullpen since his June 16 call up. He has a 7.20 ERA in five innings with three Ks and a walk.
"That's a definite possibility and that's how we may have to look at that, and then who's available in Triple-A," Snitker said. "We're just going to try and revisit it every day and see what our option is."
Foltynewicz made his return to the Braves rotation in Thursday's opener against Miami after being sidelined for a month with a spur in his right elbow. While Julio Teheran and Matt Wisler are locked in, Joel De La Cruz — who yielded three runs on seven hits in six innings in Wednesday's 3-0 loss to the Indians — will start Monday's vs. the Phillies.
They do have options in Triple-A, among them righties Aaron Blair and Ryan Weber and left-hander Manny Banuelos. But Blair was demoted after allowing eight runs on seven hits in 4 1/3 innings Friday vs. the Mets and has a 10.57 ERA over his last seven starts, while Weber posted a 9.28 ERA over five relief appearances in big league stints in April and June. Banuelos, who last pitched in the majors in Sept. 6, and has dealt with continued elbow issues, has a 6.17 ERA and has thrown no more than 4 2/3 innings.
Among the options on the MLB roster beyond Jenkins, there's also Casey Kelly, who has one start under his belt as he gave up three runs on seven hits in five innings in a 5-0 loss to Philadelphia on May 22.
"Today's going to affect tomorrow and tomorrow's going to affect the next day," Snitker said of the approach. "That's just how the games go and probably be a day-to-day thing right now."
Already the majors' youngest group of arms, with 437 1/3 innings thrown from pitchers 25 or younger — a figure that was 127 1/3 more than anyone else entering Thursday — the Braves options figure to get that much younger with the removal of their oldest start in Norris.
Follow Cory McCartney on Twitter @coryjmccartney and Facebook. His book, 'Tales from the Atlanta Braves Dugout: A Collection of the Greatest Braves Stories Ever Told,' is out now, and 'The Heisman Trophy: The Story of an American Icon and Its Winners' will be released Nov. 1, 2016.