Braves land high-ceiling bat by trading Harrell, Alvarez to Rangers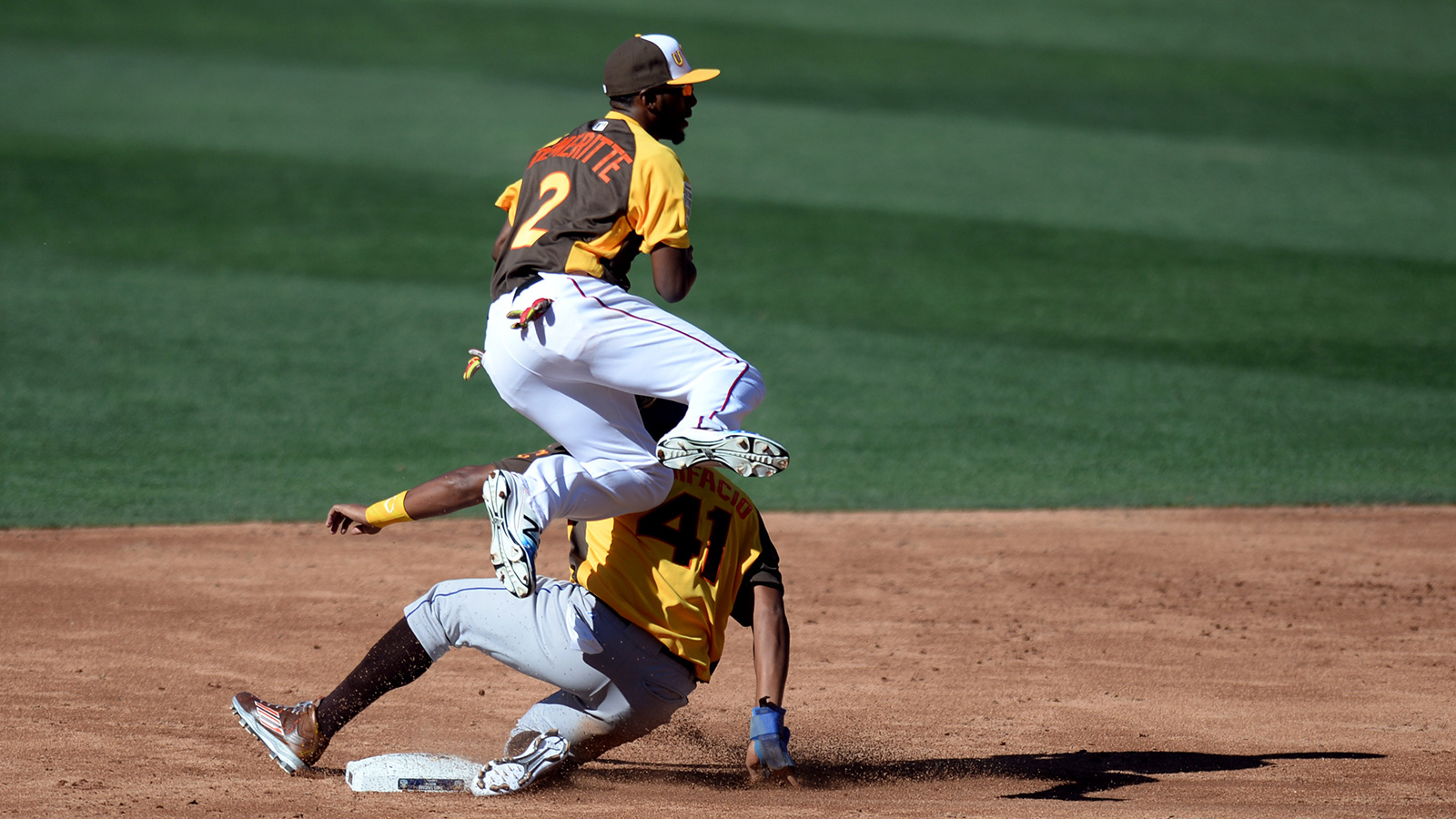 John Coppolella's "Rentals for Prospects" service is open for business once again.
The Atlanta Braves traded starting pitcher Lucas Harrell, a midseason free-agent signing on a minor-league deal, and left-hander reliever Dario Alvarez, a waiver-wire acquisition, to the Texas Rangers for infield prospect Travis Demeritte on Wednesday.
A 21-year-old second baseman out of Winder, Ga., Demeritte is hitting .272/.352/.583 with 25 home runs and 59 RBI for High-A High Desert, a traditionally hitter-friendly environment. Demeritte started in the Futures Game earlier this month across the diamond from another Georgia product: Dansby Swanson.
With the Braves' future middle infield seemingly in good hands with top position prospects Swanson and Ozzie Albies, Coppolella mentioned that the franchise's newest power bat could see time at third base and left field. The Braves general manager did not shy away from lofty player comparisons, either:
Demeritte served an 80-game suspension for testing positive for performance-enhancing drugs last season, but the Braves' farm system is starving for high-ceiling power bats and the local product fits the mold.
The high price Texas was forced to pay simply underscores the demand for pitching at the deadline — and could set the table for other moves prior to the Aug. 1 trade deadline.
Coppy used Ron Gant and Javy Baez as comps for Demeritte https://t.co/pzly76fX6x

— Mark Bowman (@mlbbowman) July 27, 2016
Harrell, 31, was a bit of a revelation after filling in for Atlanta's injured staff, posting a 3.38 ERA and 3.68 fielding-independent pitching in five starts. The right-handed veteran should fit into the back end of a Rangers' rotation that has struggled without injured starter Colby Lewis.
Alvarez, 27, made 16 appearances with the Braves, boasting a 3.00 ERA and 16.80 strikeouts per nine innings. The left-hander helps address perhaps the Rangers' biggest deadline need as they look to hold onto their first-place spot in the AL West. Texas ranked second-to-last in bullpen WAR entering Wednesday's games.