Braves fall to Marlins in historic game at Fort Bragg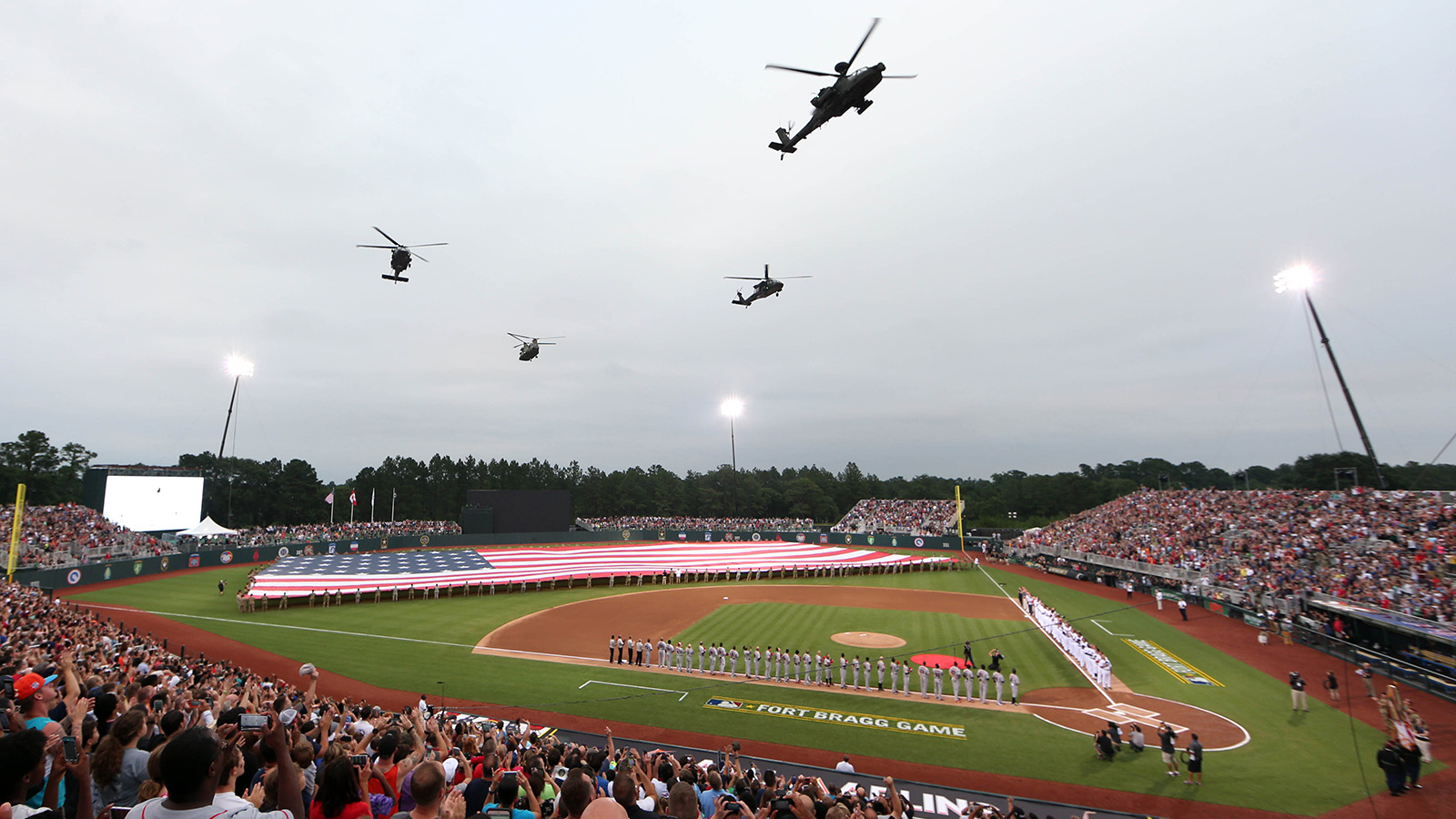 Fort Bragg, N.C. — Pregame preparation for MLB players typically does not involve parachute training, guided tours, 26th roster spots, mess-hall meals or even trips to the state of North Carolina, but the Atlanta Braves and Miami Marlins were thrown into unfamiliar — and, as players and coaches continued to stress, humbling — territory with the first-ever regular-season game on an active military base. With just four months to piece together a baseball park with MLB dimensions and seating for more than 12,000, the Fort Bragg game was always going to be a journey into unknown territory.
The fact that the on-field product unfolded without a single glitch, aside from Atlanta's offense, was a minor engineering miracle.
The game itself was bound to take a back seat, and for two franchises with decent-to-nonexistent playoff odds it doubled as a respite from the 162-day grind of the regular season.
"The big part of the day wasn't the game, it was the stuff that went on beforehand. Just the atmosphere and things like that," starter Matt Wisler said after his team's 5-2 loss on Sunday night. "The game itself was awesome. To play in front of those guys — it was more for them than it was for us. It didn't really feel like a regular-season game."
There were hints of familiarity, of course.
The Braves offense could not get off the ground against Marlins left-hander Adam Conley — the second straight outing the southpaw has not allowed a run against Atlanta. Conley and his bullpen combined to allow just five hits and two earned runs. The Braves' offense avoided its 10th shutout of 2016 with two ninth-inning runs in a short-lived comeback attempt. Scoring opportunities were too often squandered and the middle of the order did not protected Freddie Freeman, who reached base in three of his four plate appearances.
Then there was Wisler. The Braves right-hander opened the matchup firing on all cylinders, striking out the first four Marlins batters he faced, relying heavily on his improving slider, before running his pitch count (103 total pitches) and stumbling a little in the fifth and seventh innings. He continues to show promise, and progress, but on a night where his lineup forced him to be near-perfect the few consistency issues were enough.
The 23-year-old now owns a 4.16 ERA and 4.30 FIP as he crosses the 100-inning mark. And after entering the game in the bottom five of MLB's run support, his unfortunate ranking will be secure for yet another week.
The only two unfamiliar offerings, at least on the field, were the Braves losing to the Marlins, a team they had somehow beaten in eight of their 11 meetings before flying up to Fort Bragg, and some surprisingly strong defensive work on the left side of the infield, particularly veteran Erick Aybar who seemed to shed 10 years of age in the field after venturing onto the military base. (Aybar also added two hits as he continues his month-long streak of playing decent-quality baseball.)
"Different feel today," said Freeman, who admitted he put on an extra-powerful batting practice display for the occasion. "Twelve thousand five hundred people here and, you know, they were in it from the start. They were hear at BP screaming. Every time they were put on that jumbotron they were going nuts.