Braves' Ian Krol simplifies approach in his search for MLB stability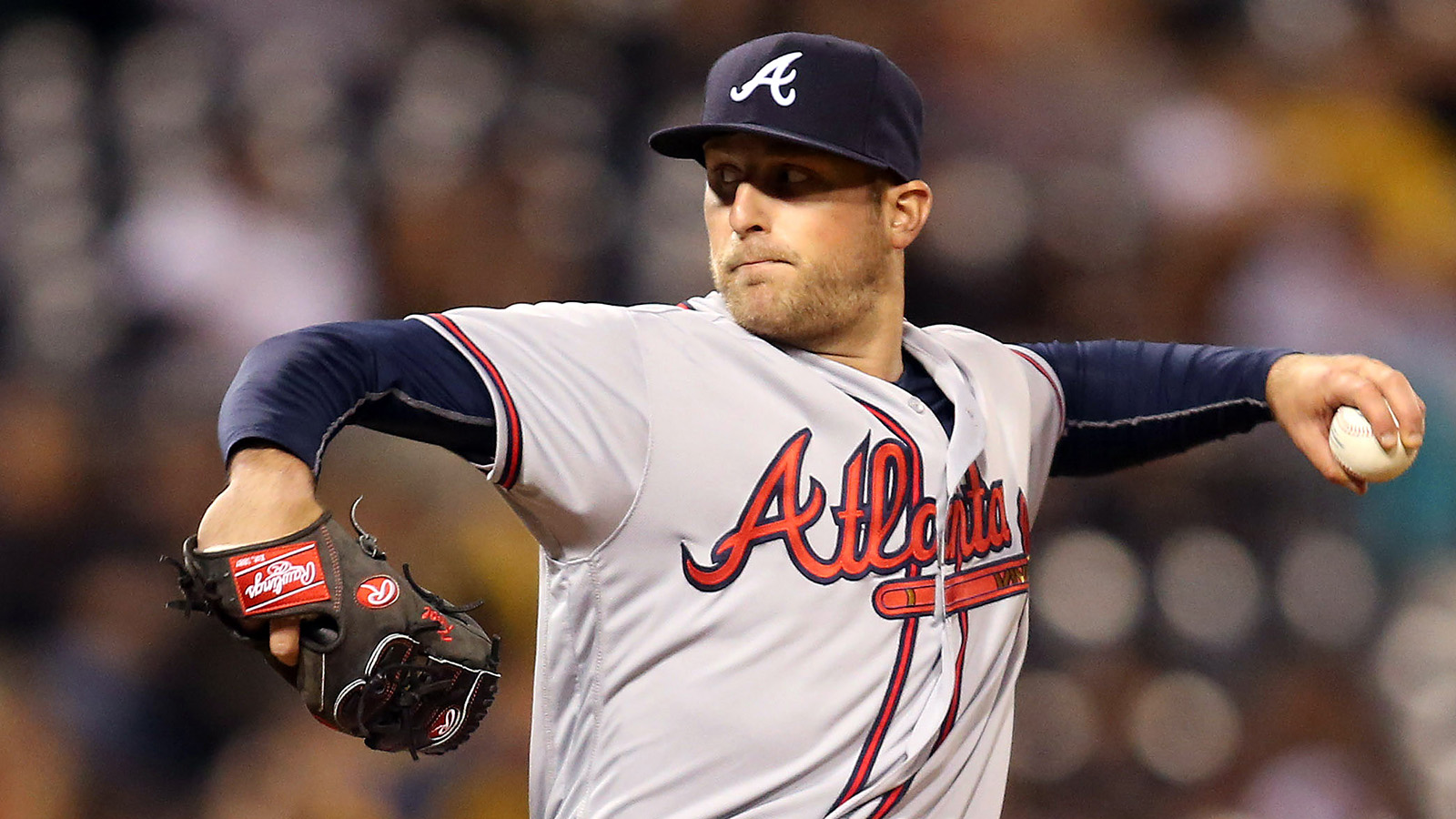 ATLANTA — Since being drafted by the Oakland Athletics in 2009, Ian Krol's trade history is more notable than his 95 career innings pitched. The 25-year-old Braves reliever has been involved in various deals involving more established MLB players Doug Fister, John Jaso, Robbie Ray, Cameron Maybin, Mike Morse and Blake Treinen, but now, potentially in the midst of a career-best stretch, the Atlanta left-hander's big-league career could be taking hold.
"For me, it was just kind of a roller-coaster of emotions every time I've been traded. I've gotta pick up and leave in spring training. Unexpected trade over here to Atlanta. Everything has been kind of up and down," Krol said. " … It's been a great experience. It's been a long process. You have to trust it. It's been very confusing at times — not being able to understand it sometimes."
Krol became the heir apparent to the Braves' top lefty reliever spot after being acquired in the Maybin trade in December, but spring training results forced the franchise to look elsewhere: The 25-year-old logged more walks than strikeouts and ran up a 12.71 ERA. Near the end of its Grapefruit League schedule, Atlanta purchased the contract of Eric O'Flaherty from Pittsburgh. Hunter Cervenka eventually leapfrogged to the front of the southpaw pack. Krol opened the season with Triple-A Gwinnett.
"He went to work when he got to Triple-A and he's always a kid that, man, when I had him down there I was like, 'Your stuff is really, really good,'" said Braves manager Brian Snitker, who opened the season with Krol at Gwinnett. " … When you've got a kid like that with that kind of stuff, you kinda just work with them and stay with them. Because if you get a guy like that going then you really have something."
The Braves just might have something.
After two MLB stops with the Nationals and Tigers, posting a combined minus-1.2 wins above replacement despite promising stretches, Krol is at the starting line of what could become his best season.
In seven innings with Atlanta, he's fanned 11 batters and walked only two. His 2.57 ERA and 1.20 fielding-independent pitching are the best rates of his career by a wide margin and should keep him in consideration for the franchise's ever-shifting relief corps. Tiny sample sizes set aside, the left-hander who posted double-digit strikeout rates at various minor-league stops in three farm systems might have found a few answers following a forgettable spring.
"I think I've tried to become more of a two-pitch pitcher: fastball-cutter," said Krol, who notes his cutter has some slider action as well. "In the past I've been throwing curveballs and changeups, and they're good in certain counts to certain people, but being a reliever coming in throwing 94-95 (miles per hour) from the left side is pretty much an advantage. So you minimize what you have, you know?
"It's kind of a double-edged sword when you have too many pitches: You don't know which ones to throw."
New coaching staffs are nothing new to Krol, but Atlanta's latest shakeup provided some rare continuity. In Snitker and Marty Reed, the former Gwinnett pitching coach turned Braves bullpen coach, Krol found a comfort zone. It was Reed who helped him downsize his repertoire and it was Reed who emphasized first-pitch strikes. Through his first 31 batters faced in Atlanta, the latter priority is paying off (first-pitch strike percentage via FanGraphs):
When asked if this brief run is the best of his career, Krol recalled his 2014 season with the Tigers as the last time things were clicking at this level. That year, he ran up 34 appearances from the start of the campaign until a late June outing before heading to the disabled list with shoulder inflammation, posting a 2.96 ERA with 19 strikeouts. He wasn't the same pitcher when he returned. He wasn't the same pitcher in 2015, either.
If his 25 strikeouts in 19 1/3 innings in the Braves organization offer any hint, he's back and more dominant than ever. When a team trades a decently productive starting outfielder for a reliever, this resembles the type of production it's looking for in return.
With Krol and Cervenka, the Braves boast two left-handers running up double-digit strikeout rates at the moment — one of many missing elements on last season's 67-win team. (The team's third lefty option, O'Flaherty, has been far less productive.) Their early successes take on added importance behind a rotation that has not featured a left-handed starter in 2016. But unlike Cervenka, who was pitching for independent league Sugar Land Skeeters last season, Krol is not being utilized as a left-handed specialist, a challenge he's met while the team eases him into MLB competition.
"It's not fun pitching to right-handed batters. It's a lot more fun pitching to left-handed batters," Krol said. "I think my stuff plays a little better to left-handers, but I have still have the ability to get right-handers out. And the situations that I've been thrown into they're not high-leverage situations. I've been able to focus, take my time out there and get the job done."
Added Snitker on his two southpaws: "It's something that I know we were looking for at the major-league level in spring training and these two guys have kinda come on the scene and done really good jobs. … They have stuff. They've been doing a good job.
"It's something that everybody's looking for pretty much."
There are potential roster shakeups down the line. MLB-caliber relievers Shae Simmons and Chris Withrow could be pressing for time in the near future after rehabbing from Tommy John surgery, meaning space will need to be made in the bullpen. If anything, the early returns should keep Krol in the mix.
And for Krol, after seven years defined by change, any stability is welcome.
"Right now I'm in a good spot. Things are working really well. So we're just going to keep doing the little things, pay attention to details and keep plugging away."