Braves push Kershaw as lineup's run against top lefties continues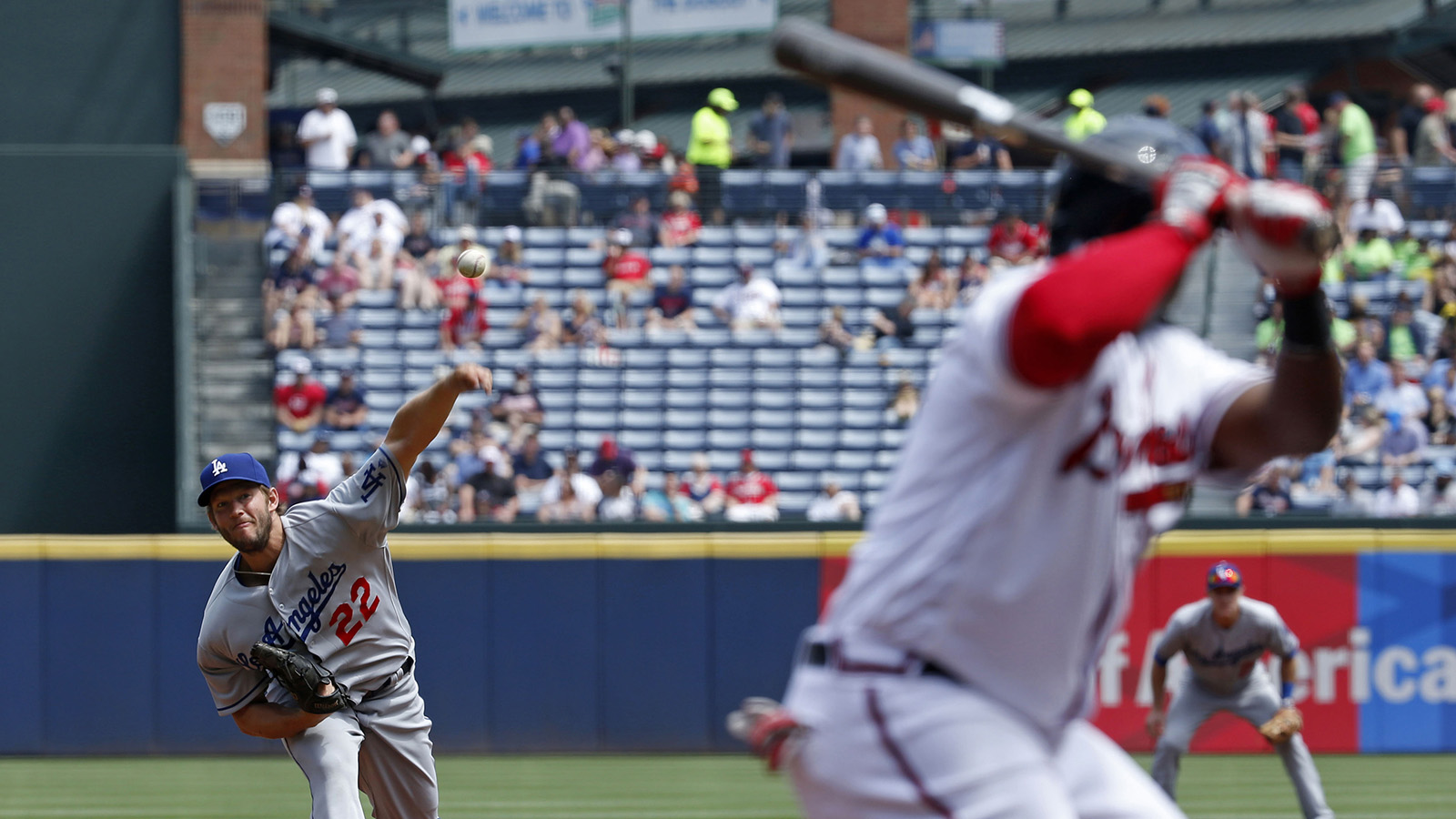 ATLANTA — The combination was unfortunate from the beginning, and should have reached its lowest point on Thursday afternoon at Turner Field. Instead, despite the Braves' 2-1 loss at the hands of a generational talent, there were signs of life.
Atlanta's offense carried low expectations into the 2016 season after finishing dead last in runs scored while making few immediate upgrades during the winter months, so facing six starters who finished in the top-25 of fielding-independent pitching (minimum 100 innings) in eight of their first 15 games was bound to be a steep climb. The fact that four more await in the next two series alone — Matt Harvey, Jacob deGrom, David Price and Clay Buchholz — only makes matters worse.
"It's tough to score runs off of those guys. That's why they're aces, No. 1s," Braves manager Fredi Gonzalez said when asked about the recent run of talented pitching, particularly top left-handers. "That's why they get the big bucks and long-term contracts and all the hardware that goes with it."
The Braves entered Thursday's series finale against the Los Angeles Dodgers ranking 30th out of 30 teams in home runs, slugging, weighted runs created plus and wins above replacement among position players. Their starting center fielder and most productive middle infielder to date are sidelined with hamstring injuries. Their starting left fielder is on administrative leave following his arrest in connection with a domestic incident in Washington. Their best hitter has posted sub-replacement level numbers at the plate.
When asked during spring training about his offense's potential struggles against left-handers, Gonzalez noted the lack of dominant southpaws in the National League East — a fair point in a division where five teams opened the season with four left-handed starters combined, two of whom (Steven Matz, Adam Conley) either held or were flirting with rookie eligibility.
The team's early schedule, however, had different plans.
The Braves faced the division's top two proven lefties, Gio Gonzalez and Wei-Yin Chen, within the first 10 games of the campaign. Those two followed St. Louis veteran Jaime Garcia, who is off to one of baseball's better starts. Those three arms served as precursors to a Dodgers series that featured both former Braves standout Alex Wood and the greatest pitcher of this generation (and potentially others).
"It's the big leagues. You've got to be prepared to face the best," said Drew Stubbs, the right-handed outfielder who started his fourth game on Thursday. "It has been a tough run and it's not going to get any easier with, I think, Matz and (Red Sox starter David) Price coming up after that. It's just the way this game goes. Sometimes you get tough matchups."
Even after tagging Wood with 10 baserunners and three earned runs in his return to Turner Field, the Braves ranked as MLB's worst offense against lefties entering Thursday's matinee.
However, a looming afternoon date with Kershaw, a left-hander whose statistical peer group includes names like Sandy Koufax and Randy Johnson, promised misfortune.
For a getaway-day lineup that featured Erick Aybar and Daniel Castro at the top of the order, a decorated starter who owns the best FIP in the live-ball era (minimum 500 innings) was expected to cruise. But baseball can be strange. So Kershaw was forced to work.
"We had Kershaw on the ropes there," said first baseman Freddie Freeman, who continues to make swing adjustments after starting the season batting .163/.328/.245 with one homer. " … It's kinda weird that we only got one run, but they made the plays that they needed to."
Atlanta chalked up 10 hits against the three-time Cy Young Award winner — just the fifth time in Kershaw's nine-year career he's allowed double-digit hits. He had to work out of jams in the second, fourth, sixth and eighth innings. And, as the final score alludes to, he did just that. With the assistance of 10 strikeouts, Kershaw allowed just one of his 11 baserunners to score in eight innings of work.
The Braves knocked, but he never truly opened the door. Missed opportunities littered The Ted's playing surface.
"He's got such good stuff and he executes his pitches so well that you really don't want to get in a hole off him and get behind in the count," Stubbs said of Kershaw. "So I think that's why you saw some of the guys trying to hit the first good fastball they saw. He's gonna give you stuff to hit because I think he trusts his stuff and he's going to come after you."
The Braves' power numbers are comically low from either side of the plate, but in terms of average and on-base percentage, the Braves have fared better against lefty starters, tallying 39 hits, 14 walks and four hit-by-pitches in five outings, than their right-handed counterparts. To be clear, Atlanta remains well below league average in this category, but considering the competition it's mustered a decent effort from a shorthanded roster.
Add the 2016 Braves to the laundry list of past opponents Kershaw has held to one or fewer runs, but it wasn't a cakewalk. Missed opportunities are better than none at all when going against the game's best.
Atlanta will need to start capitalizing in the days ahead, though, because while any road looks easier after Kershaw, the difference can be indistinguishable with Harvey, deGrom and Price on tap.