4 Corners: Midseason All-Americans highlighted by seniors, freshmen
The holidays and New Years and other procrastinations set aside, the Corners returns with a re-shuffled Naismith Watch, coaching consistency and the improvement of Marshall Henderson. But first, a delayed Midseason All-American Team with 12 players vying for five spots:
1 Midseason All-Anything lists essentially cover non-conference games and dabble in league play, so for many of the top players around the country there's still plenty to prove. It's rare that a mid-major player makes the cut on these lists, and this one is no exception, with the Big 12, Big East, SEC and ACC staking claim in the Corners' five best players thus far. (Quick note: Player positions did not play too much of a factor here; there was an effort to field a "team", in the traditional sense, but a four-guard system could have worked with the right players. No need for that here, though. Statistics updated through Sunday, Jan. 13.)
Guard: Marcus Smart, Oklahoma State: At a solid 6-foot-4, he's just such a mismatch at the point guard position. His overall numbers are slightly improved from his stellar freshman season — particularly in the scoring category, though his shooting remains a work-in-progress — and he's leading one of the best teams around. As the competition level revs up, Smart will more than likely take on an even larger role than he already is (30.1 usage rate). Oh, and his defense remains top-notch.
Guard: DeAndre Kane, Iowa State: The Cyclone is the true surprise on this team. A senior transfer from Marshall, he's fronting a 14-1 program with an all-around effort: averaging 16.5 points, 7.3 rebounds and 6.1 assists per game. He's earned this spot. Shabazz Napier (UConn), Xavier Thames (San Diego State), Russ Smith (Louisville) and Keith Appling (Michigan State) also received consideration here.
Forward: Doug McDermott, Creighton: He's the nation's most effective and consistent scorer, and not even a move into a rugged Big East has changed that. A year removed from averaging 23.2 points and 7.7 rebounds, he's back to 25 and 7.3 with no signs of slowing down. The senior star is taking more shots than ever before and though his shooting percentages are down, he's the focal point of the nation's No. 1 offense.
Forward: Jabari Parker, Duke: Ignore the recent struggles. Parker's production on both ends of the court have dipped right along with the Blue Devils' recent lull, but he's still averaging 19.5 points and 7.6 rebounds per game. He needs to rediscover that early rhythm, but he's a lock at this point. Parker drew comparisons to the freshman seasons of Kevin Durant and Michael Beasley earlier in the year — in terms of usage and efficiency — for a reason … as well as other side-by-side resemblances:
Forward: Julius Randle, Kentucky: I'm not as high on the double-double machine as others (he also happens to be a turnover machine with some noticeable holes in his game), but it's difficult to ignore the production against quality competition and one of the country's top rebounding gurus. He needs to get his offensive game back on track in SEC play. Adreian Payne (Michigan State), Jordan Adams (UCLA) and Joel Embiid (Kansas) received consideration here.
2 There are four unbeatens left in college basketball, and not a single one is projected to end the season with an unblemished record. According to statistical mainstay Ken Pomeroy's latest projections, Wichita State and top-ranked Arizona are projected to finish with two losses, Wisconsin with three losses and Syracuse with four.
However, it's fairly clear, given the difficulties of navigating the Pac-12, Big Ten and ACC, that one team has the inside track, if the feat is to be accomplished. Wichita State, a Final Four team in Year 6 under Gregg Marshall, is the logical choice and safest bet. Based on Pomeroy's projections, the Shockers are the clear-cut favorite among the quartet (and they'll be favored to win every game from here on out, road or home). Here's the updated odds for the perfect regular season:
So if the Shockers are going to be favored in every game and the schedule is so manageable — really, there's only five more games on the schedule of serious note: two games versus Indiana State, two versus Drake and Northern Iowa — then how come less than 20 percent odds? Those familiar with the Missouri Valley Conference have some answers. Only Larry Bird's Indiana State team (1979) and Hersey Hawkins' 1985 Bradley team ever escaped league play without a loss. Plus, college basketball has not witnessed an undefeated regular season since St. Joseph's in 2004. It's not an easy task.
"I'm not going to sit here and say it's impossible," sophomore Ron Baker said earlier this season. "The Valley is always tough, game in and game out. Scouting is unbelievable. Every team is sitting on each play you've got and knows what you're going to do. We have to execute so much better to beat these teams in the Valley. If we can focus just one game at a time, keep playing good defense and up our execution on offense, we'll give ourselves a chance."
As for Arizona, 12 of its remaining 14 games come against teams ranked in Pomeroy's top-100 efficiency rankings, and the only team that isn't — the Wildcats play Oregon State twice — features a dangerous offense led by one of the nation's top scorers. The Pac-12 is unrelenting. It's a similar story for the Badgers and Orange. But the odds are slim for everyone.
3 Marshall Henderson served his time.
Sidelined by a school-imposed suspension for the first two games of SEC play (on top of being held out in the season opener against Troy) due to his offseason legal troubles, Henderson watched from the bench on Saturday as his Ole Miss teammates fell 76-72 to lowly rival Mississippi State. The self-punishment was not just for show. The Rebels are now 10-5 on the season and will need to make serious strides in conference play if they stand a chance at another tourney run.
Getting Henderson back will help.
As expected following the offseason losses of Reginald Buckner and Murphy Holloway, the 6-foot-2 volume scorer has not been shy. He's tossing up more shots than ever before, claiming 36.2 percent of the Rebels' available shots, the seventh-highest rate in the country. In 12 games, he's attempted 138 3-pointers. But he has improved, albeit marginally, not so much his shooting percentages as his overall effectiveness. His assist-to-turnover rate is dramatically improved, leading to a slight uptick in his offensive rating.
That improvement should keep Ole Miss in contention for a top-half finish in the conference, especially if Henderson and backcourt mate Jarvis Summers, who has been the team's best player thus far, play up to their potential. Say what you will about Henderson's offseason troubles and oncourt antics, but the Rebels need him. He's made himself too big a part of Andy Kennedy's scheme to just disappear. The loss to Mississippi State helped underscore that.
4 As Mike Brey walked out of McCamish Pavilion on Saturday afternoon, it became clear that one of the nation's longest-running active coaching streaks is coming to an end. Brey's Notre Dame Fighting Irish are 10-6 and beginning to flounder — a home upset of a suddenly defense-optional Duke team notwithstanding, the ACC schedule is beginning to look rather daunting following losses to N.C. State and Georgia Tech. The Irish are shorthanded and have not played defense this poorly since 2006. Add to the fact that leading scorer and top offensive player Jerian Grant (19 points per game, 132 offensive rating) is out for the season for academic reasons, and the picture starts coming into focus.
When the ACC announced four new additions to its basketball slate — Syracuse, Pittsburgh and Notre Dame in 2013-14; Louisville in 2014-15 — it guaranteed itself a number of the most consistent coaches and programs in the country. Brey's program should be included in that mix. Entering this season, the Fighting Irish posted seven straight 20-win seasons, one of the longest such stretches around. The last time Notre Dame didn't hit that mark was that 2006 season: a 16-14 record that was finalized with a second-round NIT exit. That run isn't too far behind the top active streaks of 20-win seasons for one coach at a single school — you might recognize Brey's fellow ACC newcomers on the list:
Talk about a Who's Who.
Brey falls into a mix of coaches like Ohio State's Thad Matta and UNC's Roy Williams (nine straight seasons), BYU's Dave Rose and San Diego State's Steve Fisher (eight) and Wisconsin's Bo Ryan (seven). Of course, exclusion from this list does not make one a substandard coach and inclusion does not equal greatness.
Coaches may avoid this particular — and quite specific — list by making a relatively recent move (John Calipari, Sean Miller) or by sandwiching one "down" year (See: Fewer Than 19 Wins) between many, many qualified ones (Tom Izzo, Jay Wright, John Thompson III). Sometimes both.
Brey & Co. are in serious jeopardy of losing their place in line. Roy Williams (10-6) and Dave Rose (11-7) know the feeling.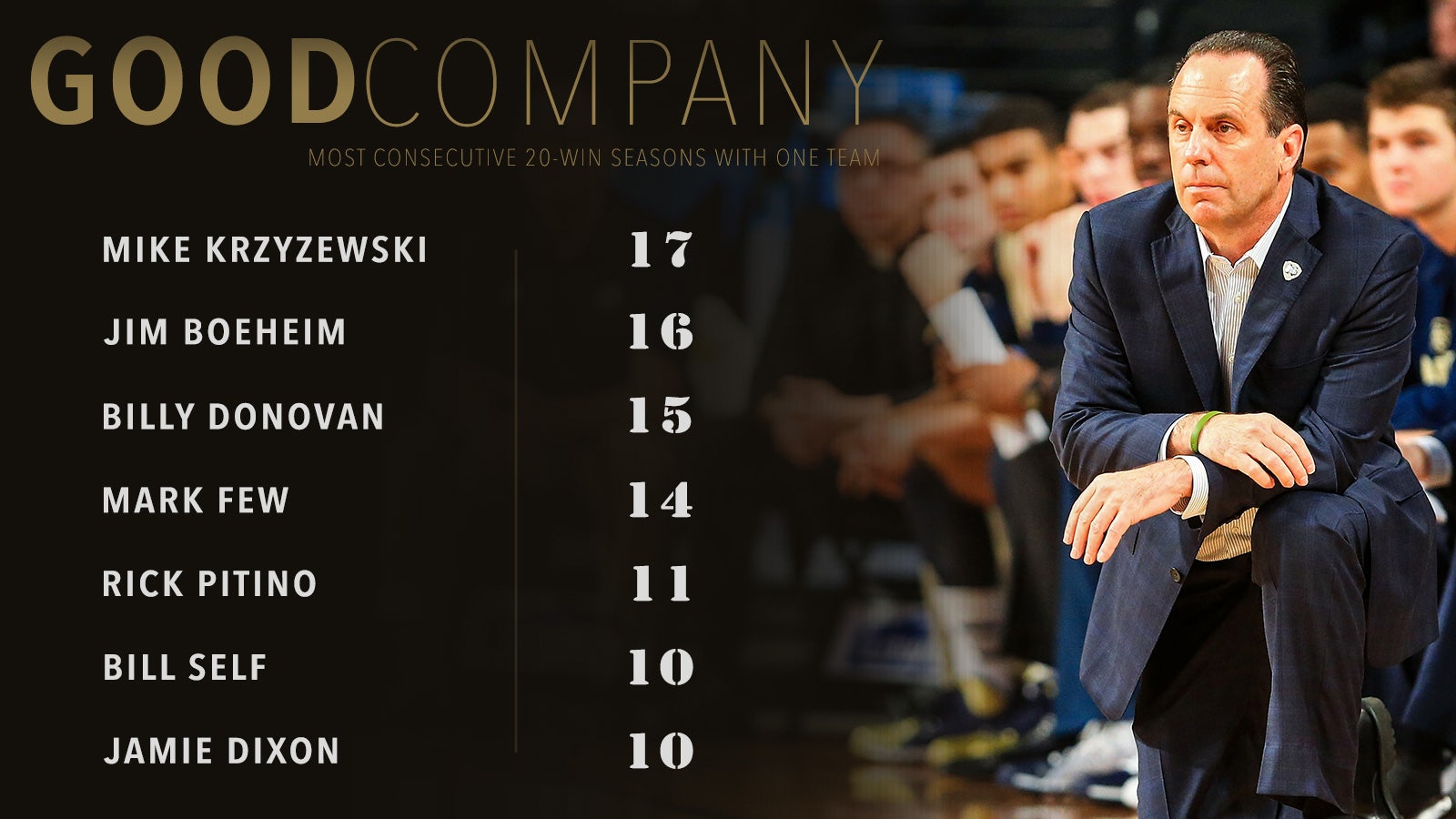 This week sees the fifth edition of our (Still Too Early) Naismith Watch, plus a few top performers around the country who either could sneak into consideration or simply deserve some recognition. First, the Naisimith Watch is led by a Creighton star. No surprises here:
Lamar Patterson, Pittsburgh: Perhaps Jamie Dixon's previously mentioned run of success wouldn't be as secure without the emergence of Patterson as a go-to threat fit for ACC competition. Since losing one of the ugliest games of the season — a 44-43 clunker even by the new slow-it-down ACC standards — Pittsburgh has outscored opponents by an average of 15.2 points per game, and Patterson continues to be a primary reason why. He's posted three games of 22-plus points in the past five outings, including 68 total points in the Panthers' first-ever ACC wins (N.C. State, Maryland, Wake Forest).
With a 17-point jump in his offensive rating along with a greater workload, the 6-foot-5 senior is one of the rare cases where a player takes a substantial leap forward in his fourth and final year of eligibility. I'll get a firsthand look at Patterson as the Panthers travel down to Atlanta on Tuesday looking to start the league slate off at 4-0.
Kendall Williams, New Mexico: It's been a while since a Lobo made its way into the Corners. Williams has been very good to excellent throughout the season, as his shooting numbers have noticeably improved.
The 6-foot-4 senior has taken the initiative to get to the basket more often — 35.1 percent of his shots have come at the rim this season, according to Hoop Math, an nine-percent increase from last season — and he's reached career-high levels in true shooting percentage and free throw rate. That should be a reliable weapon in postseason play if the Lobos' offense stalls like it did in losses to UMass and Kansas.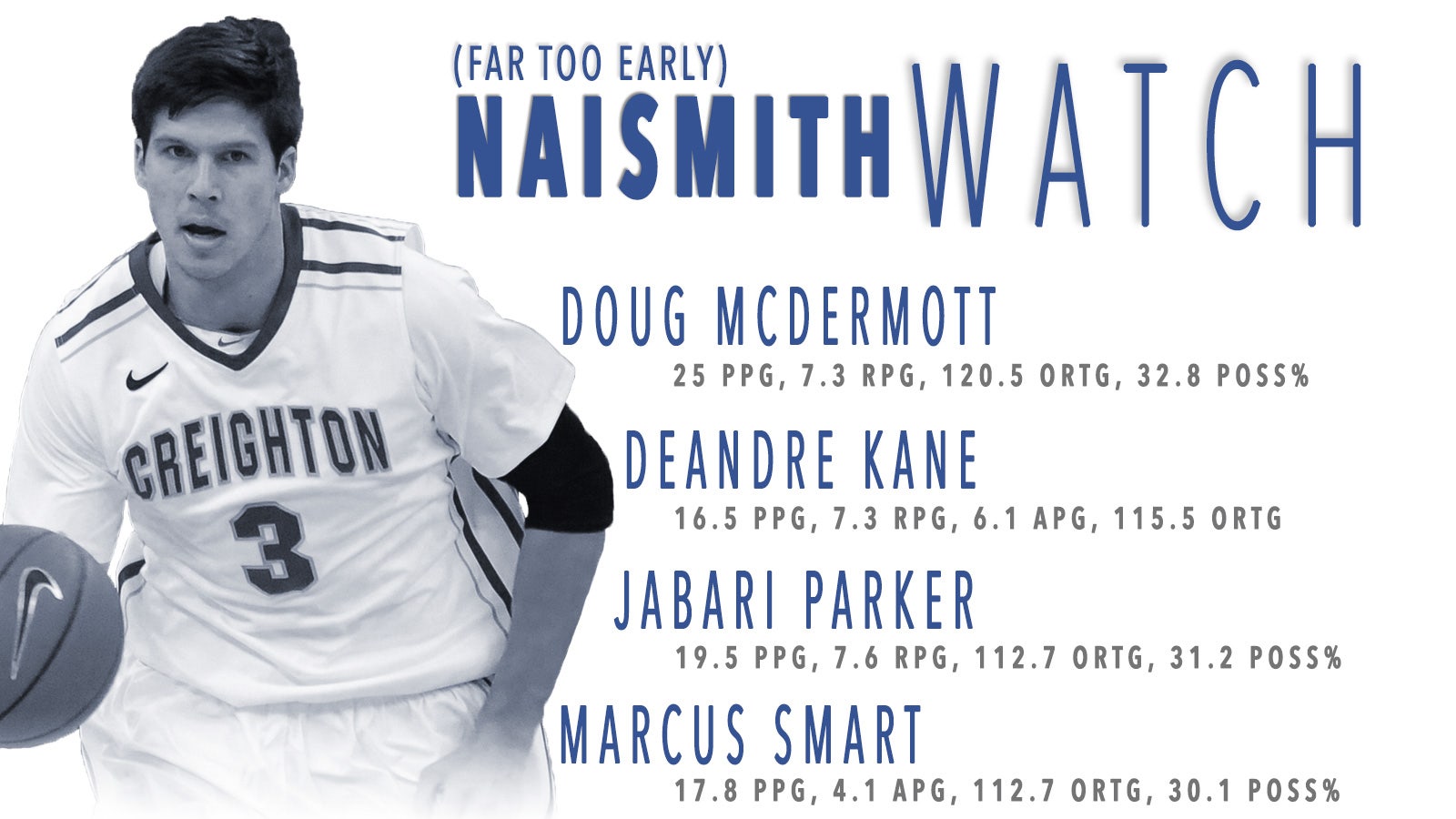 Tyler Haws, BYU: Discredit Haws' lip-syncing of 98 Degrees if you must, but there's no questioning his scoring ability. The 6-foot-5 wing has eclipsed the 20-point mark in 11 of his 16 games played this season, and if he hadn't sat out cupcake games against Mount St. Mary's and Colorado Mesa his 23.1 points per game might be even higher. That's saying something for the fifth-highest scoring average in the country.
In his past two outings, he's poured in 31 and 35 points against Pepperdine and Loyola Marymount, respectively, two must-have wins in the top-heavy West Coast. And he's done so largely without holding back Cougar teammates like Eric Mika, Matt Carlino and Kyle Collinsworth. Here's a look at the nation's five leading scorers ordered by percentage of available team shots taken:
Don't let that water run dry, BYU.
Back in 2006, George Mason started a nice trend, one that's spanned the past eight seasons with surprising regularity. Since that magical run, five non-power conference teams (Memphis, VCU, Wichita State and Butler twice) have made a Final Four appearances, missing the prestigious stage of the NCAA Tournament just twice. With that in mind, here's a look at the potential torch-bearers of that tradition, as well as some of the best stories outside the major conferences:
Iona: The Gaels are college basketball's mid-major 2013 Texas A&M football team: offensive juggernaut, defensive liability. They've hit the 80-point mark nine times this season on the strength of the nation's 12th-most efficient offense. Iona shoots the lights out (57 percent effective field goal percentage, fifth nationally), avoid turnovers (17th nationally) all while playing uptempo. But it's only paid off against lower-tier teams.
The problem is that the Gaels are one of the worst defensive teams around for the second straight season under Tim Cluess, allowing 1.12 points per possession. They do not rebound, protect the rim or force turnovers. Not that this really matters in the fast-paced, defense-optional MAAC — the Gaels are 5-1 in league play, though conference favorite Manhattan is still on the docket (twice) — but it will be interesting to track if Sean Armand, A.J. English, Tre Bowman and the rest of the roster can bounce back from a slow start to notch their fourth 20-win season since Cluess took over in 2011.
Kevin Pangos, Gonzaga: Eventually, the 6-foot-2 Canadian product will stop improving … it just hasn't happened yet. After a breakout freshman campaign and an even-more-impressive sophomore season that saw him lead Gonzaga's backcourt during a run to a No. 1 seed, he's stepped into a starring role for the Bulldogs. With former teammates Kelly Olynyk, Robert Sacre and Elias Harris all making their way in the NBA, Pangos' improvement has Mark Few's program in line for yet another West Coast Conference regular season title. Averaging 17.1 points and 4.2 assists per outing, his offensive rating, according to Pomeroy, has bumped up to 135.4, the 12th-best mark nationally. If he was putting up those numbers for ajor-conference contenders — keep in mind, he torched quality opponents Dayton, Arkansas and Saint Mary's — he'd be a middle-of-the-pack Player of the Year candidate.
Louisiana Tech: The Bulldogs boast some pick-pockets. Six different Louisiana Tech players are averaging more than one steal per game this season, led by junior Kenneth Smith's 2.4 thefts per outing. It's become a staple in third-year head coach Michael White's defensive system, one that has improved from being ranked 204th nationally in defensive efficiency in 2012 to 35th last season and now 20th in Year 3. The Bulldogs log a steal on 12.9 percent of opponent's possessions, the 11th-best mark nationally, right up there with annual defensive powerhouses VCU, Louisville, Syracuse and Cincinnati.
Jason Brickman, LIU Brooklyn: In 2011, at the home of the Charlotte Bobcats, 15-seed LIU Brooklyn did not back down to the second-seeded North Carolina Tar Heels, who were playing a de facto home game in the NCAA Tournament's East Regional. The game was never in doubt — UNC finished the Blackbirds off, 102-87, and held a double-digit lead for most of the game — but the Northeast Conference champs kept it respectable. Brickman, then a freshman backup point guard, came off the bench to log a team-high eight assists for the up-and-down Blackbirds. That's been his M.O. throughout his collegiate career.
Now a senior, Brickman has helped LIU Brooklyn make three consecutive NCAA Tournament appearances, where he has totaled 24 assists in three games (all losses). This season, even as he puts up more shots than ever before, the San Antonio product has become a primary example of a pass-first point guard, leading the nation in assists (9.8) by a significant margin: the next-closest man on the national assist list is UMass speedster Chaz Williams, who averages 7.5 per game. Brickman is involved more than ever before in the Blackbirds' offense, and his assist rate has, over the years, have climbed to the top of the charts (national ranking):