World Cup Final smashes ratings records
By Matt Yoder
With the US Women's National Team advancing to the 2015 World Cup Final in a rematch against Japan, the biggest media storyline was whether or not the game would surpass the 16 year old record of the 1999 World Cup Final as the most watched women's soccer game of all-time. With record ratings and viewership numbers throughout the 2015 tournament, there was a great chance for this year's game to set a new high.
And with the first ratings numbers in, it looks like this year's game will do just that.
Douglas Pucci was first to break the news that the USWNT's 5-2 victory over Japan scored a 15.7 overnight rating with a 27 share and peaking with a 17.9 rating for the final stages of the contest: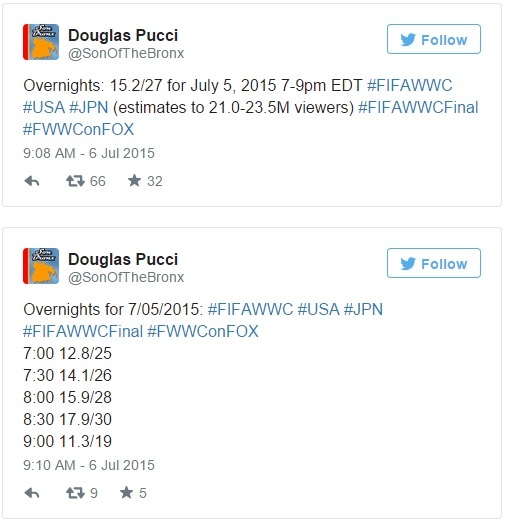 According to FOX, it's "the highest metered market rating ever for a soccer game in the U.S. on a single network." The 15.7 rating bests the 13.3 rating for the '99 Final by 14% and almost doubles the same matchup four years ago when it garnered an 8.6 rating on ESPN. Kansas City, St. Louis, San Diego, Denver, and Austin were the Top 5 local markets.
The current record audiences for soccer in the United States are as follows:
Combined audience, men's or women's (English & Spanish language television): 27.3 million viewers for 2014 World Cup Final – Germany vs Argentina (ABC)
Single network, men's or women's: 18.7 million viewers for 2014 World Cup Group Stage – USA vs Portugal (ESPN)
Women's World Cup: (estimated) 17.9 million viewers for 2015 World Cup Final – USA vs Japan (FOX)
We'll share final viewership numbers when they become available, but the 2015 Women's World Cup Final could be the first soccer game in history to reach 20 million viewers on a single network.
More from Awful Announcing: