Is the United States Women's National Team the newest sports dynasty?
Martin Rogers — @MrogersFOX
The United States team hadn't even made it to the victory podium after its 2-0 victory over the Netherlands on Sunday, and social media was already at work trying – and arguing, what else – to put the Women's World Cup championship into perspective.
"I'll go ahead and say it – greatest dynasty in all of sports. Congrats to @USWNT on ANOTHER World Cup!!!," tweeted Josh Lambo, kicker for the Jacksonville Jaguars.
"Yeah, those 11 NBA title in 13 years for @celtics was nothing compared to this," sarcastically came the very first response, from Eugene Frenette, sports columnist for the Florida Times-Union.
We love a good debate, and this one is as good as any, as it compares not only sports achievements but generational, geographical, gender and competition level elements.
But on the subject of dynasty, let's clarify one thing at the outset.
To me, the measure of a dynasty is about far more than winning games or championships over a period of time. It's about the impact made on not just sports but culture. It's about the lasting impression beyond the victory parades. It's about mystique and magic, the creation of an invincible aura at the time and a sense of transformation once the era has passed. It is reserved for teams that consider winning not only what they do, but who they are.
So, with that as a preface, is the U.S. women's soccer team, which defended its World Cup title Sunday in France, a dynasty? You bet. Worthy of being discussed as the best team of all time? You bet.
Let's start with the obvious. They win. And they have won a lot and over an extended period of time, squarely putting the U.S. women's team into this debate with its achievements:
back to back World Cup titles, and four championships in all, never failing to at least reach the semifinals;
winning eight of the 14 World Cup and Olympic competitions that have been held;
doing so across a time span that has seen a passing of the torch from Mia Hamm to Abby Wambach to Carli Lloyd to Megan Rapinoe.
The USWNT has also had an extraordinary effect far beyond soccer's white lines. Its cultural imprint is expansive, generational and even psychological. They inspire girls and young women with style and substance, and they show that desire, ambition and yes, ruthlessness, are traits not exclusive to male athletes. High school girls soccer participation has increased more than threefold since the U.S. won its first World Cup in 1991. In the same way that Brandi Chastain inspired a generation of little girls in 1999, this team is now inspiring the next generation.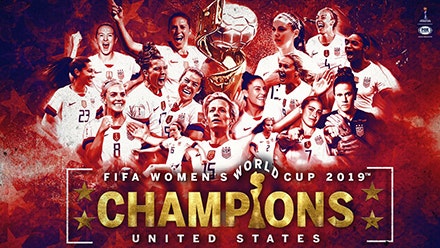 "First and foremost, nobody understands better than us the power of winning — the power that we can be as changemakers," Megan Rapinoe told the Washington Post.
To wit: U.S. women's national team jerseys are the top seller for Nike. (And Nike had this ad up a minute after the championship was final.) Their matches have drawn record-setting audiences on TV. When they play, they have literally taken over trending topics on Twitter. There is nothing in women's soccer to compare the Americans to, because their run began at the very foundation of the women's game as a serious entity. And they've been dominant from the outset. Those 14 tournaments stretch back 28 years, before most of the current squad were born.
Maybe they are penalized in the all-time conversation because of soccer's schedule. Global tournaments don't come around each year. The U.S. waited three years to avenge its 2016 Olympic disappointment.
"It is easier to dub a team that plays a final every year a dynasty because it is so consistent," midfielder Kelley O'Hara told me. "It is typically the same players; for us there is more of a turnover."
But the U.S. women, typically, aren't backing away from the label.
"It is a dynasty," said defender Crystal Dunn. "We know every time we put on this crest we are representing something that is so written in history. We know it is not easy to step into this jersey so every time we put it on it is a war."
So yes, the USWNT is a dynasty, and perhaps one of the greatest sports dynasties of all time given parameters beyond mere winning.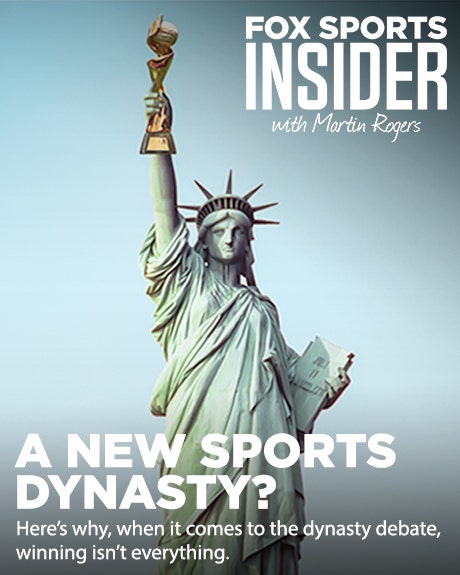 Who else makes my list?
Boston Celtics – 11 NBA titles in 13 years (1957-69)
Beyond the titles, Red Auerbach broke the color barrier in the NBA, drafting the first African-American player and hiring the first African-American coaches, starting with Bill Russell. He also championed the fast break and a small but effective list of set plays. And, of course, the victory cigar was the final flourish.
UCLA men's basketball – 10 NCAA titles in 12 years (1964-75)
John Wooden's legendary run included an 88-game winning streak, but it was his wisdom that set him apart as a coach. He wrote numerous books, and his Pyramid of Success is considered a blueprint for success in business and life, not just basketball. Getting Lew Alcindor, Bill Walton, Gail Goodrich and Sidney Wicks created a juggernaut on the court and produced seven consecutive NCAA titles.
UConn women's basketball – 11 NCAA titles in 21 years (1995-2016)
Geno Auriemma, who has crafted arguably the greatest coaching resume in history, achieved historic attendance gains and television exposure for the sport of women's basketball. Beyond the titles, how about separate winning streaks of 70, 90 and 111 games? The only streak beyond that is the Harlem Globetrotters, and no, they aren't a dynasty.
New England Patriots – 6 titles in 9 Super Bowl appearances since the Tom Brady-Bill Belichick era started in 2000
They are tied for Super Bowl victories with the Pittsburgh Steelers, but Belichick's ability to master on-field strategy, team culture and the salary cap settles the debate for me about the greatest dynasty within the NFL. Combined with their unmistakable aura, the Patriots are the starting point for any current debate on dynasties.
There are a lot of good teams beyond these but taking it beyond pure victories keeps my list of dynasties at five.
No Yankees for me. Yes, they have won twice as many championships as any other team, but they have had only one real dynastic run (1996-2001) since expansion in 1961 and the breaking of the color barrier in 1947.
No Bulls – I'm sticking with the Celtics over Michael Jordan and the triangle offense. No Warriors, Lakers, Spurs, Steelers, 49ers or Cowboys for me either. Not quite.
Yet the U.S. women's soccer team has proven it belongs in this conversation and has stood up to the pressure that comes with it. They're the best, and they want you to know it. They're not saying sorry – and in fact, they are boldly unapologetic.
"Win," forward Christen Press said before the World Cup. "Or it's a failure."
"We have this insanely competitive nature and that's what has made us the best in the world," midfielder Lindsay Horan said. "If you can't meet it, you shouldn't be a part of this team."
Said Alex Morgan: "A dynasty? It is difficult to say; these 23 players are so different from 2015. But each player on this team is making their mark in history."
Sounds like a dynasty to me.