USMNT teammates Jozy Altidore and Alejandro Bedoya throw shade at each other
U.S. national team players Jozy Altidore and Alejandro Bedoya might need to hug things out at the next USMNT camp after a Twitter squabble between the two on Saturday night.
It started with the Philadelphia Union's 2-2 draw at home, where Altidore earned a penalty that allowed Toronto FC to pull level in the first half. Bedoya, midfielder for the Union, was asked about it afterward and questioned whether Altidore really deserved a PK or took a dive:
Here is @AleBedoya17 on the @JozyAltidore PK call. @PhilaUnion @torontofc #PHIvTOR #doop pic.twitter.com/UFPWn5f2LP

— 215pix (@215pix) March 12, 2017
"Knowing him, he tends to go down easily in the box, so I'll just leave at that," Bedoya said.
That apparently didn't sit well with Altidore, his USMNT teammate. So, he let a quick and very public tweet fly at his colleague: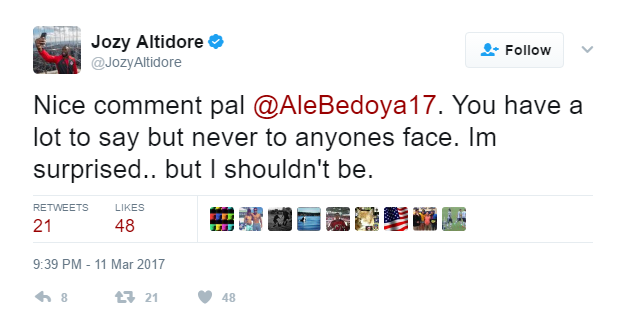 Bedoya responded by claiming his comments were taken out of context and extending an olive branch of sorts to Altidore: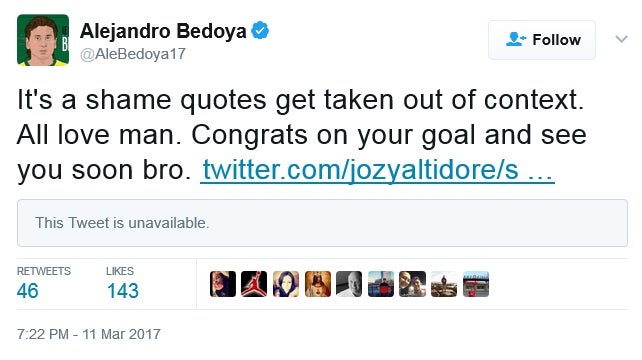 After that, Altidore deleted his original tweet and hasn't tweeted since.
As for the penalty call itself, did Bedoya have a point, even if he insists he was only joking? You can be the judge:
Either way, Altidore's choice to air out his grievances with a longtime USMNT teammate on Twitter is probably not the best look, even if he later thought better of it. You can bet USMNT manager Bruce Arena isn't going to want to need to patch up any drama before a crucial World Cup qualifier on March 24 (10:30 p.m. ET, FS1).
This should be chalked down to a simple misunderstanding and, hopefully, a learning experience.
MORE FROM FOX SOCCER