Benny Feilhaber looked like a star in his return to the USMNT
Benny Feilhaber had given up on ever playing for the United States again. He was on the wrong side of 30 and very publicly did not get along with manager Jurgen Klinsmann. It'd gotten so bad that he had no problem joking about the matter, knowing he had nothing to lose. But then Klinsmann was fired and when Bruce Arena's first roster was released, there was Feilhaber.
It's one thing to get another look. It's quite another to make the most of it, though. And make the most of it is what Feilhaber did.
After a bright 13 minutes as a substitute in the Americans' first friendly of 2017, a scoreless draw with Serbia, Feilhaber was given the start on Friday night against Jamaica. Arena put the midfielder in the No. 10 role, in behind two strikers, and essentially handed Feilhaber the keys to the attack, and for good reason. Feilhaber made the U.S. tick and led them to a 1-0 win, their first of the year and first of the second Bruce Arena era.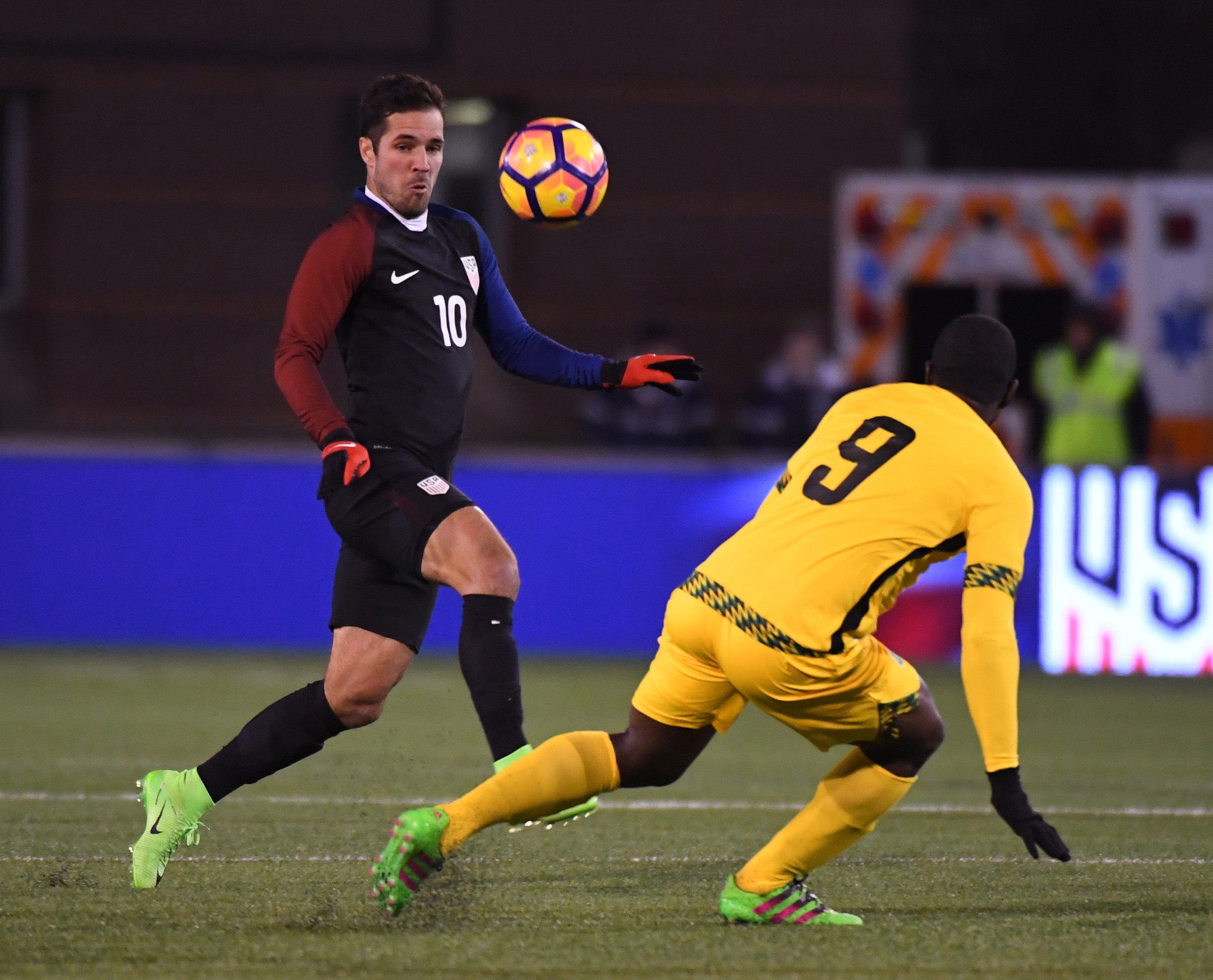 It was obvious from the start that Feilhaber was up for the match. He was all over the field and even put in some defensive work, which is hardly his forte. But it was with the ball that he really dazzled. One minute, he'd make the quick pass to spark the U.S. counter and another time he'd combine with Sebastian Lletget to get the attack in rhythm. A little later he'd spray the ball out wide, then he'd end up out wide, embarrassing a defender and hitting in a good cross.
For nearly an hour, Feilhaber was the Americans' best player. And that was before he helped get the U.S. on the scoreboard. It started with Feilhaber receiving a pass with a nifty backheel to Jordan Morris, who returned the ball to Feilhaber. After taking a touch, Feilhaber let the defender come towards him and with all eyes on him, hit a perfectly weighted pass for Morris to finish for the goal.
Minutes later, Feilhaber was subbed off. Arena brought Michael Bradley in as he continued to get looks at all his players, but that was fine. Feilhaber had nothing left to prove.
For the better part of two months, Arena has talked about the Americans' need for a No. 10. He thought the team needed a creative player. Someone who could help them keep the ball at times and dictate rhythm at others. But more than anything, he thought the U.S. needed someone who could break down defenses with the killer touch, or pass.
On Friday, Feilhaber did everything Arena from his No. 10. It was one of the best performances from an American attacking midfielder in years.
Of course, this came in a friendly against a very weak Jamaica team. That Feilhaber was tremendous doesn't mean that he's going to run the show and be able to do this in World Cup qualifying, or a World Cup, or really at any other time. Nothing from this match, good or bad, can be translated to a big, meaningful match. But Feilhaber has done this at the club level before — he was the Americans' creative force off the bench in the 2010 World Cup and, after being planted in Klinsmann's doghouse, this was his first real look in years and he took advantage.
Sacha Kljestan may still be the Americans' best No. 10. Or even Christian Pulisic. Arena may reverse course and choose not to play with a central attacking midfielder. After just two matches under the new boss, and without a full team, it's too early to say what the U.S. will look like going forward. But whatever happens, the Americans know one thing — Feilhaber is back. And it looks like he is going to make the most of his second chance.