Thibaut Courtois needs to stop talking and just leave Chelsea already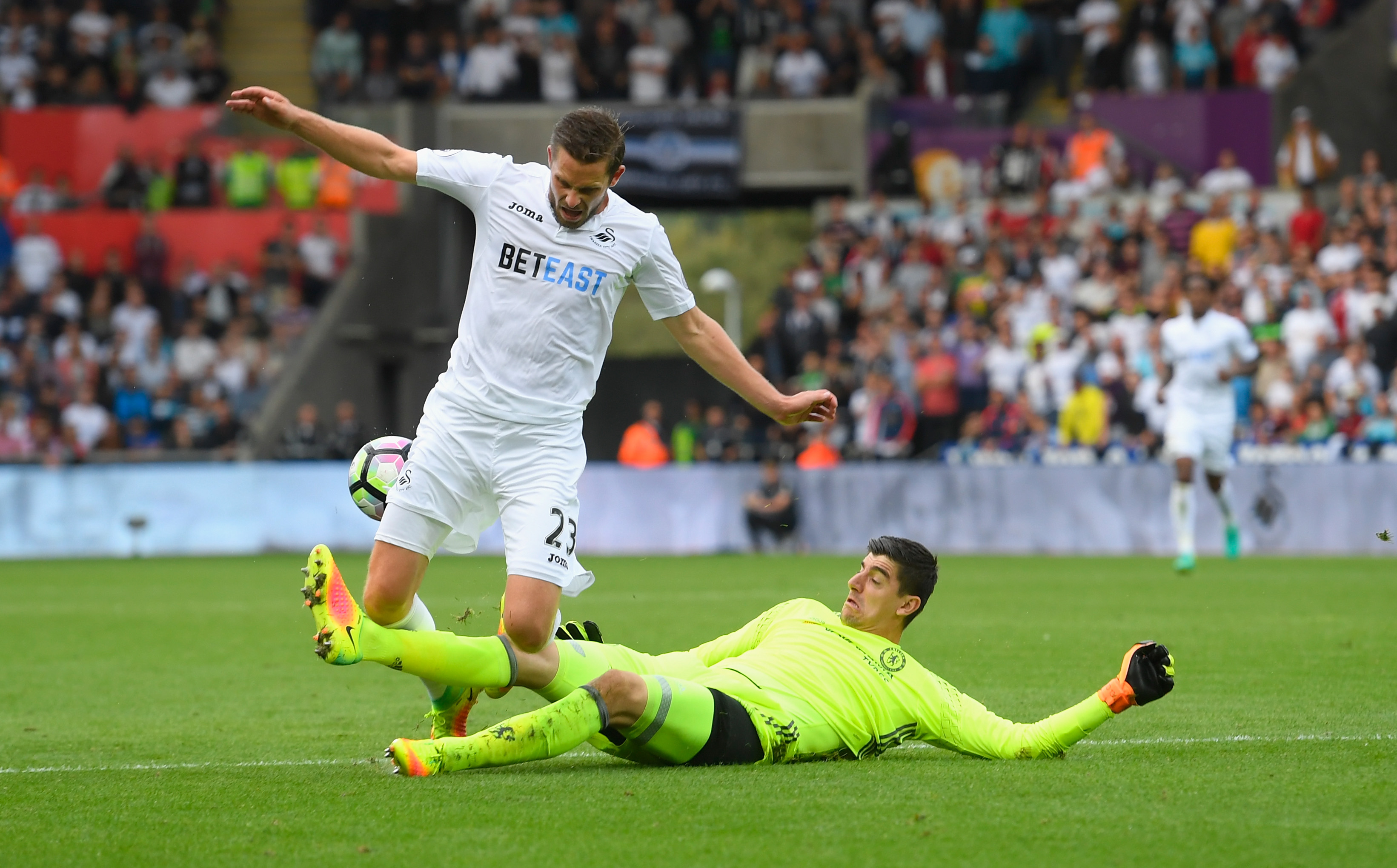 Chelsea's starting goalkeeper Thibaut Courtois fondly treasures a fax (!) he received from Real Madrid, and uses it as one more excuse to talk about leaving Chelsea.
Football provides few certainties. Arsenal will finish top four – but not first – in the Premier League and then wash out of the Champions League. Tammy Abraham will score for Bristol City. Thibaut Courtois will publicly long for the day when he can leave Chelsea.
The Belgian keeper did it again, talking about a heart-felt fax Real Madrid sent him when he was injured last year.
Real Madrid showed me a very nice gesture… I have a contract with Chelsea for three more seasons. In 2018 when I am in the last year of my contract we will have to evaluate if it is best for me to renew or leave. When I left Spain I already knew that one day I was going to go back. – Marca, quoted in English in Daily Mail
Two side issues: A fax? Really? Who sends a fax in 2016??
Second, this sounds pretty solidly like Real Madrid is tapping up Thibaut Courtois. Sending a get-well-soon fax (seriously??) to a player on another team that has already been linked with you in the transfer rumour mill? Chelsea knows a thing or two about tapping up. Shy of a clandestine meeting at a London hotel, Real Madrid is just about at the textbook definition of tapping up.
RELATED: ARE ATLETICO MADRID TAPPING UP DIEGO COSTA?
Back to Thibaut Courtois. The time has come for the Belgian to **** or get off the Chelsea pot. And the Chelsea payroll.
Thibaut Courtois routinely talks about leaving Chelsea to return to Spain. Many players make vague references about their future when they are up for negotiating contracts. Players that care about their impact on the club and the fans profess loyalty to their current side up until the moment they transfer. Superficial, perhaps, but that is part of being professional.
Courtois's on-pitch behavior, off-pitch antics (ahem, Kevin de Bruyne) and media comments reveal the worst kind of selfishness. He is so unaware of his relations with his teammates and the sport that you almost wonder if he is psychologically incapable of understanding such things.
Courtois's attitude veers into Mario Balotelli territory. If either player could deliver on their potential, their failings as teammates could be excused. Think of Luis Suarez. He delivers such a consistently high level of performance everywhere he goes that people quickly forget his tendency to eat the opposition.
Thibaut Courtois: Only Víctor Valdés (45.5%) has a worse save success rate than Courtois (50%) in the Premier League this season

— WhoScored.com (@WhoScored) September 20, 2016
Unfortunately, Courtois has plateaued as a goalkeeper since leaving Atletico Madrid. Chelsea signed him as the next David de Gea, but the Belgian has merely remained one of many. Openly dismissing the goalkeeping coach that made Petr Cech a global legend will have that effect.
Courtois's frequent lapses of concentration and his tendency to drift off his lines have cost Chelsea embarrassments like the Charlie Adam goal. He provides little support to a shaky Chelsea defence and may even exacerbate their weaknesses. The Belgian drifts out like a poor-man's Manuel Neuer with none of the German's sweeper-keeper skills.
Asmir Begovic is not a world-class goalkeeper, but neither is Courtois. Begovic is at least focused, willing to compete for a spot and potentially better at the fundamentals of goalkeeping. At the very least, he is supportive of his club, his teammates and his coaches.
Chelsea have Eduardo as back-up behind Begovic and Jamal Blackman in the development pipeline. The club should do everyone involved a favor and off-load Courtois for an exorbitant fee – some club will pay it – at the next available opportunity.
More from The Pride of London
This article originally appeared on