Roster Needs For Seattle Sounders in 2017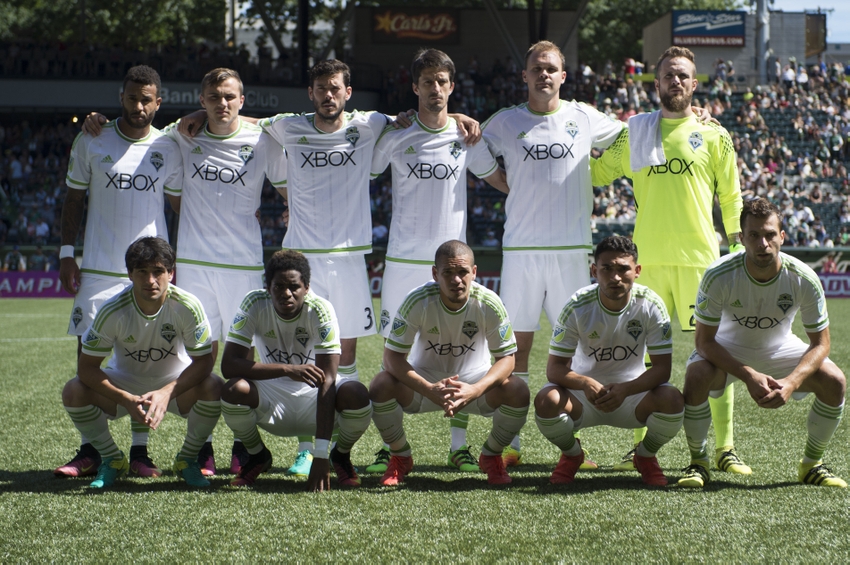 The Seattle Sounders most likely have missed the playoff's, and might look to retool their lineups during the off season
Last week's 4-2 loss against the Portland Timbers was an emotional roller coaster. After allowing four goals in the first half, the Sounders showed some grit and on-field intellect. By answering the deficit with two goals, the Sounders finally seem to show up. It felt impossible and yet hope was there. When the team came out for the second half, it had some answers. Some of those answers came through substitutions. Although it wasn't enough to climb out of the hole dug in the first 45 minutes, it highlights what Seattle might need next year in order to fill those gaps.
Defensive decay and who causes it
This season shined a bright light on many issues the Sounders faced. The answer to those questions began in midseason. The parting of the ways with Sigi and signing Nicolás Lodeiro as the third Designated Player helped propel the Seattle Sounders back into form. It isn't quite what teams expect from the generally strong side, but it is significantly more improved from the start of the season. The back line, even with the return of Román Torres, still causes concern.
The main cause of concern comes from aging right back Tyrone Mears. The Englishman began his
"Ultimately, I will always be a supporter of youth getting minutes. I believe that it benefits the who league, as well as the team."
career is great form. Demonstrating speed on the wings and good passing accuracy, Mears quickly earned the favorable eye from supporters. But the last season it seems that Mears has lost much of what made him a strong defensive player. He continues to keep players onside, struggles to get back into position, and frequently drops marks. At 33 years of age, Mears holds a fairly established career, considered a veteran by many. But his ages tells, especially in his reactive responses.
Coach Schmetzer took Mears off at the half against Portland. Although I am not in the locker room, it was clearly a statement to the team: don't do your job, and you don't get the privilege. Brad Evans, who gets plenty of blame for his mistakes as a make-up defender, slid to Mears' position. Evans, with Torres coming on for the first time in ten months, did surprisingly well at right back. Mears caps out at about $184,000 per year, and is not horrifically expensive by defensive standards. But the mistakes are too much.
Forward frustrations in Designated Player positions
It is one thing to have a young attacking player, who makes around $51,000 a year, struggle to find
the back of the net. But when an international superstar, designated player, and million dollar forward only scores eight goals in nearly 800 minutes, something has got to change. It was worse last season, with Valdez only scoring five goals in almost 500 minutes. The worst part about it from my view as a supporter is that I absolutely love his story as a player.
But that isn't enough to justify his inability to perform, which is perhaps the most noticeable aspect of his entire career. It is awesome to see a player who shows all of his heart and hustle on the field. But the Seattle Sounders cannot possibly find justification on keeping Valdez around longer than his contract dictates. It will be sad to see such a dedicated player depart in some ways, but a huge relief in regards to the salary cap space, and the hopeful signing of someone who fits better.
Youth and a possible answer
I firmly believe that youth is part of the answer. Seattle Sounders defense could use some new blood, certainly. My hope is that Seattle Sounders youngster Tony Alfaro gets slotted in the back line. A fairly young player at 23 years of age, Alfaro got minutes this season. Alfaro took those minutes and played with intensity but also a degree of calmness. Each match he played, he seemed more attuned and better prepared. I have been legitimately sad not to have seen more of him. He is also very inexpensive, capping at around $51,000, compared to Mears' $184,000.
Another young and eager player I think could do well in the line-up is Oalex Anderson. He has been tried and tested a bit this season, and he certainly plays with fire in his step. Technically, Anderson shows great promise. With more on-field experience and continued training from guys like Clint Dempsey and Nicolás Lodeiro, Oalex Anderson could become a consistent goal creator and scorer for the Seattle Sounders.
Ultimately, I will always be a supporter of youth getting minutes. I believe that it benefits the who
league, as well as the team. But issues quickly arise, as they did this season, when the Seattle Sounders start to lose a lot. That is a risk when starting younger players. But between the defensive veterans of Torres and Marshall, midfield veterans Lodeiro and Ozzie, and attacking veterans like Dempsey, youth can grow. We have a potentially great foundation, and the decisions that head coach hopeful Brian Schmetzer makes will indicate where he believes the Seattle Sounders squad should go.
This article originally appeared on