NYCFC Could Make History Against Chicago Fire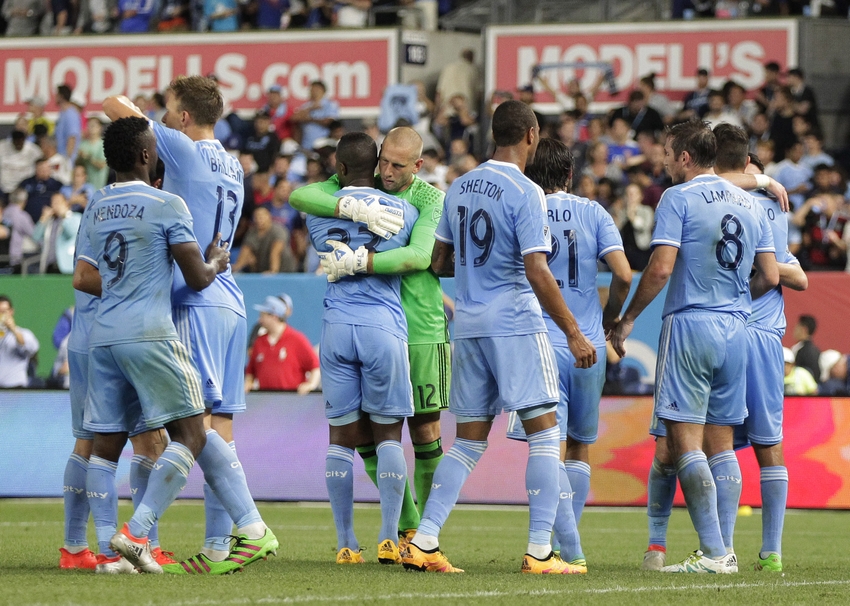 With a month left to play, the play-off picture begins to take shape and New York City F.C. can solidify it's place for the first time in franchise history against the Chicago Fire.
There's no doubt in every NYCFC fan's mind that the 2016 campaign is an improvement from the inaugural season. This time last year, the club was struggling to get in the sixth spot and was looking for it's identity.
In the franchise's second year and under the French gaffer Patrick Vieira, NYCFC can clinch a play-off berth for the first time in club history against the Chicago Fire. Of course there are other scenarios that need happen in order for NYCFC to pass through, but the first step is grabbing the three points, something the boys in blue should have no problem.
They're going up against a Fire squad that has lost it's ways this year as they're listed dead last in the MLS with 27 points, sitting with only six wins. NYCFC, with 45 points and 12 wins will have the home field advantage and that extra incentive to clinch the play-offs.
The only issue you could say that Vieira has is Frank Lampard. The 38-year old designated player has become a key component to this NYCFC side and has revitalized his MLS career in this campaign scoring 12 goals in 15 starts.
Vieira has a variety choices he could go with to fill in Lampard's place, such as dropping back Tommy McNamara and putting in either Khiry Shelton or Stiven Mendoza on the side with Jack Harrison across and club captain David Villa in the middle and up front.
He could also finally use Mix Diskerud and give him a chance, but don't hold your breath on that one. Federico Bravo, Mikey Lopez and Mehdi Ballouchy are left in the midfielder selection, so we'll see what Vieira has up his sleeve. Don't expect any change in his defense and it looks like he's content with RJ Allen, Jefferson Mena, Frédéric Brillant and Ronald Matarrita with Josh Saunders between the posts.
NYCFC should go with a winning mindset tonight, but not over estimate Chicago and be wary of the counter attacks.
As far as the play-off scenarios are concerned, grabbing the win won't be enough for NYCFC and is going to need help from some other clubs. If the NYCFC win, they would also need a tie between the New England Revolution vs. the Columbus Crew or a draw between Orlando City and D.C United or a New York Red Bulls victory against the Montreal Impact.
Whatever unfolds in the other match-ups, Vieira and his boys should have only thing in sight, and that's victory.
This article originally appeared on