NYC FC: Same Muscle Comes Back to Haunt Frank Lampard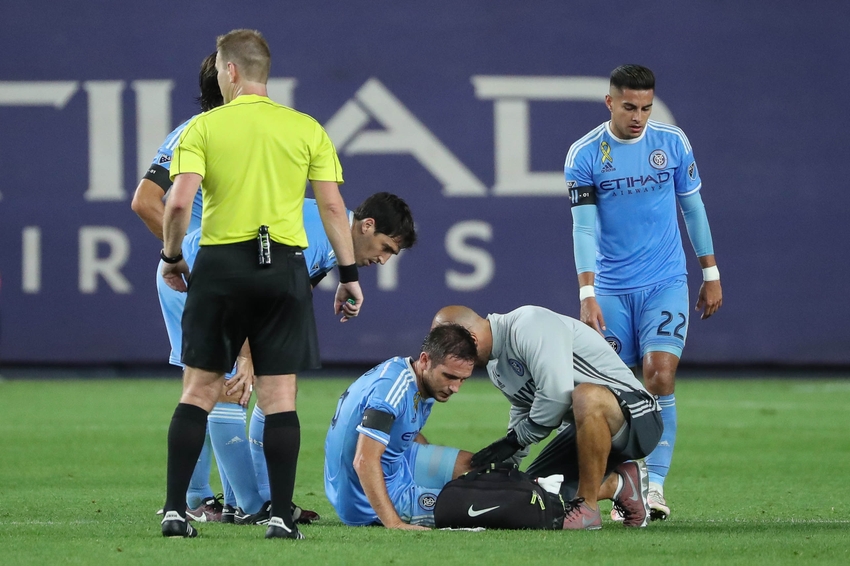 With a stellar season on the books for NYC FC's Frank Lampard, the 38-year old suffered a setback as he'll be sidelined for the next month.
September has been a real rollercoaster ride for Patrick Vieira's bunch as they started off with a victory, suffered a loss, came off a draw and now, suffered another drop. As NYC FC sit in third place with 45 points, they'll have to fight the rest of the way with out their key player, Frank Lampard.
The 38-year old midfielder has had quite a comeback in the MLS as he's netted 12 goals in 15 starts, playing a crucial part in Vieira's tactics. Lampard was missing in action for the first two and a half months of the 2016 campaign, questioning his contribution to the club.
When he finally hit the pitch, the news broke out that the reason for his absence was due to a calf injury and while the club has stated that there's no connection to his past injury, it's the same muscle.
It was evident on Saturday against FC Dallas that his calf was becoming nuisance and was subbed out in the 42nd minute. Lampard knows his body more than anyone else and didn't want to worsen the situation.
NYC FC confirmed that he will be sidelined for the next 3-4 weeks and could be available for the last two games of the season. The international break in the first week of October will surely give the club and Lampard some extra time.
It's not quite sure if Vieira would be willing to take the chance and put in Lampard in those last two games of the season, but the MLS Supporter's Shield is up for grabs as they sit right behind Toronto F.C and the New York Red Bulls.
A play-off appearance is in this franchise's sites for the first time and are comfortably ahead of the final clinching spot with nine points. Vieira has done a fine job so far, but for the rest of the remaining games, he'll have to find a fine replacement for Super Frank.
This article originally appeared on