Nike reveals new plain USWNT kit for the Rio Olympics
If you were a fan of the plain kit worn by the U.S. women's national team at the 2015 Women's World Cup, you're going to love what's in store for the Olympics this summer.
Nike released on Tuesday a new kit designed exclusively for the women's team to wear at the 2016 Olympics in Rio — and let's just say it is simple. Very, very simple.
The kit is all white with thin red piping around the neck line and alternating red and blue piping down the sides. According to a press release, "Expanding when a player is in motion, the stripes maximize ventilation and reveal a contrasting flash of underlying red and blue, respectively."
The socks will add an extra splash of blue, starting white at the top with a blue gradient growing darker as they get down to the cleats.
Due to regulations for the Olympics, the usual U.S. Soccer crest will be replaced with a simple logo of "USA" in block lettering. The new kit will only be used through the Olympics in Rio and the USWNT will return to their current kits after the tournament ends.
It's not the first time in recent memory that it's felt like Nike may have phoned it in a little bit with their kit designs. Ahead of the Copa America Centenario and Euro 2016, the unveiled U.S. kits looked practically the same as the new kits for France, England and other countries.
For the women, their new kits are very reminiscent of the ones Nike designed for the Women's World Cup last summer, which was also an exclusive design for the USWNT. It was all white with black piping and bright yellow "volt" socks, which drew widespread criticism since the American flag is, you know, red, white and blue.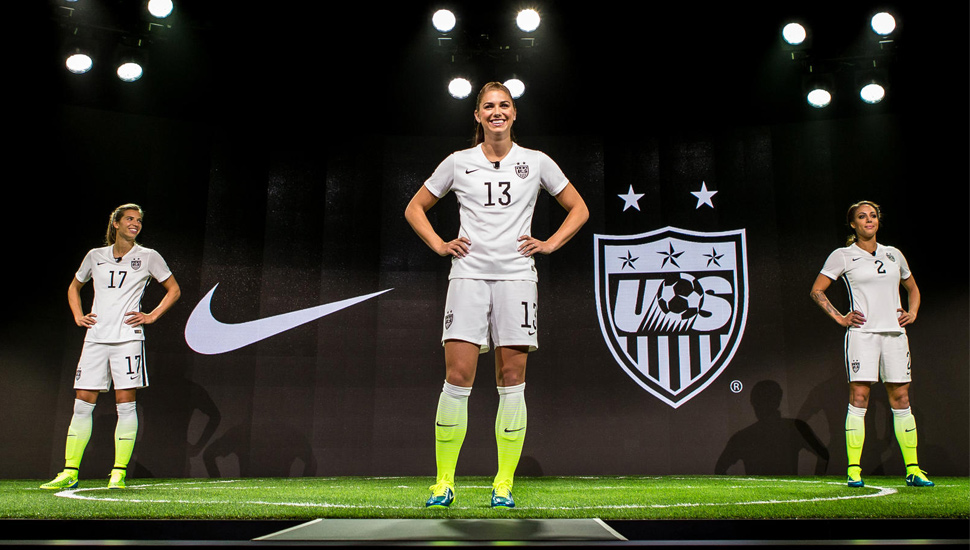 Then again, wearing a plain white kit didn't hurt the USWNT last summer when they won the World Cup. Maybe they will have similar luck in Rio.