Neymar has scored almost twice as many goals as Ronaldo by his 25th birthday
Brazil legend Pele ruffled more than a few feathers this week when he declared compatriot Neymar to be "way better" than Ronaldo.
But as the two La Liga rivals both celebrate their birthdays on Sunday, a look at their career numbers indicates that maybe, just maybe, Pele isn't that crazy.
In fact, Neymar's stats by his 25th birthday blow Ronaldo, seven years his senior, out of the water.
With 280 total goals for club (excluding friendlies) and country to his credit, the Barcelona ace has almost twice as many goals as Ronaldo did at the same age.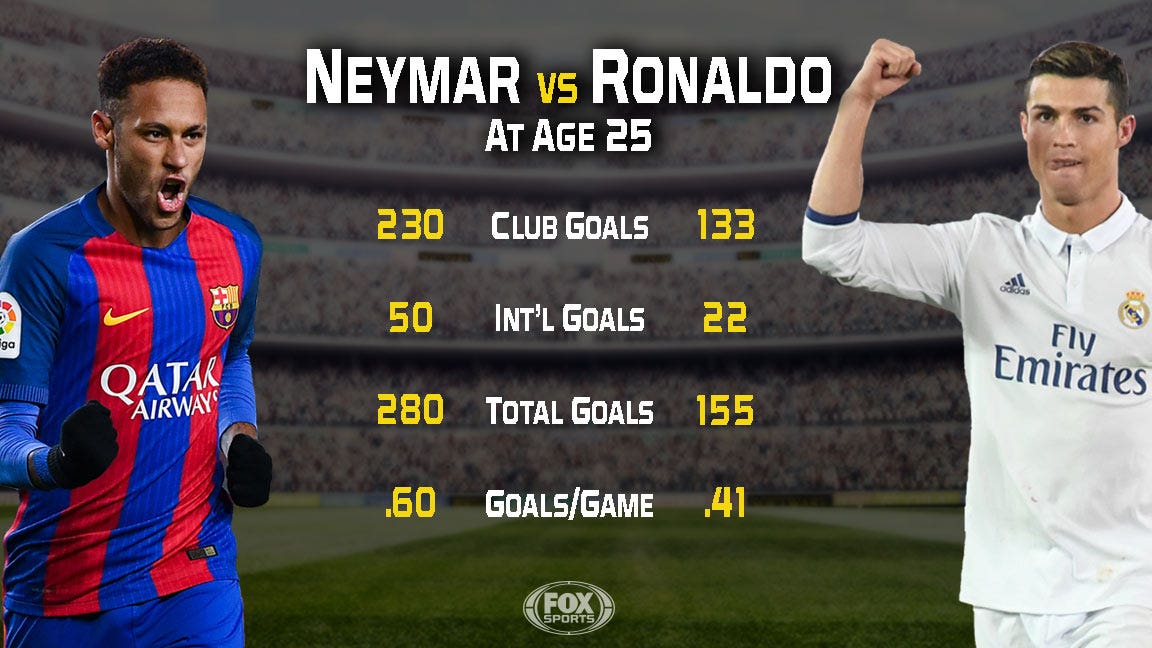 A lot of that has to do with circumstance. Neymar scored over 50 goals for Santos in Brazil's regional Campeonato Paulista alone, while Ronaldo launched his career playing far fewer games and tougher opposition at Manchester United. But Neymar also has a big edge in international goals, and he's scored an impressive .56 goals per game since moving to Barcelona.
Of course, all Ronaldo has done since his 25th birthday is score a head-spinning 413 goals over the next seven years, at a ridiculous clip of .98 goals per game. His age-31 season was arguably his most dominant ever, and the way Ronaldo keeps care of his body he's showing no signs of slowing down.
Only time will tell if Neymar can exhibit similar longevity and take another leap like Ronaldo did in his late 20s, but as long as he stays healthy and is surrounded by the likes of Lionel Messi and Luis Suarez, we're guessing he won't cool off anytime soon.
Oh, and since you're wondering (we know you are), Neymar has Messi beat to this point too, but only by a hair. Messi got to 279 goals by his 25th birthday.