Mexico vs. Uruguay made no sense, and it was great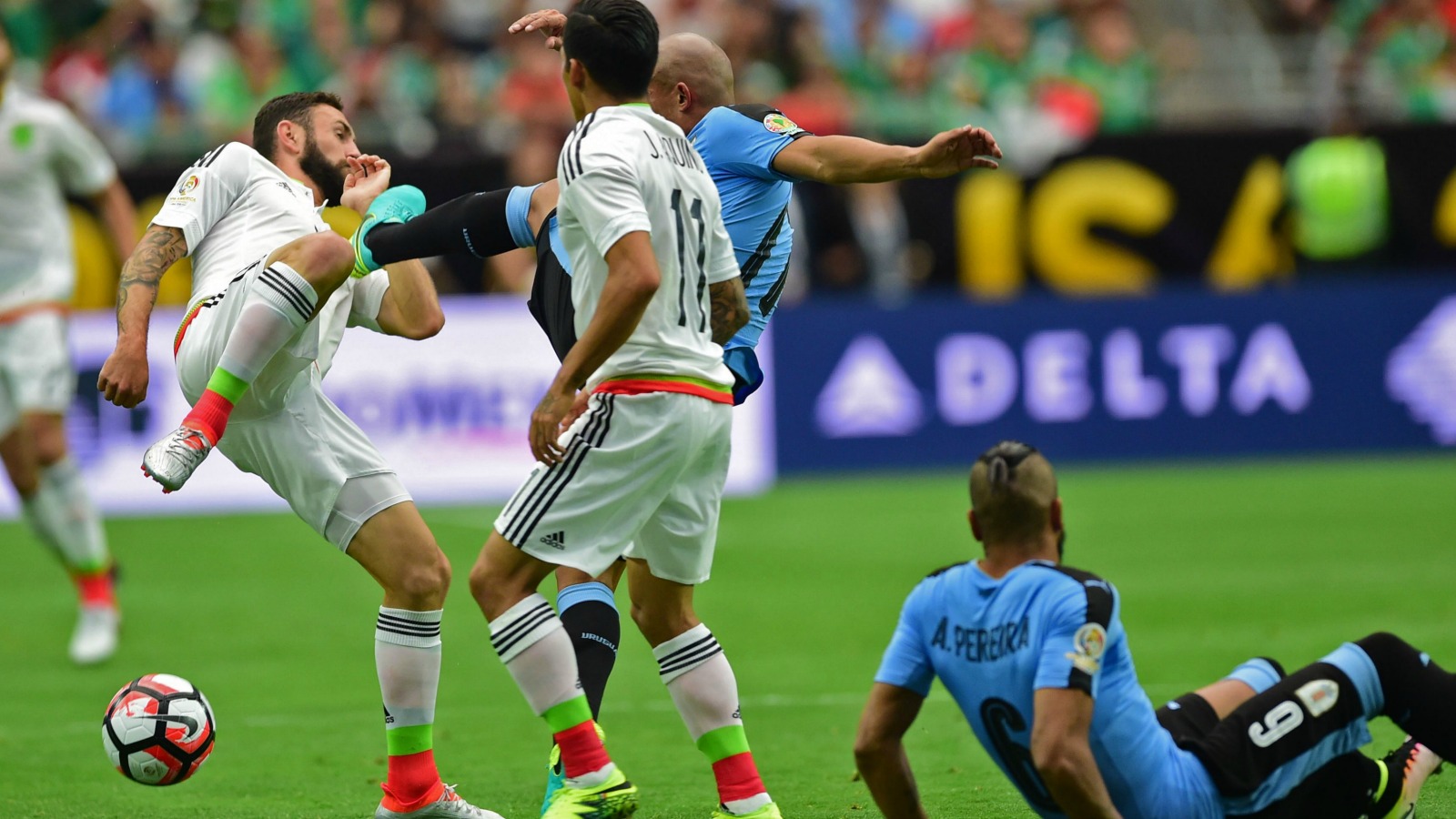 Mexico vs. Uruguay was supposed to be the best match of the first week of Copa America Centenario. Expectations were high, maybe even too high for a match that was hurt from the start by an injury to Luis Suarez. But over 90 minutes, the two sides somehow managed to be even more entertaining than anyone could have predicted.
It was the perfect mix of some good players, fine play, tactical naivete to open up the pitch and, most importantly, craziness. The match made absolutely no sense, and it was wonderful.
Before the match even started, organizers played the wrong national anthem for Uruguay. We should have known then that it was going to be a weird night, but nobody could have guessed it getting as weird as it did.
Mexico scored the opener in three minutes. Although no one on Mexico got credit for the goal because Alvaro Pereira actually headed the ball into his own net thanks to Hector Herrera coming in like a bulldozer.
From there, it looked like Mexico would cruise, and they nearly did. But they were undone by a red card. You know, a Uruguay red card.
Matias Vecino picked up his second yellow card and was escorted off the field, which was a killer to Mexico. All of a sudden they couldn't keep the ball. They couldn't attack. They couldn't defend. Uruguay got a chance in alone on goal and two other glorious opportunities before Diego Godin found the back of the net to bring the match level.
Exactly how Uruguay going down a man ruined Mexico is unclear. It defies logic, but logic was in short supply at University of Phoenix Stadium.
Naturally, when El Tri were reduced to 10 men thanks to Andres Guardado's red card, they suddenly remembered how to play soccer again. That's just generally how this match went. So when Mexico started threatening the Uruguay goal again, no longer hampered by a numerical advantage, you just shrugged your shoulders and accepted it.
Finally, after several blown chances and the woodwork, Mexico went back in front. And because this match just couldn't be normal, the goal scorer was both the oldest player on the pitch and a centerback. Rafael Marquez was able to blast home from eight yards and again, the crowd lost its mind.
So did Uruguay, who thought the goal should have been ruled offside, but they also thought all the calls that were made in the previous 10 minutes were unfair.
Down a goal, Uruguay decided that the referee was their enemy and swarmed him every chance they got. That was especially true when Herrera put the match away in stoppage time.
When the final whistle went, Uruguay went at the ref one more time. Fernando Muslera had to be held back by his teammates, but those teammates also berated the man with the whistle.
All the while Mexico celebrated.
El Tri entered the tournament as a popular dark horse to win Copa America Centenario. And after one match, a terrific result for Mexico, they learned a few things –€" like that being up a man is a killer for them. That their fans still love to throw drinks at opposing players. That they may not completely lose their heads when things go sideways.
The last one is important because things were as sideways as they come. Any predictions anyone made about the match were proven wrong if only because nobody could have predicted such madness. And the most surprising part? Suarez didn't even have to play for it go pants on head crazy.
MORE FROM FOX SOCCER